The Best Lofoten Camping, Beaches, Reinebringen Hiking & Tours
The Lofoten Islands is an archipelago that is located in the northern part of Norway above the Arctic Circle. This hidden pearl of Norway is full of unforgettable experiences and beautiful landscapes. If you are interested in hiking, fishing, skiing, museums, beaches and northern lights, Lofoten will not disappoint.
The Lofoten has a subpolar oceanic climate, which results in a very mild winters, due to the Gulf Stream and its extensions: The North Atlantic Current & Norwegian Current. The distinctive natural scenery exists of large mountains and peaks, open sea and natural lagoons.
The midnight sun can be experienced from the end of May till the two weeks of July, whilst the Northern Lights can been seen from September to mid March.
(Related: Your No.1 Road Trip Guide in Norway)
If you like this travel guide please subscribe to our newsletter at the end of this blog post. You will stay up to date when we post new free travel guides.
Best Travel Guides for Lofoten
Things to do in Lofoten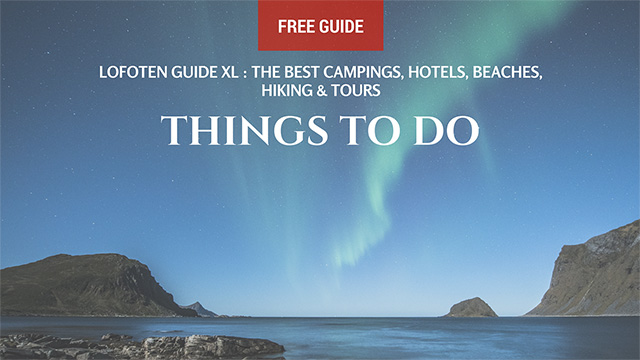 Lofoten Museums, Churches and Art Galleries
Lofoten War Museum
The Lofoten War Museum has a large collection of artifacts and uniforms from WW2. Most objects are very rare and tell a whole different historic origin story then other museums.
According to the official website a war veteran said:
"Must be one of the best in the world – maybe the best!"
Opening Hours:
All year/Daily 18.30–22.00
June 1–Sept 30
Monday–Friday 10–16
Saturday–Sunday 11–15
Prices:
Adult 100 NOK
Child (age 7–15) 30 NOK
Group per person 80 NOK (min 12 ppl)
Lofotr Viking Museum
The Lofotr Viking Museum (Lofotr Vikingmuseum) is a real historical viking museum and is located in the small village of Borg, near Bøstad, in the municipality of Vestvågøy.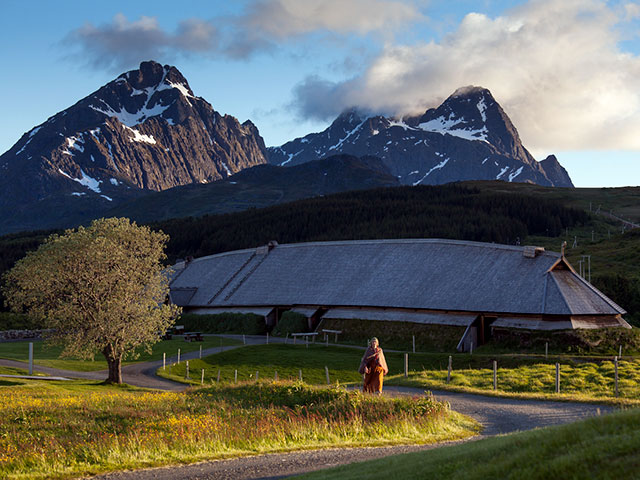 The museum is open every day from the first of May till the 15th of September. The administration of Lofotr Viking Museum is located in the Borge Church
Lofoten Museum
If you are interested in learning more about the history of Lofoten fishery than this is the place for you. The museum focuses on ancient old traditions and shows authentic fishermen's cabins, Nordland boats and traditional boat houses. All the tours are guided and only available by appointment
The Lofoten Museum is a part of the SKREI Experience Center and is a 5-minute walk from the Lofoten Aquarium.
Opening hours 2018
Jan 2–Apr 30: Mon–Fri 11.00–15.00
May 1–May 30: Every day 11.00–15.00
June 1–Aug 15: Every day 10.00–18.00Aug 18–Aug 31: Every day 11.00–15.00
Sept 1–Sept 30: Sun–Fri 11.00–15.00
Oct 1–Dec 14: Mon–Fri 11.00–15.00Closed March 28 to April 2, and May 17.
Prices (2018)
Adult 90 NOK
Senior/student 70 NOK
Child (age 5–15) 40 NOK
Group p.p. 70 NOK (min. 20 ppl)
Flakstad Church
Flakstad Church is a red wooden parish church that was built in 1780. It is located in the municipality of Flakstad in Nordland county, in the village of Flakstad.
The timber used for construction of the church came from the former Soviet-Union. This was part of a bartering agreement involving stockfish, the so-called Pomor Trade.
The church is located north of Ramberg and can be easily spotter from the E10.
KaviarFactory
The KaviarFactory is located in Henningsvær and is an international art gallery that focuses on sharing the love for contemporary art with others. Ms. Venke Hoff (owner) mentions on het website: "We are on a off-the-grid location and aim to offer experiences and confrontations that never previously have been available to such regions."
With an additional focus on supporting your artists, the KaviarFactory is a wonderful place to visit.
Nusfjord Rorbuer Lofoten
This authentic Norwegian fishing village is also known as the Nusfjord Rorbuer Hotel and is one of the world's oldest and best-preserved villages on the Lofoten. The hotel focuses on fishing and cooking as it displays local fishery traditions that have been used for many generations.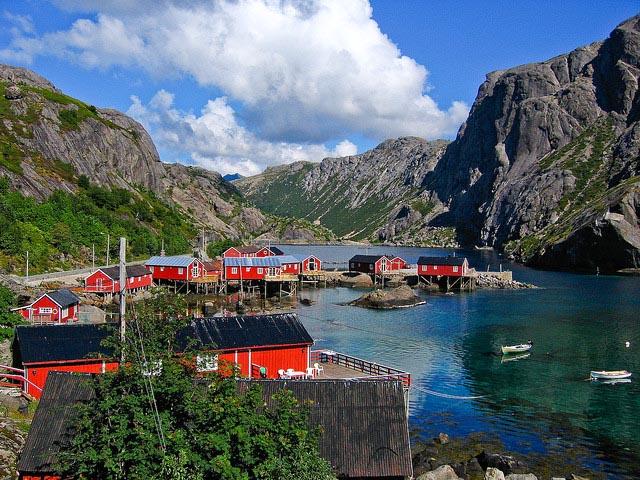 The hotel has 200 beds and 50 beautiful little Rorbu (traditional fishing huts) and two restaurants that make Nusfjord the perfection destination for road trippers.
Lofoten Beaches
Kvalvika Beach
Kvalvika Beach is located on the north side of Moskenesøy in an isolated bay. It is one of the most popular hiking trails of the Lofoten and when you see the beautiful turquoise shores and white sands you immediately understand why.
The hike takes between 3-4 hours and is only 2.5 km long. Wild camping is allowed on Kvalvika Beach, but make sure you always respect the local nature and wildlife. Use the YR weather application to make sure the weather forecast is good. Even in summer the weather can change very quickly.
Bunes Beach
Bunes Beach can be reached only by ferry from the fishing village of Reine. During the summer season I noticed it got very busy at the ferry checkpoint, therefore I strongly recommend you to come as early as possible.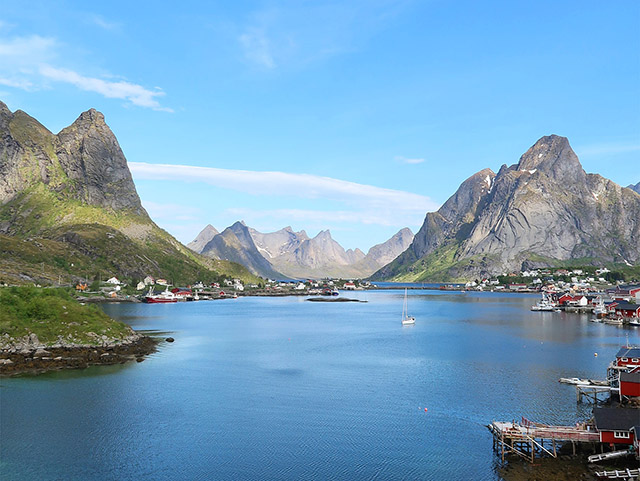 You will find the ferry in the center of Reine and you can find the ferry timetable here.
Most tourists go for the day, but if you wish to go camping at Bunes Beach there is a big chance you will have the place for yourself by then end of the day.
Uttakleiv Beach
If you are looking to make a great photo of a beach combined with the Northern Lights than Uttakleiv Beach is the place to be. This beach is the most photographed beach of the whole Lofoten and thousands of people visit this place to catch that perfect sunset.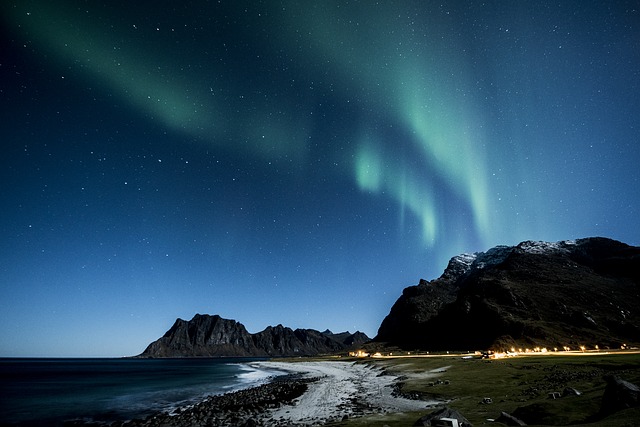 It shows an interest mix between a pink/orange sky, black rock, blue water and if you are lucky the green Northern Lights. How amazing is that? If interested, you can always book a tour of Lofoten Northern Light Tours!
It is located at about 11 miles from Leknes, Vestvågøy.
Hauckland Beach
One of my favorite beaches in Lofoten. Its long white sands and crystal blue waters will give you one of the most iconic views of Norway. The rock formations on each side are the homes of the local marine life, therefore Hauckland Beach is perfect for snorkeling and swimming.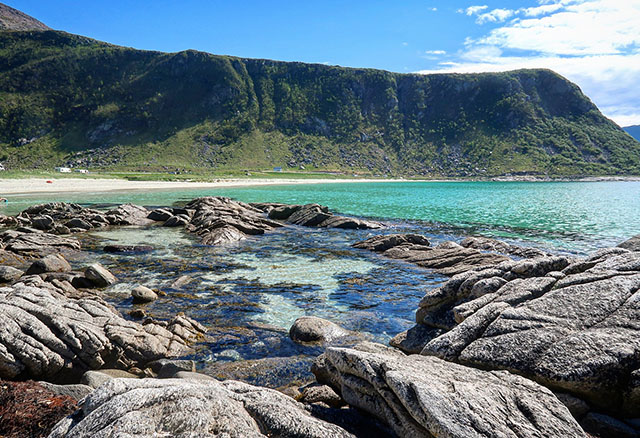 Right next to the beach you will find several meadows that rent out camping space for motorhomes and campervans. Therefore, if you want to enjoy a night at the beach you can contact the owner (telephone number is on the front sign) and ask if the place is available.
There are no toilets or other facilities present.
Lofoten Hiking
Reinebringen
The Reinebringen is a steep hike right next to the small town of Reine and one of the most popular hike trails of Lofoten. Once you are at the top you have an amazing view over the famous fishing village.
The hike itself is not very long, but the steepness and difficult terrain does not come without any danger.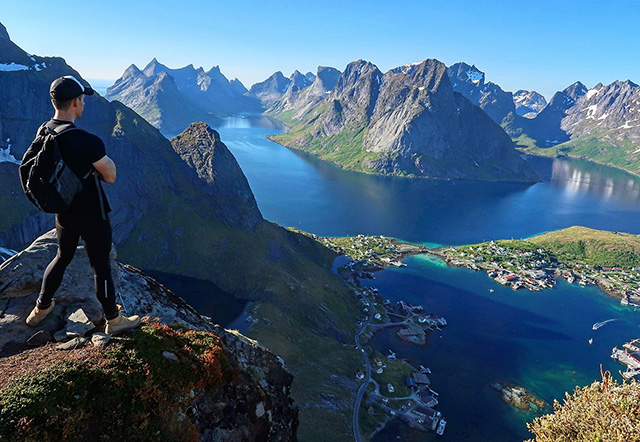 Reinebringen facts
Duration                   : 1.5 hours up and 1 hour down.
Height                      : 450 meters
Length                      : 1 kilometer
Terrain                      : Steep, loose rocks and slippery at times
Camping                    : Yes, on top. But not much protection
Water                        : Not available
Parking
Finding the entry to the hiking trail can be a bit tricky. It is a small parking lot right past the Djupfjordbrua Bridge on the E10 towards Reine before the Ramsviktunellen.
After parking the car you need to walk 300 meters next to the highway to the starting point. It is located right next to the Ramsviktunellen on your right side.
Reinebringen hiking path
Once you have started your hike, you will encounter a stairway of flat rocks after 200 meters. These rocks for the stairs that lead to different paths going up the Reinebringen.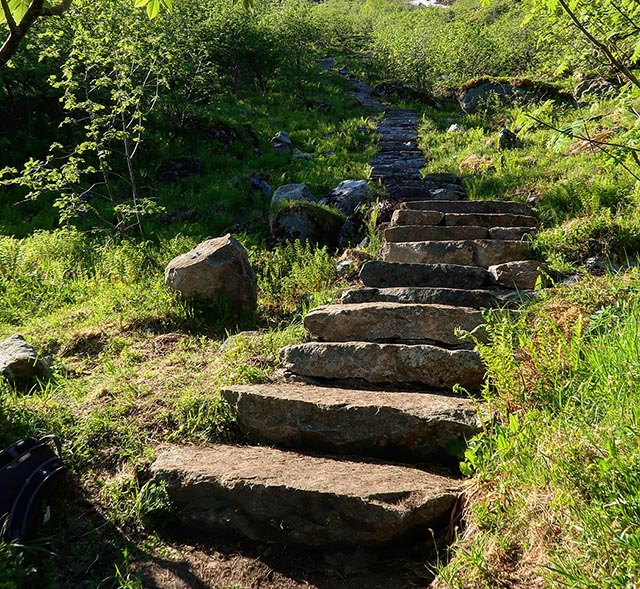 Go right at the "First Emergency Response Box" (orange coloured) that is available next to the path. All the other paths going up are much steeper, muddy and with lots of loose rocks.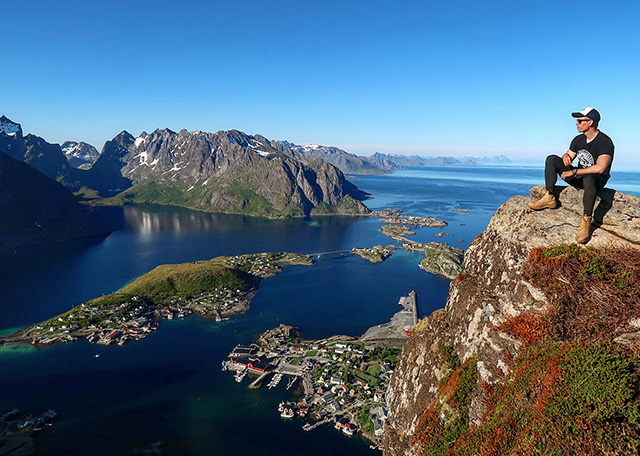 Hiking in Norway always has been a wonderful experience. Check out this amazing hike of the Trolltunga of my fellow Dutchy Sabrina.
Lofoten Northern Lights
Lofoten Lights
Tour company Lofoten Lights organizes a variety of tours that also includes chasing the Northern Lights. The tours are with an English-speaking guide and include a photographer who will take your photo of this amazing natural phenomenon.
The duration is 5 hours and the price per person is 1550 NOK
The Aurora Jager
Exclusive aurora hunt by our local Aurora Jäger, Odd-Petter Tanke Jensen. He never gives up, and finds the aurora almost every time.
He will take you to his secret spots. Be prepared for a long night, hours in the car, and waiting outside in all kinds of weather and temperatures. The Aurora Jäger will go to extreme lengths to find lady Aurora.
Tour starts: 09.00 pm.
Duration: 3,5 – 6 hours.
Cost: NOK 1495 per person.
Minimum 1, maximum 4 persons.
Incl. warm drinks, biscuits, briefing before departure.
Nature & Wildlife Tours
Horse & Pony Trekking – Hov Hestegaard
Hov Hestegård Riding Centre is located at Hov on the island of Gimsøy, by a white sandy beach with a view of the ocean and the midnight sun, on the far side of the Lofoten Islands. At present, the centre have 42 Icelandic horses and 2 Shetland ponies.
They offer rides through the Lofoten mountains, on the local beaches and along roads that the Vikings have used hundreds of years ago. The Icelandic horses are the descendents of the horses of Viking Age Norway.
They offer courses for beginners, riding lessons, feed-and-borrow programmes, stabling and lots more. There are two accommodations present close to the stables: Hov Camping and Lofoten Golf Links
Birdwatching
Depending on the season, there are a lot of options when it comes to birding on the Lofoten. During the winter you can see high numbers of Glaucous and Iceland gulls.
White-billed divers are common on the coast, and Andenes is the southernmost regular wintering area for Steller's eiders in Norway.
Birding Norway offers trips with big Zodiacs, and for groups boat trips can be arranged to the very productive areas of the Gimsøystraumen, where a lot of seabirds feed.
Whale watching
In winter time killer Whales and Humpback whales gather in the Norwegian sea to feed on the herring. During this feeding period, the animals showcase interesting hunting behaviors and playfulness which can be seen up close and personal with a sea safari.
The safari uses a RIB boat (rigid inflatable boat, 12 seats). The whole safari lasts around 10 hours and is available from December till March. There is a minimum of 6 people to run the tour.
Childeren up to 11 years old – 1750 NOK
Adults – 2350 NOK
Fishing Tours
Go on a traditional fishing boat and learn traditional Lofoten fishing from an experienced crew. Catch your own fish, prepare it and you will have an amazing dinner. The trip is about 4 hours long and depending on the season you will catch different types of local fish.
The boat can hold up to 38 people and departs from the pier in Svolvær.
This trip suitable for those who have little or no fishing experience, but who would like to try fishing during the seasonal fishery's winter conditions.
Included:
– Suitable fishing kit
– Safety suit which makes you float, and waterproof work clothes
– Coffee
– Experienced crew and the four-hour fishing trip
Places to Stay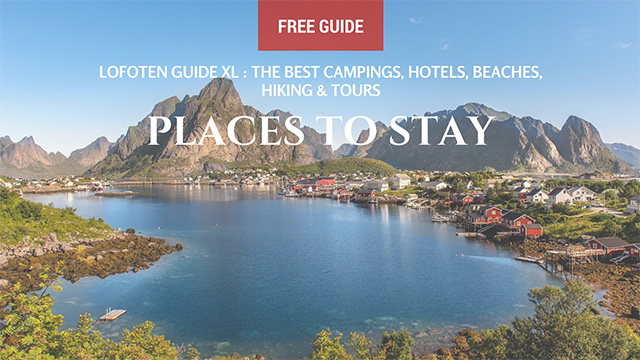 Lofoten Hotel
Reine Rorbuer
Reine Fjord is located nearby the Lofoten Mountains and offers traditional fisherman houses and guest rooms.
All accommodations have an amazing view on the fjord and a private bathroom. The cottages also feature a kitchenette. Bed linen and towels are included. Each room has free WiFi access and the staff speaks English.
Thon Hotel Lofoten
Thon Hotel Lofoten is located in Svolvær and has one of the best sea views of Lofoten. Free WiFi and private parking is available and there is an on-site restaurant.
Every room is fitted with a private bathroom. The nearest airport is Svolvaer Airport, 5 km from the property.
English speaking staff
Lofoten Hostel
Sørvågen Inn
The Sørvågen Inn motel/hostel is located nearby the port and offers affordable single rooms. It is located nearby the Maren Anna restaurant, which is also the reception.
The rooms are basic, but nice and clean with your own shower and restroom. The location is good and only a 10-minute drive to Reine.
Kabelvåg Vandrerhjem
The Kabelvåg Vandrerhjem is located on a university campus that during the summer months rents out beds and rooms to tourists. It has a fully equipped kitchen, washing room (for free) and is located right next to the village that offers a wide variety of activities.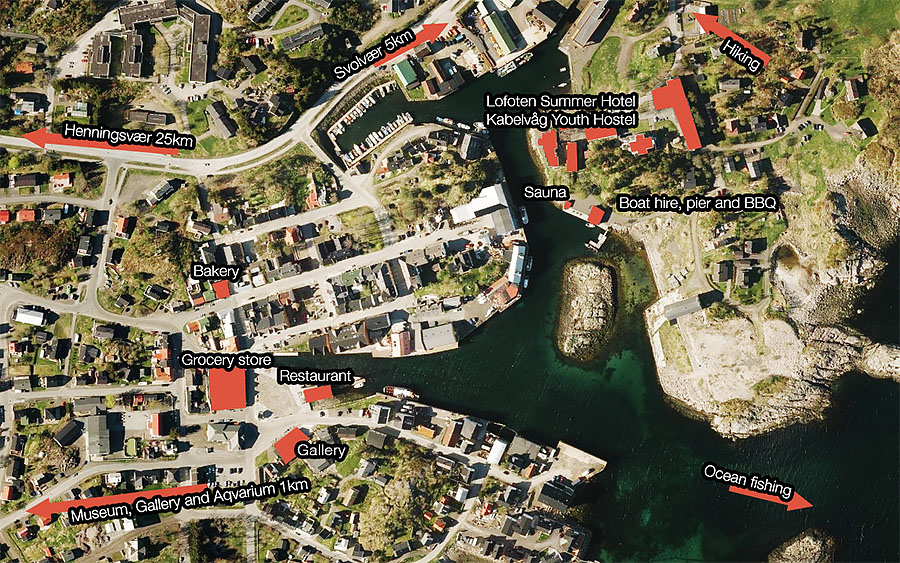 Stamsund Hostel
Stamsund Hostel is situated right next to the harbour at Stamsund in the Lofoten. There is a possibility to do barbeques and fantastic hiking options in the area.
The hostel offers fishing trips to search for cod or other local specialities, and cook it together with you, the owner and the other guests in the evening.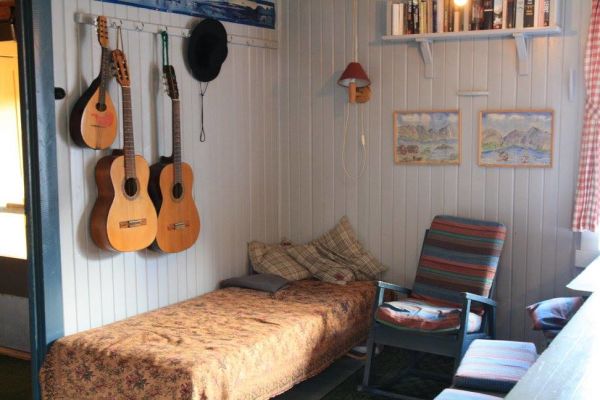 Lofoten Camping
Lyngvær Lofoten Caravan Camping
Lyngvær Lofoten Caravan Camping is the place for a well-deserved break and adventure. Here, the mountains rise 1000 metres above sea level, fishing lakes are easily found in the mountains near by, and the camping site is located just by the seashore of Vestfjord.
Here are ideal conditions for every sort of adventure holidays, or simply some days rest in beautiful surroundings.
Skagen Camping AS
Skagen Camping AS is a small family camping which is located only 30 minutes from Leknes or 40 minutes from Moskenes by car.
The camping offers campingsites, cabins and rooms. Each come with a different rate and the camping is only open from mid May to early September
Moskenes Camping
Moskenes Camping is the only campsite in the Lofoten Islands where you can see the whole Lofoten Wall
The wall consists of a series of mountains that make up the Lofoten Islands, and resembles a wall when seen from a distance. As the camping is located nearby the sea it is also possible to encounter whales in front of the campsite.
Restaurants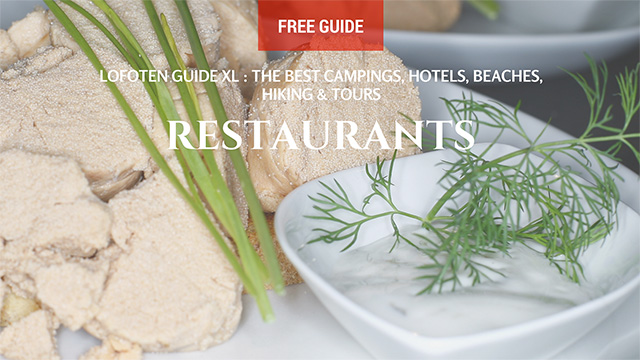 Maren Anna Restaurant 
Restaurant Maren Anna is located in Sørvågen and is the most famous restaurant on the Lofoten. They specialize in local and fresh products and have excellent reviews online. It is close to Moskenes Ferry checkpoint and the cozy atmosphere reminds you instantly why you love the Lofoten so much.
We recommend you make a booking in advance on the website, due to the high demand in the summer season.
Fiskekrogen
Fiskekrogen fish restaurant was established in 1989 and is conveniently located right in the harbor of the village Henningsvær.
This traditional fish restaurants is specialized in traditional Norwegian cuisine and offers a wide varity of seaproducts including atlantic cod, monkfish, wolffish and lots of mussels.
The most popular dish of the restaurant is boknafesk, a semi-dried fish with a concentrated taste and firm consistency, served here with bacon, boiled potatoes and creamed peas.
Welcome to the Lofoten!
When to visit Lofoten
Lofoten Weather
Lofoten is known for its beautiful nature and stunning landscapes, but people often ask when it is the best time to visit Lofoten? Depending on your travel goals you can decide what the best time is to travel to Norway.
For hiking the best period is between June and August as most of the snow will be gone for the mountains tops. The midnight sun can be seen between the last week of May and the first two weeks of July.
If you are planning to watch the Northern Lights and go hiking then the end of September to mid October is a good period and February to March if you want to include snow. For skiing and other wintersport activities the month of March is a good choice,
The months November and December are mostly known for being the months with the worst weather.
July and August will be the busiest months of the year and if you want to avoid busy lines and overcrowded beaches then it is recommended to avoid these months. If you do travel during this time make sure you book all your accommodation and ferries in advance as they will be sold out rapidly.
How to Get to The Lofoten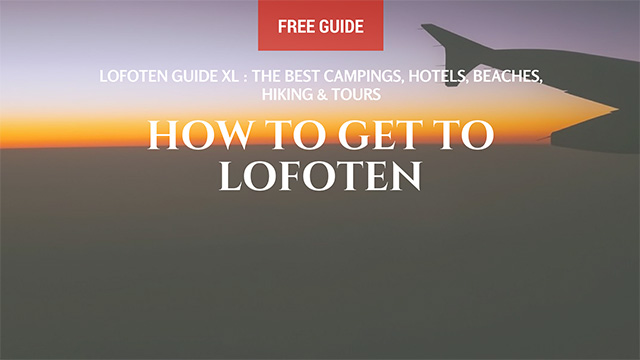 Lofoten Airports
There are currently two small airports on Lofoten : Leknes (LKN) and Svolvær (SVJ).
There are currently no direct international flights to Lofoten, therefore you must do a transit in Oslo. Recently, Widerøe Airlines started doing flights from either Oslo directly or Bodø.
The flights from Oslo are on a weekly basis, but from Bodø they fly several times per day. For international flights you can choose the national airliner of Norway: Norwegian Air
It is possible to buy combined tickets at Norwegian Air, therefore you should talk to your booking agent to arrange the transfer when you arrive in either Oslo of Bodø.
Ferry from Bodø to Moskenes (Lofoten)
Taking the ferry from Bodø to Moskenes by Torghatten Nord  was one of my favorite parts of the road trip in Norway. This spectacular crossing will show you the Lofoten from the sea and it is a beautiful sight. The port is easy to find in Bodø and is only 3 km from the airport.
During my travel I took the night ferry (3.15 AM), but beware that in July they change schedules between winter and summertime. It is very easy to transport your car  and the price of a ticket is 100 NOK cheaper when buying at the ticket office compared to online.
I would not recommend this in the summer period as it can get very busy during that time and most likely all the ferries will be fully booked.
Price (including car + passenger) :  750 NOK ticket service – 850 NOK through official website.
You need to arrive 1 hour prior to arrival and the crossing takes about 3 hours.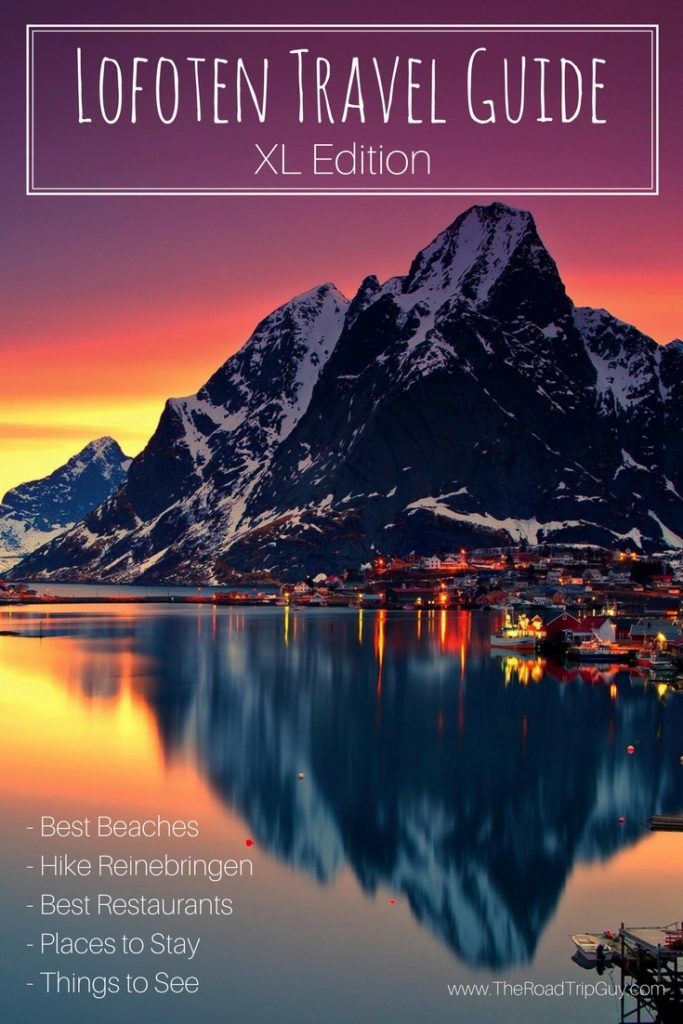 This was my Lofoten XL Guide. If you enjoyed this guide please subscribe on our newsletter or follow us Social Media.
Keep on driving, roadtrippers!