Road Trip Romania to Balea Lac, Transfagarasan, Brasov & Bran Dracula Castle
My adventure in Ukraine had come to an end. After spending two wonderful weeks in Lviv, Vinnytsia, Odessa and Kiev it was time for me and Lazy Louie to hit the road and drive towards the beautiful country of Romania. This country was on my radar for quiet some time, as I was keen on visiting three places during my Road Trip Romania; Balea Lac, The Transfagarasan Highway and Bran Dracula Castle.
My first stop would be in the famous Transylvania region. The plan was to visit the home of Dracula himself: Bran Dracula Castle. The second place was the famous serpentine road; The Transfagarasan Highway. This road goes straight through the Carpathian Mountains and is every road tripper's fantasy. It is such an adventure to drive that it was even featured in a Top Gear special.
My blood was pumping and I knew this was going to be an awesome adventure. Garlic? Check! Wooden cross? Check! Enough brake fluid for my car? Double check!
Crossing the border from Ukraine to Romania
From Vinnitsa, I drove towards Chernivsti to cross the border at MAPP Porubnoye. This border crossing was not to difficult compared to my previous border crossing nightmare. After two hours I made the pass and I noticed instantly how stunning the landscape of Romania was and how perfect smooth their roads were.
"This was excellent!" I thought.
After tuning the radio, a Golden Oldies channel appeared, who was playing old school American Rock N' Roll. It was just one of those days that everything was going right. After a quick overnight stay at the Continental Hotel in Suceava, I was driving to Dracula's home town; Brasov
(Related: Crazy border crossing: Poland to Ukraine)
Things to do in Brasov, Transylvania.
The drive from Suceava to Brasov is 6 hours, and took me through a variety of small Romanian villages. During lunchtime, I bought my food at a local bakery and decided to park the car in a remote cornfield to enjoy the landscape. "I am living the dream, buddy!" I said to my car. Of course, Louie did not say anything back, but with no major mechanical failures after 12,000 Km. of driving I got the feeling he understood as well:
"We are on the trip of a lifetime!"
Hotel Transylvania
"Welcome to Brasov County" The sign said. It had been a long day and I could feel the long drive had taking its fair share of energy. Thankfully, I only had to drive for another 10 minutes to the Pension Old City and as I was getting closer to the hotel I passed the town square.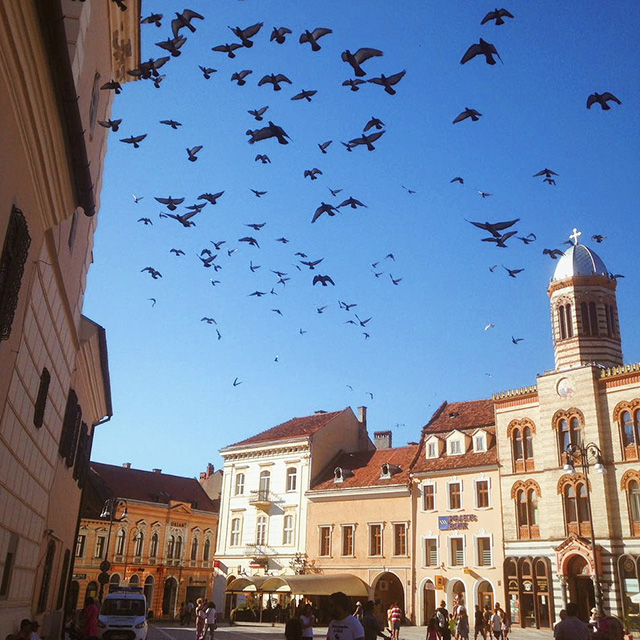 What can I say? It was love at first sight. The city offers a unique mix between traditional and modern bars & restaurants, old architecture and nature. The city is surrounded by the Carpathian Mountains. It even has its own version of the Hollywood letter sign, as you can see the BRASOV sign in all its glory when standing on the square.
Visit Bran Dracula Castle 
The village of Bran is located about 30 Km. outside of Brasov. It takes about 45 minutes to get there, depending on the traffic. The route takes you through the farmlands of Romania. It is a beautiful sight that shows the town of Bran in the far distance with Carpathian Mountains in the background as the big brother protecting its little brother.
I remember thinking: "It is actually pretty quiet. Where is are all the tourist?"
Just when I finished that thought I drove into Bran and the madness started. "Get your Dracula mask! Only 40 Lei!" or "Welcome to the Dracula Haunted House, are you ready for a ride in the ghost house?"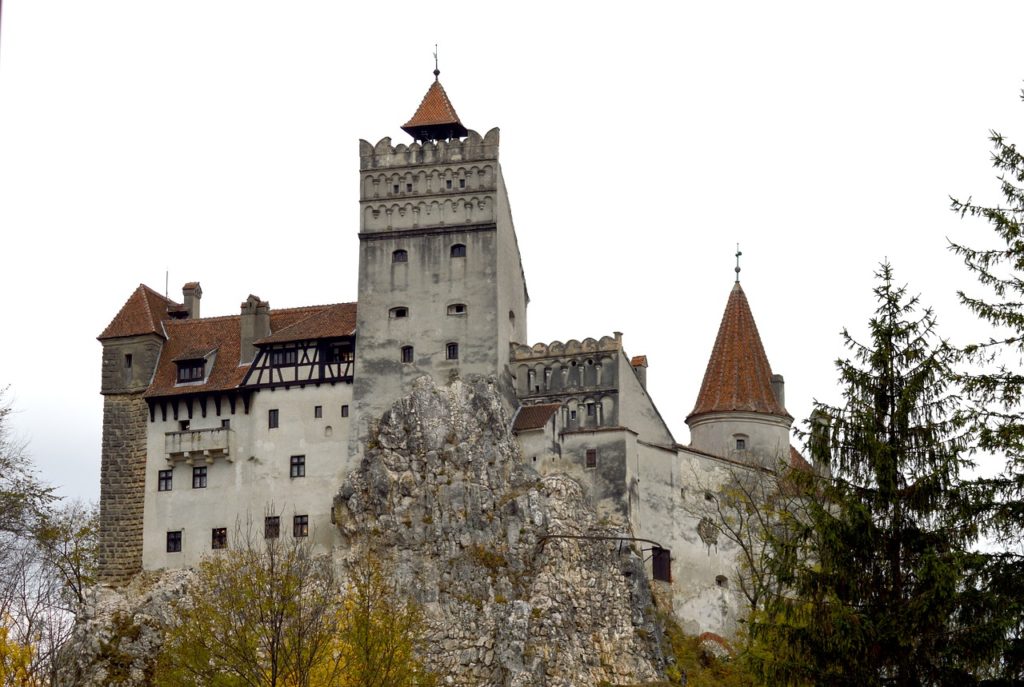 It was like arriving on a Dracula Festival and the little town square was totally packed. The queue to enter the castle must have been at least a 100 meters long. I was stocked, as I am sure this would mean the experience would be great. Thankfully, the line moved quickly and after paying 35 Lei (€ 7,80 – ) I was ready to start my scary adventure at Bran Castle.
To get up to the castle, you have to walk a steep hill. On my way up I saw different banners, which had history facts of the horrors of Count Vlad Dracula written on them. My heart started racing and I was ready for what was coming next.
"Would we start with the dungeon?" The master bedroom?" "Or maybe his secret layout? "Yes, that must be it!"
As the queue to the entrance of the castle got smaller I smaller, I was getting more and more excited.
The Tour
White walls, a breezy wind, sun shinning and nice silk decorations and curtains. This is what I saw in the first room I visited.
"What the (..) is this?" I remember mumbling out loud. "I know, right?" A woman said next to me.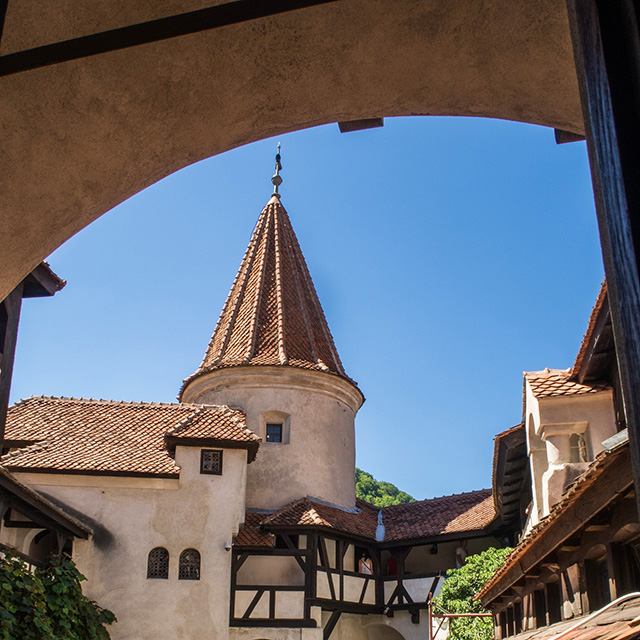 My disappointment was greatly, as it turned out that Dracula's castle looked more like the set of the famous musical movie "Mama Mia", then of the home of an evil warlord. As the tour progressed, I became more and more annoyed as all the information was about other kings and queens who made their residence in this castle during its existence.
Apparently, good ol' Dracula only stayed some time in their dungeon as a prisoner and that's it. A real tourist trap, if you ask me.
I will be honest, it was a stunning place, therefore if you like beautiful castle by all means, go ahead and visit. But it has absolutely nothing to do with Count Vlad Dracula. Unless, the history books made a mistake and he was actually not an evil warlord, but a very passionate home decorator.
Racing the Transfagarasan Highway
After my disappointing introduction to Count Dracula, I had set my focus on my second goal: Racing the famous Transfagarasan Highway. This serpentine road was constructed in 1974 and starts at Piteçti. It follows the valley of the river Argea and after the highest point, it descends to Cartisoara in the Olt valley, where the road ends.
In the British TV show Top Gear, the team showed why the Transfagarasan Highway is the best road for a road trip.
Transfagarasan Highway Map & Route
I took the E68 and would come in from the North side. That means you will drive the highway from the bottom to the top. The first part of getting up to the mountain is a breath-taking experience. The many pine trees and large forests could easily make you believe you are driving in Norway or North America.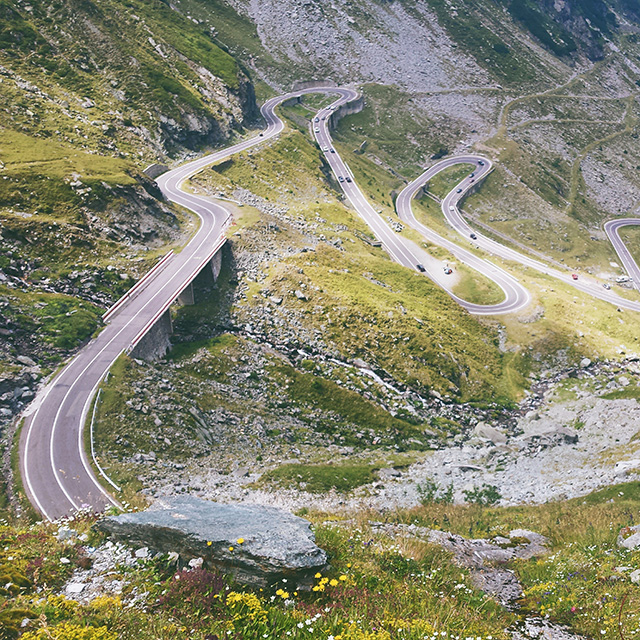 And after about an hour driving the hills it was finally there: The Transfagarasan Highway! I adjusted my seat, made sure the brakes were working and put the car in the first gear. I would not need more than three gears as you won't be able to go any faster than 50 km/h, but that is really all the speed you will need to enjoy this amazing road.
Childhood memories flashed back in my mind and after the first corner you lose all sense of responsibility and instantly go into "little boy mode". Nice sharp turns, smooth roads and my favourite Australian rock band "ACDC" pumping out of the speakers.
Yes Sir, it does not get any better than this!
It takes about 15 minutes to get to the top and in my case the road was not busy. There was the occasional "Lance Armstrong wannabee" who thought he owned the whole road (both lanes) with his bicycle, but other than that it was like a real size Matchbox racing track.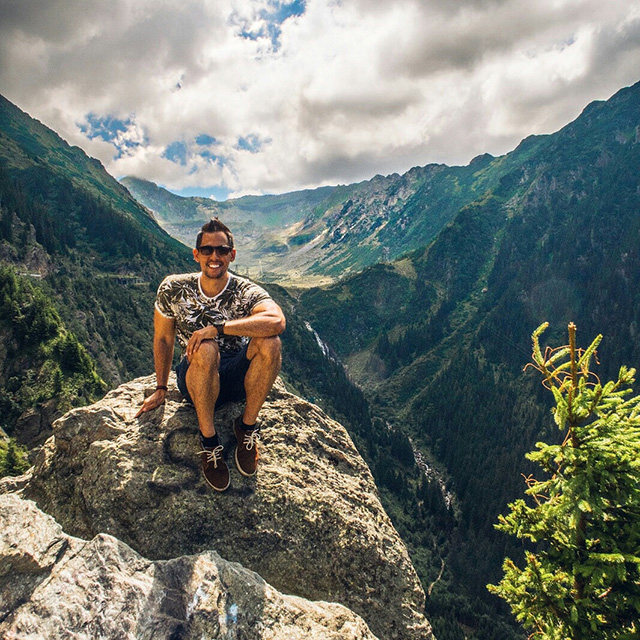 Balea Lac (Lake)
On top of the Transfagarasan Highway you will find the beautiful and most visited glacier lake of Romania. The Balea Lac offers a variety of activities including a visit to a weather station, campsite & hotels, restaurants and several hiking trails to the top.
It can get very crowded during the summer season, but once you found a parking spot you are good to go. You pay on average 1 euro per hour for parking and it is on you left-side when you arrive at the top.
During the winter they even have their own ice hotel. How cool is that?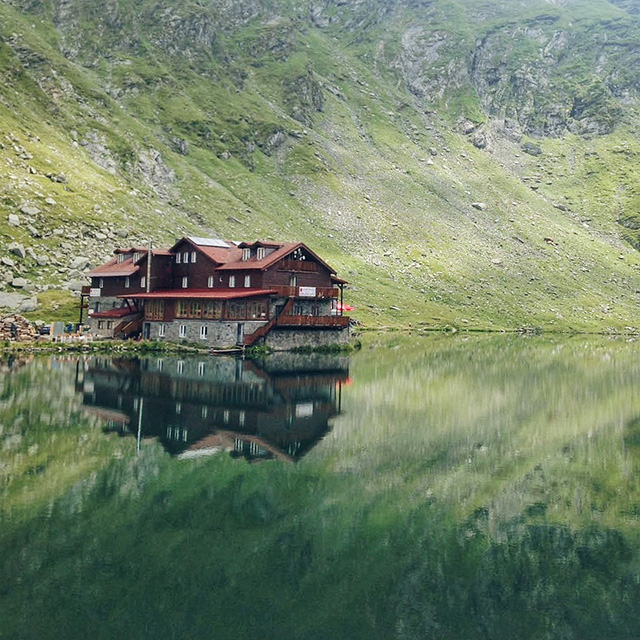 Cascada Balea
When you leave Balea lac, you can enjoy the tallest waterfall in the country known as Cascada Balea. Although it is not recommended that you swim in the pools due to the extreme cold, it is a wonderful place to just sit back and enjoy all that nature has to offer.
Vidraru Dam
The next stop on your journey will not be very far down the road at Vidraru Dam. This structure is quite imposing, but one that should not be missed. The dam is relatively new when compared to other structures in Romania as it was only built in 1966, but it provided hydroelectric power to the very remote part of the country and formed Lake Vidraru.
Nestled between the mountains, it makes for a great place to take photographs or simply walk around for a bit.