My Road Trip in Ukraine
When I announced my route for Europe's longest road trip, people were shocked with one particular destination: "Why would you want to do a road trip in Ukraine? Your car will be stolen within a day, everybody is corrupt and it is currently a warzone over there!" It was an expected reaction and I understood that my family and friends were concerned that I would visit a country during my road trip (blogpost: The Trip 2017) that is labeled "dangerous" and "notorious" as a travel destination.
After the terrible disaster with Malaysia Airlines Flight 17, the reputation of Ukraine was shattered in my home country of The Netherlands. This was taken one step further, when in 2015 a large protest took place to vote "No" against the Ukraine referendum. This resulted in more negativity towards the country in general. With The Road Trip Guy, my goal has always been to learn more about new cultures by experiences it yourself. I wanted to visit the country, speak to the local people and share my own experiences with the readers without any political (to what extent this is possible) influences.
By traveling through the Ukraine by car I knew I would be able to meet the locals and learn about their cultures.
(Related: Places to visit in Ukraine by Megan)
Crossing the border from Poland into Ukraine with a car
After an amazing time in Poland (blogpost: 25.000 km Europe road trip part 9 : Warsaw and Krakow) and humbling experience at Auschwitz (blogpost: How to visit the Auschwitz-Birkenau concentration camps) it was time to head towards the Ukraine. I would use the Korczowa-Krakovets border on the A4 highway between Poland and Ukraine. Tanya (28) also member of the team joined me in Poland as she would be my translator when visiting the charities in Ukraine and as the negotiator.. well, for everything else!
After spending a few hours researching the border crossing, I suddenly got a very bad feeling about this part of the journey. There were not many only reviews to be found, but the ones that I did find were downright worrying. "We had to wait for 4 hours just to receive a single stamp!" said truck driver John from The Netherlands. Chris, a backpacker from Australia, mentioned: "Absolute bullshit, mate. We were stuck there for 24-hours with no place to go. Had to sleep in the car.. but whatever. It was a bad one." A great start to my road trip in Ukraine!
Want to see how I experienced this endeavor? Please check out my blogpost: The Korczowa-Krakovets border crossing: How to go from Poland to Ukraine by car!
Small preview;
Welcome to Lviv!
The city of Lviv is about one hour's drive (80 Km.) from the border crossing. Unfortunate, my exhausting and educational introduction to the Ukraine was not yet finished. The road conditions in Ukraine are notoriously bad. After waiting for almost 7 hours, I was not in the best mood to check them out.. in the dark.. with no traffic lights! I'll be honest, it was nerve-wracking.
Thankfully, Tanya was guiding me with her instruction: "Left! Right! Speed up! Stop! Watch out for the cow!" She barely looked up from her mobile phone as she was giving me the "Kung Fu Master"  treatment. I was the young grasshopper that was facing a challenging task, while she was the wise and calm master giving the crystal clear instructions.
It worked, as we arrived safely in Lviv and after a quick pitstop at the McDrive, we reached the hotel where I was so exhausted that I fell asleep with the burger still in me hand..
Overnight accommodation in Lviv
During our time in Lviv we were staying at the Sonata Hotel.  This beautiful hotel is located just 5 kilometers outside the city center and has private parking. A taxi to the city will cost you just under  € 1,50 – You will not believe this, but I paid € 32,- per night for 2 people including breakfast. And let me tell you that it was a very good breakfast with a wide variety of foods and drink, also including vegetarian and gluten free meals. Very impressive!
Ukrainian vodka breakfast
When we arrived in downtown Lviv, Tanya mentioned that it was time for my first Ukrainian tradition. She took me to this little bar called "The Drunken Cherry" that was serving delicious warm cherrywodka for breakfast. "Welcome to Ukraine!", she said. My stomach was swiftly introduced to the Ukrainian cuisine. "Not a bad start!", I mentioned. "Well, do not worry. You ain't see nothing yet, Niels!", said Tanya smiling. I was feeling like a real tourist, but everybody I met was super friendly and interested to where I came from. They master the English language very well and many restaurants and shops were bilingual.
Architecture and culture
Lviv a city in western Ukraine with around 730.000 inhabitants. Traces of its Polish and Hungarian heritage are evident in its architecture, which blends Central and Eastern European styles with those of Italy and Germany. Here you wil find the beautiful the opera house, lot's of coffee and very famous chocolate!
The opera is located at the end of main street where you will find a mix between large shoppingmalls and small local shops. Having a butchershop next to a large supermarket is normal in Ukraine as most people are very loyal to the small family owned businesses. The social commitment combined with the loyalty between the people with lower incomes is impressive to see. Something that is rarely seen these days in our western society.
Hipster heaven
In the city center you will find a wide diversity of bars and restaurants, but also barbershops that are clearly hipster oriented. Special types of beers, old school barbers and many burgerjoints can be found all over Lviv. But no worries, as for the women, there are plenty of clothing shops present showing the collections of local designers. As the Ukrainian woman are very contious of their looks, you will also find a beautify salon on every street corner.
Spare-ribs from medieval times
When lunchtime was there, Tanya had a very special idea. We would visit the medieval restaurant "Spare-Ribs under Arsenal" that is known for making the best spare-ribs of Lviv. When you enter the restaurant you will see two large grills with pounds of ribs being slow roasted by using a horizontal spinning plateau. All the ribs where marinated with their secret homemade honey marinade.
I noticed instantly how busy the place was. "Not bad for a Tuesday afternoon, right?" I asked Tanya. She said: "This restaurant is always full. The price is very good and even affordable for people of Ukraine with a lower income." 
Entertainment
We had to wait for a few minutes before we could get a seat, but the restaurant had a solution for the waiting guests. Next to the line was a wall full of wooden swords, axes and other medieval weaponry, which could be used to take selfies with. This was of course a big succes and the restaurant even allowed people from the outside to take picture with the props. Even if they did not come to eat. Smart marketing move , if you ask me!
The total bill came to just € 11,- , which included our drinks, main course and side dishes. Now I understood why this restaurant was so populair. Amazing quality of food, quick service and even better prices. Even when I included a hefty tip, it was still till this point of my trip the cheapest lunch I had.
Time for desert and coffee in the Chocolate Factory
I like sweets. I like them a lot! And when Tanya said we would visit the chocolate factory for desert and coffee, I was not sure what to expect. "You mean a chocolate factory like Willy Wonka?", I asked. "Even better. Lviv and Vinnytsia are home of the biggest chocolate factories of the Ukraine." That sparked my interest for sure!
After a short 5 minute walk, we stopped in front of a big house. It reminded me of the house back home in Utrecht and Amsterdam, but with a DisneyWorld vibe to it. It had all the moving parts and puppets of the Disney attraction "It is a small world" and I could only imagine what the rest of the building was going to be like.
At the entrance of the factory, there was a big glass wall, which gives the visitors an insight into the kitchen where all the chocolatiers are making their little works of art. It was certainly fascinating to see how they create any shape or object you can thinking of out of chocolate.  "Welkom to Lviv Handmade Chocolate!", Tanya said.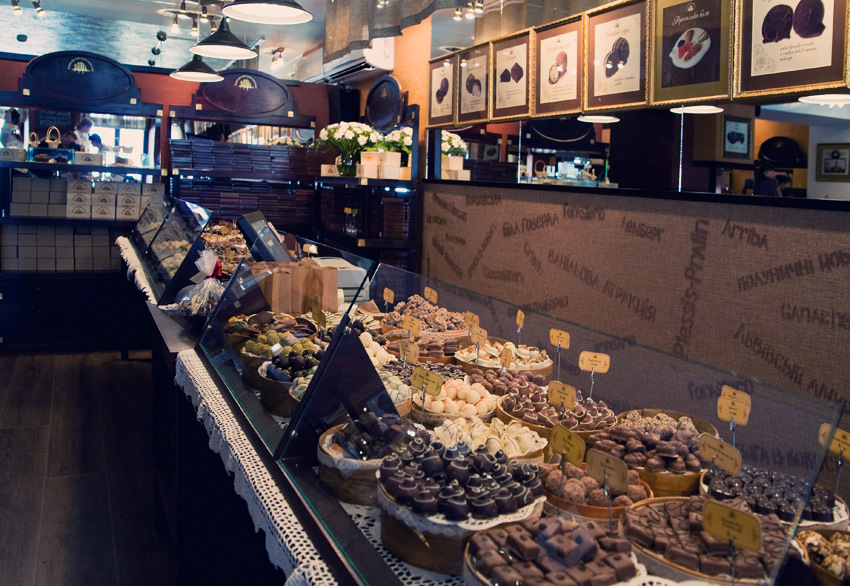 Welcome to heaven!
The factory has 4 floors and on each floor you can find different activities to explore. On the main floor you will find the kitchen and a small café for a quick hot cup of coffee or snack. Here you will also find some beautiful little chocolate art-works being displayed like you are in a real art museum. It is truly amazing what they can do with chocolate.
On the second and third floor you will find the shops. In these shops you can buy any type of chocolate that you want. Salted, milk, dark, nuts, no-nuts, liquid, spiced etc. It is all there! There is even a security guard present to control all the crazy kids that lose their minds when they run into this sugar paradise.
On the 4th and top floor you will find the main restaurant. In this restaurant you can order the larger meals with delicious deserts on the roof terrace. Here I choose to order a delicious banana, chocolate, caramel with almonds dish. With a little scoop of vanilla ice cream of course!
"Bye Bye, my dearest low-carb diet!" 
Relaxing with live music at beer brewer  "Pravda Beer Theater".
The centre of Lviv is not big. All the activities we did that day, like The Chocolate Factory, The Drunken Cherry and the restaurant "Spare-Ribs under Arsenal" are just 5 minute walk from each other. This was also the case for the Pravda Beer Theater.
This old-brewer recently had a big make-over and is now the hottest place in town when it comes to dining, brewing beer and listening to great live-music. The food and drinks were delicious and the band was amazing. It was clear that the Ukrainian people do like a party as the tables were set aside and people started dancing left and right when the beer and vodka joined the party.
Road trip to Vinnytsia
After my amazing time in Lviv, we were ready to head towards the city of Vinnytsia. This route would take us 6.5 hours and would include (according to my research online) some poorly maintained roads. I started to worry a bit, but Tanya reassured me and said as long as you drive slow it won't be a problem.
Thankfully, that was indeed the case! Our route had been getting a big reconstruction last year and for most of the route we had smooth and brand new roads. I loved it, as I could finally enjoy the Ukrainian scenery without worrying about potholes and other dangers. Well, a cow would occasionally appear out of no where..
Just before our first stop in Rivne, I came across this beautiful WW2-monument in the little village of Dubno. You could see the influences of the old Sovjet-union were still present in most of these small towns.
The tunnel of love in Klevlan (Rivne)
The tunnel of love is an old railroad in the village of Klevan, about 10 kilometers outside of Rivne. On this old track a cargo train with wood drives about 3 times a day to the village, but because there has been little maintenance of the vegetation around the tracks, the trees started to form a tunnel shaped forest over the years. The result? A gorgeous looking tunnel, which indeed is a very romantic spot to take some photos.
Tips for visiting the tunnel of love
De tunnel might be difficult to find so I highly recommend using a GPS navigator to find the village. It would be best to visit the tunnel in the afternoon as the temperatures can get high during the peak hours of the day. Also you will have the best light in the afternoon as it will give the tunnel an extra "full effect" when you take your photos. This fullness will not appear during midday when the sun shines from the top.
If you wish, you can buy some small souvenirs right next to the track as you will find two or three small merchandise stands. If you want to buy something, do it here! They will be forever grateful for it.
Extra tip: Bring your anti-mosquito spray with you! I did not and after 2 minutes I must have lost at least a liter of blood!
Vinnytsia: A city of unity, festivals and food.. lots of food! 
Our drive towards Vinnytsia, including our stop in Rivne, lasted almost 8 hours. Along the way I noticed how developed the Ukraine actually is. All the big brands are present like Shell, McDonalds, Zara and it felt like I was driving back home. I was hoping I would learn more about the traditional Ukrainian culture during my road trip in Ukraine. I knew Vinnytsia was the right place to do so.
Once I arrived in Vinnytsia, I would stay at the house of the parents of Tanya. I parked the car, we had dinner and right after I went straight to bed. I was exhausted and unpacking the car had to wait till the next day. In Ukraine it is very common that several generations live in one house, therefore the next morning was like a family gathering at the breakfast table. When visiting the Ukraine you will notice something right away; family is their number one priority.
Family comes first
A career or entrepreneurship comes in at second place. Although, I was not sure why exactly The Netherlands had different priorities, I could only assume it was this way because for a long time having a career or even your business was not a option.. at all!
Until the liberation in 1991 from the Soviet-Union, the living conditions in the Ukraine were really bad. The economy was down and having a career would mean having a job at the local factory or at the farm. If that was not a choice you would join the army. The babyboomers of Ukraine never had the same opportunities as those in West-Europa after WW2.
The "Handmade in Ukraine" festival
That afternoon there was a festival happing in the city park. The people of Vinnytsia were celebrating their local businesses with the "Handmade in Ukraine" festival. At this event all local talent could display and sell their home-made foods, craftsmanship, drinks, cloths and much more.
I could see that this festival was an important event for the people. Everybody was having a great time and you could see it was a tight community as everybody knew each other, even though Vinnytsia is home to almost 400.000 inhabitants. The food- trucks & stands introduced me to an abundance of Ukrainian dishes and I must have gained at least 4 pounds that day just by lunch alone! "Is this normal?", I asked Tanya. "The portion sizes of the dishes are huge. You could feed a family with this!"  Tanya said:
"OUR KITCHEN ORIGINATES FROM THE LITTLE VILLAGES AND THE FARMS OF UKRAINE. THE PEOPLE HAD TO WORK OUTSIDE IN THE COLD WINTERS as TEMPERATURES COULD reach AS LOW AS -20 DEGREES CELSIUS. THE PORTIONS ARE THIS LARGE BECAUSE OFTEN PEOPLE COULD ONLY EFFORT ONE OR TWO MEALS PER DAY. ALL THE ENERGY NEEDED FOR THE LABOUR CAME FROM THESE TWO MEALS. THAT IS WHY IN GENERAL MOST UKRAINIAN DISHES HAVE A HIGH FAT CONTENT."
Poverty in the Ukraine
During my visit to the festival I got my first glimpse of the massive gap between rich and poor. On the below photograph you will see two elderly ladies selling flowers on the corner of the street. Tanya explained to me that a lot of senior people still had to work as the government pensions are normally around € 50,- per month. That was a big shock to me.
The two ladies were the same age as my grandmother and she was enjoying a very good pension back in The Netherlands. No way would she be allowed (and even be able) to work 6 days a week. I felt some guilt building up, but Tanya reassured me and said:
"LET ME TELL YOU, NIELS. WE ALREADY ACCEPTED THIS SITUATION AND WE MAKE SURE EVERYBODY SUPPORTS EACH OTHER. DO YOU REALLY WANT TO HELP? BUY YOUR FLOWERS FROM THESE LADIES, CONTRIBUTE TO THE LOCAL ECONOMY AND SMALL BUSINESSES AND ALL WILL BE GOOD. EVERY LITTLE BIT HELPS."
It's as good as done. I helped the two elderly ladies by buying flowers. As the famous Dutch soccer player Johan Cruyff once said: "Every advantage has its disadvantage and vice versa" I could make this harsh situation into something positive. By of course giving my flowers to the prettiest girl of Vinnytsia.
Fountain show of Vinnytsia
That evening we visited the populair Roshen fountain show. This water spectacle starts at 9.00 PM en takes place right next to the Roshen Chocolate Factory. This factory is owned by the Ukrainian president Petro Porosjenko. The show is about 20 minutes and shows a combination of special effects, lights and a waterballet.
Visiting a real Ukrainian farm with grandma
My visit to Ukraine would not be complete, if I did not visit the farm of Tanya's grandmother. I noticed instantly how many different crops were present on the little farm. Growing your own food and eating organic is very common in Ukraine. This is due to the low salaries and high prices in the supermarkets.
That afternoon, grandma and I worked hard and we harvested and planted a whole bunch of stuff. Potatoes, honey, appels, cherries, radish, corn and much more. Grandma said: "Last year it was almost -30 degrees celsius in the winter. It is important we stock up as much as possible". It was a fun and interesting experience hearing stories about the old Ukraine and how live was then, back in the days. With her little English and my basic Russian we had the time of our live.
How did I experience my road trip in Ukraine?
There is still a lot of work to do before Ukraine would be able to become a EU-member. Although,  I think this is mostly due to the government and not to the people of the Ukraine. What I experienced with the people was strength, kindness, friendliness and a very good cuisine! The war-zone is in the East of Ukraine and close to the border with Russia. You will not notice much about it in Central and West-Ukraine. I can definitely recommend traveling Ukraine, but it might be better to fly in and rent a car. Unless you want your own border adventure on your road trip in Ukraine!
More adventures to come..
During my stay in Vinnytsia I did a few small trips with the train to Kiev and Odessa. It was a great experience and the trains were modern and included Wi-Fi. I also visited my third charity, which was a dog rescue center in Vinnytsia. This shelter rescued over 500 dogs, but are severely struggling financially. With no government support and only a 2% adoption rate, time is running out.
In my next blogpost, I will describe my adventures traveling by train through the Ukraine. I will also discuss and how you can also help with saving the street dogs from Ukraine.
I hope this blog post will help you plan your next holiday to Ukraine!
Stay tuned!