25.000 km Europe road trip part 7 : Tallinn and Pärnu in Estonia
After a quiet time in Finland my hopes were set for the famous Baltic States. Estonia, Latvia and Lithuania were all on my bucket list and I could not wait to visit all their capitals: Tallinn, Riga and Vilnius. The ferry from Helsinki to Tallinn was easily booked with DirectFerries.com and for just € 55 ,- (passenger + car) I was in Tallinn in under 2.5 hour. In the Baltic States I was taken back in time to the medieval periods and experienced real reindeer meat, did my first pub-crawls of The Trip 2017, met two new road trip buddies and got engine trouble with Lazy Louie as black smoke and a shaking engine started to appear.
Oh boy, adventure came knocking on my doorstep!
Road Trip Route – Estonia
My visit to Tallinn and Pärnu
After arriving in the port of Tallinn, it was just a short 10-minute drive to my new hostel. This time I would be staying downtown and I could park the car next door for just € 7 ,- per day. A breath of fresh air after experiencing the high costs in Scandinavia for the past 3 weeks.
After parking the car I noticed black smoke coming out of the exhaust of the car. We did a check up less than a month ago and surely the car was in good shape. After the routine check ups I could not figure out the problem, therefore I had to bring the car to the local Volkswagen dealer to solve the problem. Thankfully, Volkswagen Møller could fit me in the same day even when they were fully booked. What an amazing service! The result? Not too bad, a broken oxygen sensor which cost me about € 250 ,-  (including labour cost) to get fixed. After that, the engine was running smooth again.
Tallinn Old Town
On my first day I visited the Danish King's Garden. This beautiful place is overlooking Old Town and the St. Nicholas Church. It is called The Danish King's Garden as legend has it that a Danish flag came falling down from the sky during the invasion of Denmark into the city. It has a small restaurant and some scary looking life-size statues that resemble 3 grim reapers, but were actually 3 monks! Good going, Road Trip Guy!
I had a sunny day, therefore the terras was out and you could enjoy a drink or two in this amazing castle garden. Next to the garden is The "Alexander Nevsky" Cathedral. This cathedral is an orthodox variation.
It is a beautiful sight to see and surrounding the cathedral area are many little shops hidden in the small streets. Most of the shops sell typical tourist souvenirs, but a few sell traditional craftsmanship. From amber to wood to iron.. It is all there! This is the best location to find the perfect gift for the loved ones back home.
Lunch in Old Town
For lunch I went to the famous III Draakon which is located in the city center. This small medieval bakery serves amazing bread with cooked meat inside. You can choose between chicken, pork and reindeer meat. All of them are delicious and the staff is really in character when you enter this small, but charming little bakery. No worries, there are also vegetarian meals available. Prices are 1 to 3 unites (A unite is about 1 Euro) and drinks are separate.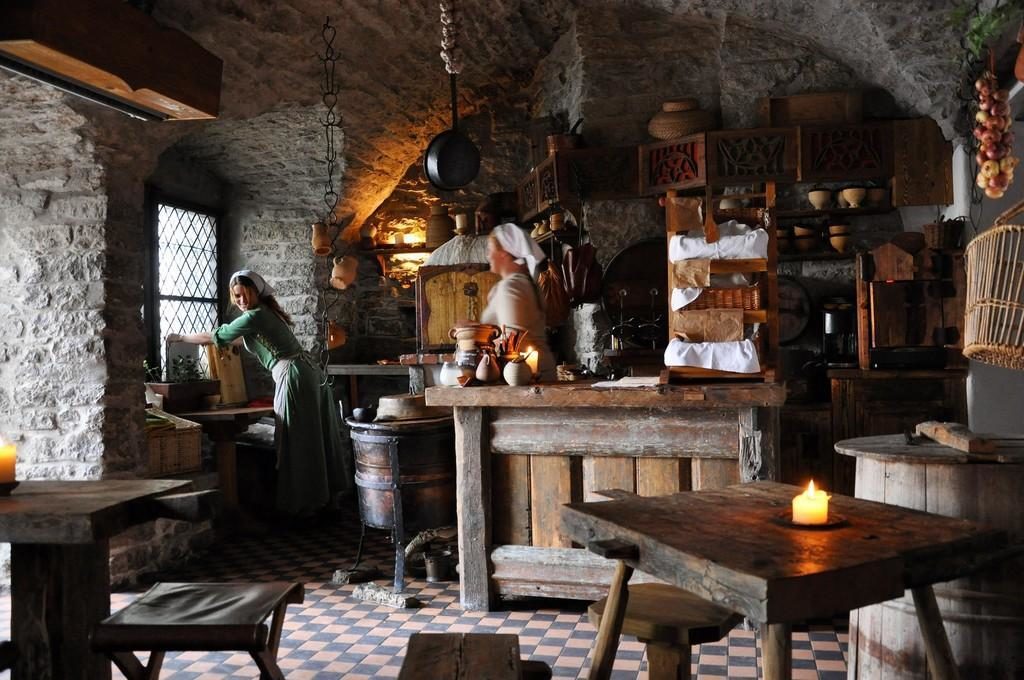 In the evening it was time to visit some bars and clubs. We did the pub-crawl with the famous Monk's Bunk hostel in Tallinn. This hostel is a real party place and for just € 20 ,- we had unlimited drinks for one hour at the hostel itself. Afterwards we visited over 10 bars and disco's, including the Hollywood and The Red Emperor. This was a great way to meet new people and after a good night out I met two new road trip buddies; Haiko from The Netherlands and Eric from Ivory Coast.
Pub-crawls are a great way to meet new people if you are by yourself.
Close to the hostel is the Viru Gate which was built in the 14th century. For you party people out there, here is where the McDonald's is located!
The beach town of Pärnu
After Tallinn, Eric and I drove towards Riga with a small stop in the beach town of Pärnu to meet up with Haiko. Pärnu is one of the 15 provinces of Estonia and is the 4th largest city in the country. This cozy little village is directly located at the beach and has a wide variety of beach activities like play yards for kids, kite surfing, paintball and much more. The season is June, July, August and the first two weeks of September. We stayed in the amazing hostel "Strangers in the night" which is directly located in the center. There is free parking surrounding the building and we rented our bikes for a day of cruising for … are you ready?
€ 1 ,- per hour!
How great is that? The hostel itself had great service and the price was just € 16 ,-  per night!
Unfortunately, the tourist season had not started yet due to the bad weather, but that was no problem for us. There are two main bars in Pãrnu which you will surely enjoy, named The Coco Loco (Karaoke bar) & Disco A.P.T.H.E.K. Cocktail drinks are about the same price as in Europe, but beers are much cheaper starting at a Euro each. Both bars are right across each other and if you visit before 10.00 PM you will get in for free. Just be ready to compete with some karaoke pro's from Finland as you will see the bar is full of them. And let me tell you.. the people from Finland know their songs! 😉