Fantastic! You have booked an amazing holiday to the beautiful island of Gran Canaria. This stunning piece of paradise is part of the famous Canary Islands and is the seconds most popular island of the archipelago. To enjoy a holiday on the island to the fullest, most people decide to rent a car in Gran Canaria.
The roads and coastal lines are perfect for that romantic couples road trip or a fun-filled journey with the family and kids.Whatever your holiday plans might be, exploring Gran Canaria by car is a wonderful adventure.
But be aware is it can easily turn into an unnecessary expensive one if you make the classic rookie mistakes.
Thankfully, The Road Trip Guy (Nice to meet you!) is here to help you save lots of money on your next car hire in Gran Canaria and avoid those SNEAKY extra rental fees most 
Use My Expert Tips & Save Lots of Money When You Rent A Car in Gran Canaria!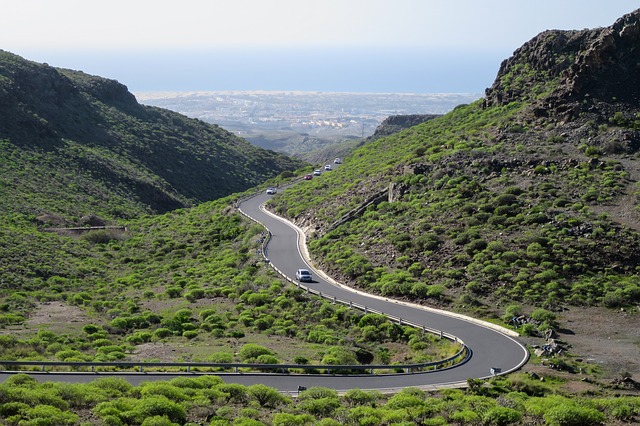 Book your car hire in Gran Canaria right away!
A wise person once said: "The early bird catches the worm!"
Well, this interesting quote is very relatable when it comes to finding the best deals on car hire in Gran Canaria. As I mentioned before, Gran Canaria is the seconds most popular island of the Canary Islands and gets over 4 million tourists each year.
You can imagine that all these people are very keen on receiving the best car rental deals possible! Therefore, you need to make sure you always book your rental car as fast as possible. It is not an uncommon sight on the island to see car rental companies hanging out large signs stating that all cars have been rented out. It just gets VERY busy between June and mid September. 
Local Vs. International car rental companies
I have been traveling to the Islands back and forth for the last 13 years. Before we had internet, I always booked my car at a local rental car dealer. All seemed great, until we got into an accident (not my fault) and it was time to get the insurance sorted and the car needed to be towed. All of a sudden all these hidden costs appeared, the staff's English-speaking skills vanished and I was stuck with a €900,- bill! 
I was stuck with a €900,- bill! 
Thankfully, I was working for a large multi-national company at that time and after a few phone calls from the office and a harsh Spanish discussion with the manager of the rental company, it was all sorted. From that day on I decided to only use international rental companies, like Rentalcars.com that provide 24/7 assistance in English. They also represent companies like Europcar, Hertz, Avis and Budget. 
Better service = higher rental price? 
Now that you know that the two key elements, early bookings with an international rental companies, provide you with the best car rental deals, you can choose your favorite car!
The Road Trip Guy Says: I recommend you book your car at least 3-4 months in advance if you are planning to visit Gran Canaria between June and mid September. If you plan to travel between April and May I would do 2 months and any other dates a month is ok.
Why? Car rental prices can sky-rocket in no time and with 4 million visitors each year you have to be prepared. Nobody likes to pay up to 400% more for a daily car rental, right? 
You can get a great deal for just €14,-  per day – but if you forget to book on time you can pay close to €56,- per day for that exact same car!
That is 75% cheaper! Crazy, right?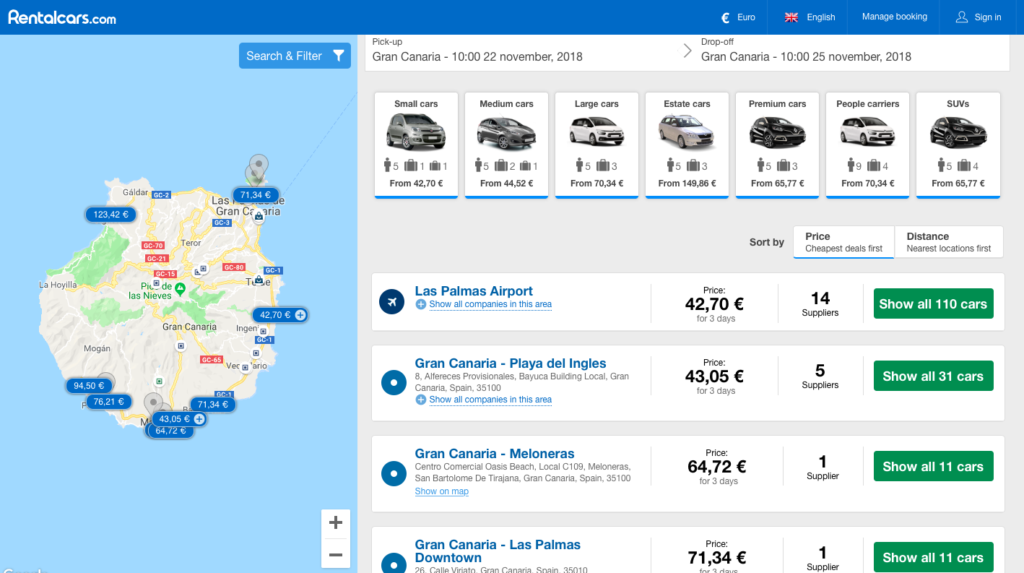 Where to Hire a Car on Gran Canaria?
Good question! If you have done already a bit of Googling on your favorite destination, you might have seen that Gran Canaria consists of four popular car rental spots; Gran Canaria Airport, Las Palmas, Maspalomas and Playa del Ingles.
Depending on the type of holiday (all include, road trip, group-travel etc.) and your travel companions you can decide where you want to pick up your rental vehicle. 
Gran Canaria Airport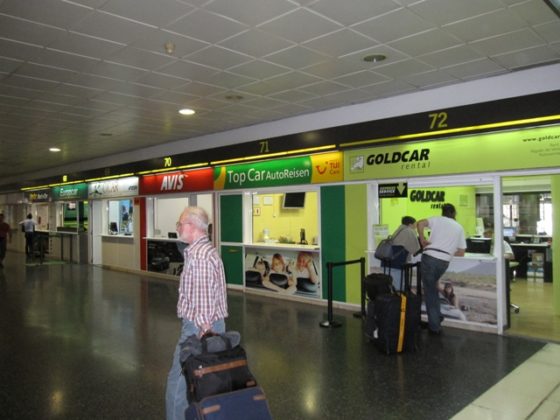 I am sure it does not come as a big surprise but all international car rental companies are present at the Las Palmas airport. After all, Gran Canaria Airport is the busiest place of the entire island. Because of the availability of this large selection of rental companies, most tourists decide to rent a car at Gran Canaria Airport.
They can be found in the Ground level of the main terminal.
Las Palmas
Las Palmas is a capital of Gran Canaria, the city is known for its beautiful carnival parades, duty-free shopping and for its sandy beaches. It is the most popular destination amongst tourists and you can find several local rental companies in the city centre. There are not many international rental companies in the city as Gran Canaria Airport is only 25 kilometers away.
My advice: Compared to Fuerteventura, there is very little price difference between Las Palmas and Gran Canaria Airport when it comes to daily rental fees. I think the most price difference I ever paid was around €2,50,- per day for the same car. That is almost nothing.
Do keep in mind that the airport has a lot more different cars available compared to Las Palmas. 
Maspalomas
Maspalomas is a famous resort town in the south of Gran Canaria. It is well known for its beautiful sand dunes that are part of the Maspalomas Dunes nature reserve. If you are a nature-lover, this is the place to be. As for renting a car? It is so so.
You will see a lot of signs that say "Car Rental Maspalomas! Best DEALS of the island!" but the truth is that it is much more expensive compared to Gran Canaria Airport or Las Palmas. I would say it is about 10-15%. 
Playa del Ingles
Also know as the "beach of the British" , Playa del Ingles is one party packed beach-town. It is full of wild nightclubs and bars and is a real holiday destination for the people that like to party like crazy. 
As for car rental options in Playa del Ingles? It is the most expensive one of the four. I am not sure why – but a mate of mine told me that because the tourists that visit Playa del Ingles are much younger and offer a lot more risk. They also had a lot of trouble in 2008 till 2010, when a lot of people were arrested for driving intoxicated. 
My thoughts: No need to get ripped of on rental prices because some teenage dodo's can't control their drinking habits. My verdict? Don't book here unless you want to pay top dollar. 
What type of car should you rent?
I have a simple answer to that question; It all depends on your travel goals and companions. Thankfully, all the rental companies provide different rental cars ranging from small economical cars to full-size SUV and stations-wagons. Those last two are perfect for a family road trip on the islands. 
The Road Trip Guy Says: Ok, ok – I know what you are thinking:
What about the gasoline Vs. diesel prices? Surely, we can save a lot of money if we rent a diesel car, right? 
WRONG – There is almost zero difference except for the rental fees between both types of engines. Let me explain it to you in the next chapter. 
Diesel or gasoline?
The price of 1 liter (1/4 gallon) of gas in Las Palmas de Gran Canaria is €0.95. The price of 1 liter (1/4 gallon) of diesel is almost identical. Most diesel cars are 10% more expensive compared to their gasoline counterparts.
Therefore, I recommend you choose gasoline as the price difference in price per liter does not justify the increase rental price per day.
Age restrictions on Gran Canaria
The legal age to drive a car on Gran Canaria is 18 years old. Unfortunately, almost all rental companies have an age restriction policy that only allows people which are 21 years+ to rent a car.
This age restriction includes the additional driver as well.
Insurance
When you driving in unfamiliar car and country, after a long flight, during a holiday, often using a GPS navigation system to navigate, it's easy to see why rental car accidents happen so often! One survey found that 27% of men and 10% of women have experienced damage to rental cars. That is certainly not a great way to start your holiday! 
If you are thinking about purchasing a damage waiver, there are two important factors you need to consider:
Are already covered by an existing insurance?

If the benefit of having a damage waiver is worth the cost.
Often times, you can get the same type of coverage through your standard auto insurance or a credit car.
Traffic Rules on Gran Canaria
Regarding the driving rules, the same laws apply like in Spain. The speed limit is 120 km/h on motorways and 50 km/h in towns unless stated otherwise.
Parking is not allowed on white or yellow lines.
The blood alcohol limit is 0.05%, and 0.01% for drivers that have their license for less than 2 years. In Gran Canaria cars drive on the right-hand side of the road.
Cyclists must have a helmet and lights to ride in the dark.
The motorways are toll-free here.
AAA Roadside assistance
Most renting companies offer road assistance services included in the price if you run into any trouble.
Best Road Trip Routes on Gran Canaria
Named the Spanish Miniature Continent, the island of Gran Canaria is rich in values capable of luring the taste for solid tourist experiences of visitors around the world. 
Being the largest Canary Islands dry land, Gran Canaria still has another tourist incentive: it has perfect conditions for surfing, which is why it was often compared to Hawaii.
Finally, the island is a UNESCO value, being declared a Biosphere Reserve. It is obvious that tourists looking for nature unaltered by human intervention have the great opportunity to be satisfied with a stay in Gran Canaria. 
Gran Canaria (Canary Islands, Spain) is a "miniature continent", located between Tenerife and Fuerteventura, with extensive golden beaches and endless white sand dunes with picturesque villages and valuable historic sites with plenty of natural spaces and secluded places.
The scenery in Gran Canaria is quite diverse: cities where shopping and nightlife mingle with centuries of history and culture. Here you can go to the beach at any time of the year, given that the average annual temperature is 24ºC.
The Road Trip Guy Knows Best: Here's a 5-day route on the island that you can use to plan your next vacation in Gran Canaria:
Day 1 – Playa de Las Canteras (Las Palmas)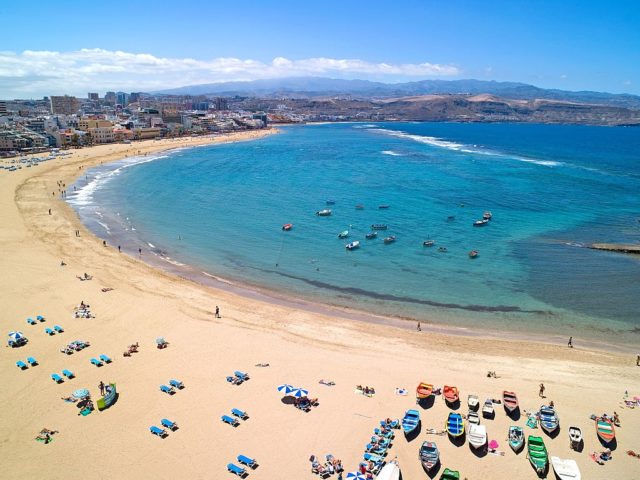 A giant "pool" right in the heart of Las Palmas de Gran Canaria, the capital of the island. It sounds unreal, but the natural setting of the beach is absolutely spectacular.
Playa de Las Canteras stretches over three kilometers in length and lies in a long bluish yellowish-brown bay, with a natural reef – called "La Barra" – just a step away from the shops and the city's agitation.
Playa de Las Canteras is huge and crowded with happy surfers. At the southern end of Playa de las Canteras, a fairly neglected area, there is a promenade set up for "Auditorio Alfredo Kraus" – a masterpiece of modern architecture and Las Palmas Philharmonic Orchestra.
Day 2 – Guayadeque ravine
The Guayadeque ravine is the little natural gem, shared by Ingenio and Agüimes, near the beaches of southern Gran Canaria. The ravine, in Spanish Barranco de Guayadeque, is a gorge-like valley near the Spanish villages of Ingenio and Agüimes in the province of Las Palmas on the island of Grand Canary.
It is one of the most magnificent valleys on the island. Cactuses, agaves, poppies, palm trees, Canary Islands pine trees and almond trees, as well as over 80 endemic species, grow abundantly on the steep slopes of this valley.
Day 3 – Natural Dune Reserve of Maspalomas
The most popular sand dunes in Maspalomas make you feel like you are in a desert on a beach stretching miles along the southern coast of the island. A carefully designed coastline that offers fun and relaxation for all ages and interests.
Maspalomas Dunes are sand dunes on the southern coast of Gran Canaria, the province of Las Palmas, in San Bartolomé de Tirajana.
Since 1897, they are protected being considered as a natural reserve. Maspalomas Dunes formed through the sand at the bottom of the ocean during the last ice age, when the wind blew the sand to the coast of the island.
Day 4 – Puerto de Mogán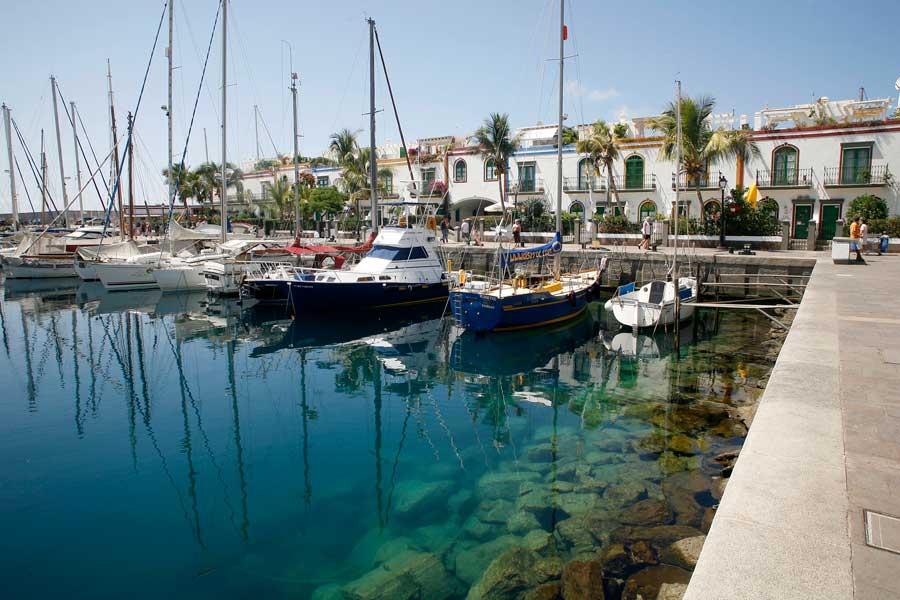 Hidden in the south of the island of Gran Canaria, in Mogan you can see a lot of divers who spend mosof their time under the water. Nothing surprising considering the underwater natural beauty found here. 
The place takes more life at night, as divers and locals meet and spend their time in the bars of the fishing
village of Puerto de Mogán. As for advice, do not miss the sunsets. The Legend says that once you have seen a sunset, you will fall under the spell of Mogan and you will want to live here forever.
Day 5 – Roque Nublo
Roque Nublo is a natural symbol of Gran Canaria, a must-see during the holiday on the island. There is a road in Gran Canaria, which starts off the beach, passes through many cities and eventually gets to heaven.
Nothing is out of the ordinary … until you see the road is not over. The road takes it up, leaving behind a cloud of clouds until it finally reaches Tejeda. The small town of Tejeda is less than an hour's walk from the coast, along a road that takes you so high, and to the sky.
This route passes through the Gran Canaria Biosphere Reserve (UNESCO 2005), and its unique landscape was named by the Miguel de Unamuno philosopher "petrified storm" because of its violent and spectacular forms.
The route begins in El Garañón and passes on the "Caldera de Tejeda", which has recorded many volcanic eruptions throughout history. Most of the trail goes through endemic species such as Pinus canariensis.
Final words
Hiring a car in Gran Canaria is a great way to enjoy the beauties that this island has to offer. Using a service like Rentalcars.com ensures that you get the best deal out of many rental companies from the comfort of your home.
Enjoy!
P.s – If you are interested to explore the other island make sure you check out my road trip blog post on Fuerteventura and Lanzarote.