Renting A Car In Lanzarote Like A Boss!
[ Beginners Guide & Save Money! ]
Designated a Biosphere Reserve and being located right within the heat of the Atlantic Ocean, Lanzarote is a Spanish island, blessed with beautiful black earth landscape and exotic flora. If we take into consideration the legend of the Canary Islands, Lanzarote is the located in the remains of the ancient civilization Atlantis.
You should consider car rental in Lanzarote if you want to explore the amazing landscapes that you have to see here.
A short introduction: Welcome to Lanzarote!
     
Lanzarote Island is the easternmost of the Canary Islands, being the fourth largest in this archipelago – 845.9 sq. Km. To the north of Lanzarote, there are several smaller islands – Graciosa, Montaña Clara, and Alegranza, which together with the islands of Roque del Este and Roque del Oeste form the Chinijo Archipelago, a refuge for a large number of seabirds.
Lanzarote is far from being consistent with the diversity, beauty and natural singularity shared by all the other islands of the Canary Islands.
The island itself is declared a UNESCO biosphere reserve, which is a strong incentive for tourists looking for nature unaltered by human intervention. But this is not the only capital with which Lanzarote boasts.
On the contrary, many visitors consider that the tourist formula of Lanzarote is reduced to a combination of beaches and sun. Indeed, laziness seems to be the best way to spend time in Lanzarote – also encouraged by bars, cafes and places to eat on the beach, but conscientious tourists should know that the island has many more to offer.
For example, did you know that a lot of tourists also visit Lanzarote in winter? It is definitely a whole new adventure where you will experience the local culture at its fullest.
The famous volcanic eruption of the 18th century destroyed most of the historical remains of Lanzarote. However, the historical past of the island should not be disregarded. It is said that Lanzarote is the first island of the Canary Islands archipelago that has been inhabited by humans, and there are many references made to that island, where the beauty and fertility of the place were praised.
Herodotus, Platon, Plutarch, and Pliny the Elder made such accounts, and the fact that Lanzarote was alternately visited and dominated by the Phoenicians, the Romans, the Moors, and eventually Spain, proves that the place was capable, in all this time, to attract the attention and interest of such powers.
Leisure opportunities in Lanzarote are varied: walking through the Vanuyuan's trail from Timanfaya National Park, sports fishing, golf on the beaches, entertainment centers; you can also discover the group of small islands that form the Chinijo Archipelago or the natural park of La Graciosa, Alegranza, and Montaña Clara, along with the Towers of the East and West.
The beaches of the island seduce due to their crystalline waters, which can be quiet and relaxing or with strong waves, ideal for practicing nautical sports such as surfing or windsurfing. At the bottom of the ocean are shaped volcanic forms that shelter an interesting marine fauna, appreciated by diving lovers.
Ok – Now that you are all up to date about the beautiful island of Lanzarote, it is time to explore the island in the best way possible!
How – you ask? Well, by road of course!
Benefits of Hiring a Car in Lanzarote
Even if you want to visit the ocean or you just want a peaceful exploration, in Lanzarote your needs can be satisfied. Hiring a car in Lanzarote is a straightforward task if you know what to look for and what are the most important things to take into account.
These car hire tips will help you avoid unnecessary charges when you rent a car in Lanzarote, and help you know what to expect. There are car rental offices at the airport and in major cities, but don't wait until you get there to rent your car.
Save the big bucks by booking in advance
It will always cost less if you book in advance. Rentalcars is a great place to do that. It is never too soon to book a rented car. If you leave it for the last minute, especially in the holiday season, the prices will be much higher.
You can use the RentalCars website to compare different renting companies and choose the one that is more suitable for your needs and funds. It's always great to have a comparison from which you can choose from. It is one of the most effective ways of deciding what is best for us. If you find a great deal, book it up right away!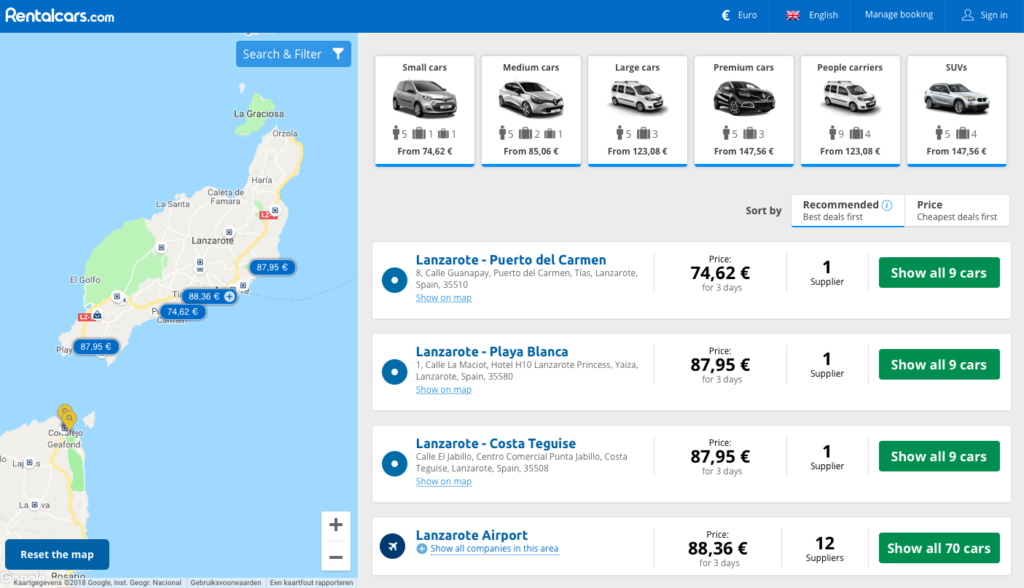 The majority of the companies offer free cancelations (up to 48 hours before arrival) in case you found something better or you have to postpone your trip.
Rental periods
Car hires in Lanzarote and all other places typically charges per 24 hours period. That means that you can pay for an extra day if you deliver it 1 hour later than you ordered, therefore make sure that you choose the picking and delivering times right. Take into account any possible delays that you might have. You also have to double check the opening hours for the rental offices where you need to drop the car.
One-way rentals 
Regarding the one-way car rentals, it's best to plan in advance your trip, because if you change the location of where you want to drop off your car in the last minutes, the prices will be much higher. Some companies offer free one-way trips to certain locations, but it's just better to check out the terms regarding what you need.
If your drop-off location is not that popular or near an important place like the airport, you will usually have to pay a fee for taking your car from one location and dropping it off at another location. Or you can do a circle trip, come back to where you took it from and avoid these fees entirely. Lanzarote is, after all, a great place where you can plan a trip in a circle.
Automatic or manual transmission?
When it comes to automatic or manual transmissions, keep in mind that the automatic one is usually much more expensive than the manual transmission model. If you never drove a manual, you have to know that is not that bad. You can get some practice at home before going on vacation, if possible, to get used to driving with a stick. But if you want to drive automatic and you don't mind the extra fees, then there is no problem with that.
Small vs. Big cars – What are the benefits?
The size of the car is also an important factor to take into consideration when renting a car in Lanzarote. First of all, "economy" cars might not be your usual pick when it comes to purchasing one, but it's worth considering their merit. They are the cheapest one to rent, and if you have only one person with you to take along, there's plenty of room for both of you and the luggage. While they will not be the fastest out there, you will surely appreciate how easily they can be maneuvered on small streets and parked. These small cars will also help you save money on gas, as they don't eat up as much fuel as their bigger counterparts. If you can go with a smaller car and you want to save some money, do it.
Insurance and collision damage waiver (CDW)
When it comes to car insurance, or collision damage waiver (CDW), rental companies force you to have one. The reason for that is simple: anything can happen with the car. It can be bruised, stolen or damaged, and without insurance, you will have to pay for every little scratch yourself, which is not a good way to spend a holiday.
Worrying about every little bump can really be a mood killer. Buying insurance from the company you rent every single time can also be very expensive. That's why, one of the most advantageous things you can do is to buy an annual insurance that will keep you safe and covered during the entire year, regardless of the places you decide to go on vacation and rent a car.
Condition of the car
Even if you have insurance or not, a great advice is to always check the condition of your car immediately after you take it, and record it for good measure, just in case. If anything happens and the rental firm will try to exaggerate the damages, you would want to have proof about the condition of the car when you took it from them.
Fuel
If you have the option to choose between delivering your car back empty or with a full tank of gas, it's better to choose the full version. While this feature of taking it full and delivering it empty is intended to save you the troubles of finding a gas station, you will never be able to deliver it empty, and therefore you will give away fuel for free. The cost of fuel is usually higher at the rental firms than it is to purchase it yourself, therefore refueling before giving it back it's the best way to make sure you don't pay extra charges.
Toll roads
There are a couple of toll roads in Lanzarote and it's best to have a method of paying them at hand. Unfortunately, there is no way (yet) of checking the prices online, but the prices in Spain for tolls are generally around 2 euros. Lanzarote is a Spanish island, and therefore it also obeys the Spanish laws.
Talking about navigation, it's best that you have your own GPS device to use. You can get one from rental cars companies from Lanzarote, but that means you will pay some extra fees. Nowadays, you can even use your phone to navigate around, given that you have the possibility of having internet connection abroad. If you don't, tagging along with a GPS from home with Lanzarote maps is the best idea.
Google maps on your phone
If you intend to use your phone, keep in mind that the laws are very strict and they don't allow you checking your phone or any other electronic devices while driving, even if you use it as GPS. You will be fined for this. If someone is coming along with you, it's best that they are the ones to handle the GPS while you drive. Old school maps are also an option, but again, you need someone to help you use them while you drive, or at least, pull outside of the road and use them.
Minimum driving age on Lanzarote
The minimum drive age in Spain is 18 years old, but when it comes to car rental, you need to be at least 21 years old to rent. Some companies even ask you to have 23 to be able to do that.
Traffic rules
You should always wear your seatbelt, obey the speed limits, and carry your driver's license, passport, insurance documents and rental documents with you. Don't park your car in places where the curb is painted red or yellow, or you will be towed away. Never drive after you drank, the law regarding this is very strict.
Drinking and driving
The alcohol limit in blood is 0.05% BAC, which is very low. It's best to avoid drinking entirely. Another thing that is illegal and can result in fines and penalty points is the detection of speed cameras. Speed camera detection devices are forbidden by law.
Bonus Tip: Do not wear flip-flops whilst driving a car!
Another important detail regarding the driving laws that might surprise you in this gorgeous island filled with plenty of sun, is the use of appropriate footwear. Simply put, if you drive in flip-flops or anything else that is not suitable for driving, you will be fined, and they will make no exceptions for tourists.
Talking about the risks of driving wearing inappropriate footwear is not the subject of this article, but you should know that if you don't respect this law, you risk hefty fines.
Things to see on your road trip in Lanzarote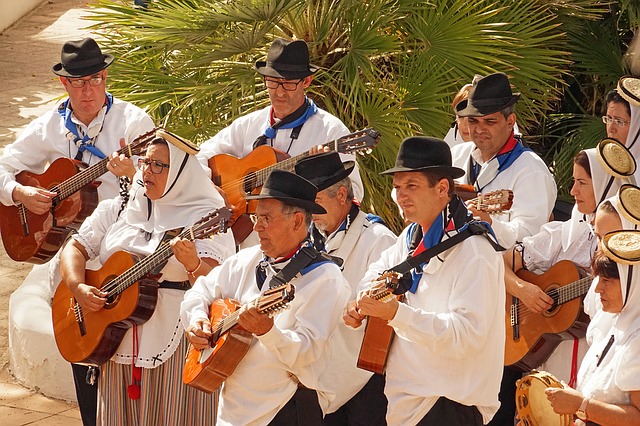 Now, after we covered all the tips and tricks regarding car rental in Lanzarote, let's talk about what you can do here.
Activities on the island
The island offers a range of entertainment activities. There are, for example, water activities such as snorkeling, scuba diving, surfing, windsurfing, parasailing, and canoeing. You can also admire a water park, a zoo, an aquarium park, etc. You can also take submarine excursions from the ports of Puerto del Carmen and Puerto Calero. Whale Watching Tenerife offers trips nearby the island to spot some amazing marine life!
However, one of the most enjoyable daytime activities is to relax on the beautiful beaches and to enjoy a hearty meal in the evenings. To do this, there are a number of shops, starting from markets and finishing with bazaars, offering you a wide range of products, but be cautious, because often prices do not coincide with real ones.
Weather
The weather is warm and dry throughout the year. Check AccuWeather for the latest forecast. 
Landmarks and monuments
Lanzarote Island offers a selection of landmarks and monuments, both natural and man-made. Two of the most famous natural landmarks in Lanzarote are El Golfo – a magnificent stone, semi-circular crater, and Mirador del Rio.
El Golfo is an impressive natural amphitheater, overlooking the ocean, and was created as a result of volcanic activities in the 18th century. This spectacular semi-circular crater is partly flooded, making it a lake, also known as the "green lagoon". This natural complex has become an important reservation, being protected by the authorities.
Nearby, there is a beach and a small village, which is famous for its restaurants and historical buildings. El Golfo is one of the most spectacular natural landmarks in Lanzarote and sits in the southern part of the island, in the Yaiza area. Bathing in the lake is strictly forbidden.
Mirador del Rio is a particularly famous place, known for its stunning, panoramic views of the Atlantic Ocean. Being located in front of the island of Famara Cliffs, Mirador del Rio is a stylish, luxurious building designed by a famous local artist, César Manrique. Mirador del Rio has a restaurant area and other attractions including a terrace area, a tourist center, and a charming view of the nearby Graciosa Island.
One of the most unusual and unique tourist landmarks in Lanzarote is the Monumento de Campesino, which is dedicated to rural farmers. The monument implies a modern, abstract sculpture made up of large white blocks. It is a farmer and a camel, and was designed by renowned local artist César Manrique. Nearby the del Campesino Museum can be found: a gift shop, a bar, and a pretty popular restaurant.
National parks, museums and zoos
Timanfaya National Park is a unique volcanic landscape that formed as a result of its eruption in 1730 and covers a quarter of the island's surface. For many tourists, this is the main reason for their visit to Lanzarote.
The Whale and Dolphin Museum is a very informative museum with friendly staff and advanced knowledge in the field. This is the ideal place to visit for those who come to vacation with the family. The museum is located right in the port of Puerto Calero and is certainly a museum suitable for this region because dolphins and whales abound around the Atlantic Ocean. Besides the museum is a huge whale skeleton – giving you the opportunity to explore the construction of this mammal not only from the outside but also from the inside. The museum also retains other collections of skeletons, photos, and biological samples.
Its volcanic landscape offers a dramatic setting for its most famous attractions, including Rancho Texas Park Zoo, Timanfaya National Park, and César Manrique's works.
Beaches of Lanzarote
Like all islands in the Canary, Lanzarote formed as a result of volcanic activity, but only a few of the beaches have black sand.
Famara Beach is visited in particular by Scandinavians and Norwegians. The island's basic occupations are water sports such as surfing, windsurfing or kitesurfing. Right on the beach, you will not find many places, but there are several bars and restaurants in the nearby village of La Caleta de Famara. In El Risco, there is a fantastic fish meal prepared with rice, as is typical of the Canary Islands. Also, try at your table a wine made in Lanzarote. You won't regret. Generally, Famara Beach is a good choice for surfers and kite surfers.
Another particularly attractive beach is Papagayo Beach. Being in the shape of a crescent moon with fine white sand, Papagayo beach, which is sheltered between rocks, is said to claim to be the most beautiful beach on Lanzarote. This is hidden in the Los Ajaches Nature Reserve – a volcanic hill area – on the southern tip of the island. During the peak season, the beach is full. The explanation is that all tourists who stopped at Playa Blanca, choose Papagayo beach for rest. Most people who choose the beach spend their time sunbathing, swimming and resting. If you are disturbed by the agglomeration there, go to the neighboring bays of Las Mujeres, Pozo, Congrío or Muelas, which are quieter, instead, more populated with nudists.
Beach bars & Restaurants
On the beach, there are also places that offer a varied menu. For example, Casa Angelina, which is famous for shellfish, shrimp or octopus dishes.
Adjacent to the village of Arrieta, in the northern part of the island, La Garita Beach is a stretch of golden sand with a steep slope in the sea. The beach is occupied by local families and people staying in Arrieta and nearby villages. The southern end of the beach has good surfing conditions.
What about the other islands?
Good question – Both Fuerteventura and Gran Canaria or great destinations. You can use a small plan or a boat and hop between both places. Both methods of transportation of very cheap and if you are interested to continue your road trip you can always check out these travel guides:
Final Words
Hiring a car in Lanzarote is a great way to enjoy the beauties that this island has to offer. Using a service like Rentalcars ensures that you get the best deal out of many rental companies from the comfort of your home.