What is the first thing you think about when you hear the name: Italy? Let me guess, Rome, Venice and Napoli! Am I right? Whilst these cities are of course one of the most popular tourist destinations in the country, there is actually a whole region in Italy where you can relax for days without ever getting bored.
(Related: My road trip in Italy)
Welcome to the beautiful Tuscany! This region is located in central Italy and is known for its stunning nature and beautiful buildings. If you want to take some iconic Italian pictures, this is the place to be. It is home to some the world's most famous olive groves and vineyards, but also Renaissance art and architecture.
During my 30,000 Km road trip through 41 European countries, I have embraced my time in Tuscany to the fullest and discovered what this beautiful region has to offer. During my stay I visited the capital Florence, I decided to rent a villa in Tuscany for the day and visited the movie set of Gladiator.
Driving up from Rome

After my visit in Rome it was time to trade the busy city live for a more quiet and remote region: Tuscany. My road trip would be 330 km long (4.5 hours) and take me from Rome all the way to Florence.
(Related: Explore Rome in Two Days)
Visiting the movie set of Gladiator in Tuscany 
If you have seen the movie "Gladiator" with Russell Crowe you will surely remember the beautiful house he and his family lives in. Although in the movies it is referred to a small village in the North part of Spain, it was actually filmed right here in Tuscany. I was keen to find out if I could find the exact movie location, but unfortunately there was very little information to be found online.
After asking around for hours and talking to several locals, a gentleman called Fernando told me that I should visit the old village of Pienza and take a right turn at the local church. At first it sounded a bit to easy, but when I arrived it was actually that simple. Pienza is not a big place and right next to the local church there was a small off-road track that brought me to a small parking lot.
After walking about 20 minutes on a very rocky road I finally found the beautiful house of Maximus! And it was totally worth it. Look at that view!
Renting a villa in Tuscany. Time to relax
I was getting tired of staying in hostels and campsites every single day. Combined with driving for many hours, I felt that my body needed a break. I wanted to stay in a real Tuscany villa and started looking online on where I could find such a place for an affordable price. The cheapest one I could find was a few hundred dollars and when I asked 5 people in the hostel if they wanted to join we split the bill and experienced a real Italian night for just 80 USD per person.
Who said luxury travel needs to be expensive?
Arriving in the capital of Tuscany: Florence
After a short trip to Siena, my Volkswagen Beetle and me drove all the way up to the beautiful city of Florence. I had seen already seen some amazing cities, but Florence took it to a whole new level. The architecture in this city is truly one in a million and although it can get very busy during the summer period it was totally worth it. We arrived mid September, therefore it was still busy but we just missed the peak season.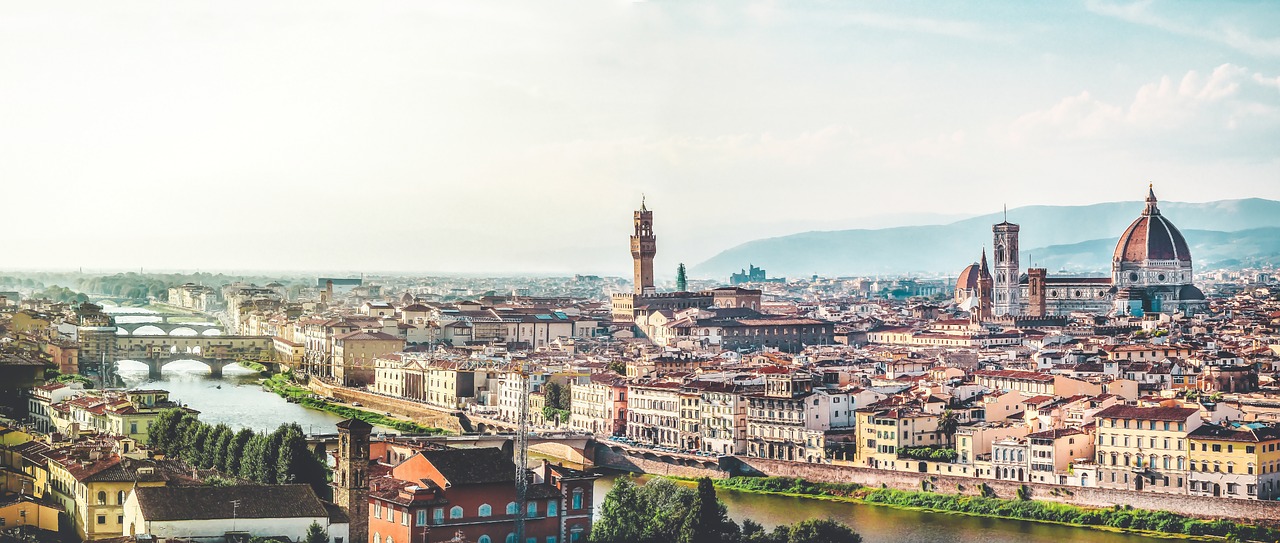 What I love about visiting Florence is that they offer vintage Fiat 500 and Vespa road trip tours! If you are a road tripper, this capital is the place to be. It is just amazing to see 6 retro Fiat 500's racing through the hills of Florence and having a blast! These organised tours are like any other tours, but you are driving a Fiat 500 to take you for location to location.
If you have a bit more time you can also do a 1-day or 2-day Vespa trip. On these trips you will take a Vespa Scooter and drive through the countryside of Florence and discover Italy on one of the most iconic scooters ever to be made!
Yes, Lazy Louie and I felt right at home in this beautiful city.