If you are planning to visit the beautiful island of Fuerteventura, I highly recommend you explore its beautiful beaches and stunning landscapes by car! In this Ultimate Care Hire Fuerteventura Guide I will show you all the
V-E-R-Y important tips and tricks on how to avoid those TRICKY additional charges most rental companies want to charge.
So, get ready – book your car online today and avoid additional cost, get the best car for the lowest price and start exploring this beautiful Spanish paradise hidden in the Atlantic Ocean.
Ultimate Car Hire Fuerteventura Guide – How to avoid those TRICKY extra charges?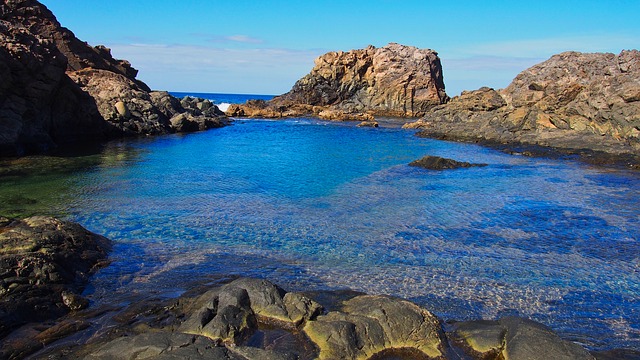 Have you ever asked yourself the following question:
"Did I really get the best deal for my holiday rental car?"
I get it – renting a car in a different country can be a difficult task. Thankfully, The Road Trip Guy (that's me!) has done all the difficult work for you! If you scroll through the table of content you will see that I cover all the important chapters to make sure you can enjoy your holiday on Fuerteventura to the fullest!
Plan ahead – Book your car rental in Fuerteventura as soon as possible.
In order to get the best deals on a car rental in Fuerteventura you will need to book well ahead. When you make your booking in advance you will a lot more options. Once the high-season approached the prices can sky-rocket in a matter of days.
The closer you get, the higher the cost will be. Or worst case scenario – all cars are rented out on the island!
The Road Trip Guy knows best: When I visited the island I made my car rental reservation 3 months in advance. Because of my early booking, my 7-day rental deal through Rentalcars.com came down to just €135,- for the whole period. That is less than €20,- per day!
My mate waited booked his car two weeks out and he paid a whooping €252,- for his 7-day period and the car was even smaller than ours! That is €36,- per day, which comes down to an increase of €16,- per day!
Ouch! – He should have listened to The Road Trip Guy..
My advice: Compare, compare and compare some more! I like to compare as many prices as possible from different car rental companies. Thankfully, Rentalcars.com does exactly that and shows me at the push of a button the best car rental offers in Fuerteventura from all international rental companies, including EuropeCar, Avis, Hertz, Budget and many more!
COMPARE PRICES WITH RENTALCARS.COM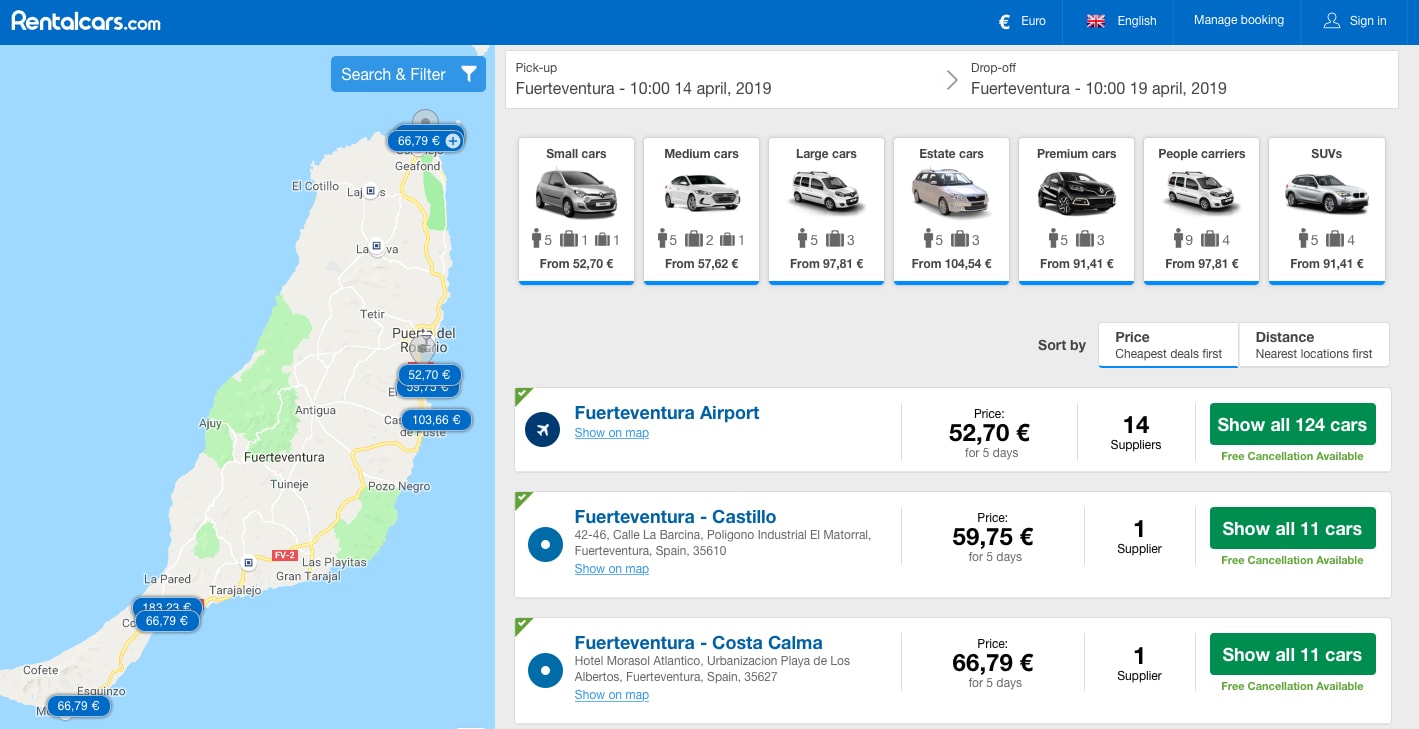 Different drop off-locations or one way car rental?
This is an easy one. Fuerteventura is the second largest island of Spain's Canary Islands with 1,660 square kilometres (641 square miles). Renting a car and dropping it off at the exact location will be much easier compared to a large mainland country, like Portugal or Spain.
My thoughts: Plan your road trip accordingly, drop your car off at the same location and you will save yourself a ton of additional fees. No matter how you turn or twist it, dropping of a rental car at the different location will always be more expensive.
Most popular car rental locations are Fuerteventura Airport, Caleta de Fuste and Corralejo.
Type of rental car: Big or small?
The size of your rental car depends on two important factors; the distance you want to drive and the company you keep. As I mentioned in the previous chapter, the earlier you book, the cheaper the price will be. You will notice that cheap prices for early reservations are also applicable for the size of your car.
The price difference between a small economic car and a large SUV is minimal during the low-season, but expect a huge increase once you get closer to the high season. Especially for family sized cars.
The Road Trip Guy Says: Gasoline is cheap on the middle part of the island. It is most expensive on the northern parts. The price for one liter of unleaded 95 gasoline is around €1,28. If you plan to travel as a couple or with a small child I recommend a simple economical car. With an early booking you can reserve a car for as little as €15,- per day.
Traveling with more than 4 people requires a larger type of car, like a SUV or station wagon. Save up to 45% if you make early reservation. I will also discuss the use of portable children seats and other family friendly items in the next chapters.
Electric, diesel or gasoline?
Unfortunately, it is not possible to hire an electric car on the island. Hopefully, this will be an option in the near future. At the moment you can only choose between diesel or gasoline. The price for one liter of diesel is around €1,19-, but the rental prices are about 10% more.
My advice: A diesel car has a higher rental price per day compared to gasoline one. I would only recommend a diesel car if you are traveling with 4+ persons and if you plan to drive more than 200 km across the island during your stay. Otherwise, a car running on gasoline would be the more affordable choice.
Manual transmission or automatic?
Good question! – Most people from Europe learn how to drive a car manually. Therefore, most rental car companies in Fuerteventura offer cars with a manual transmission. In fact, almost all small (and cheap) economical fall under this category.
If you wish to drive an automatic – be prepared to pay more…a lot more! 9 of 10 times you will be stuck with a medium sized car or sometimes even a large station wagon or SUV. On the website of Rentalcars.com you can select your preferred option and compare the prices for each type.
Where to hire a car on Fuerteventura?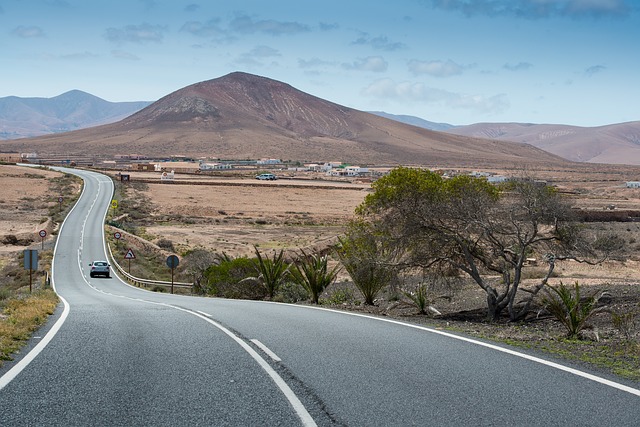 There are three spots on Fuerteventura where you can rent a car. Once you arrive at the airport you will see all the different signs saying: "Rent A Car Fuerteventura Airport – Best Deals Today!" or "Car Hire Corralejo – The Best Quality in Town!"
I understand that it can be very confusing, but let me reassure you that renting a car at either of these locations is a piece of cake. You just need to know what look for.
Fuerteventura Airport
Ok, I get it – Renting your car at Fuerteventura Airport is the easiest and most practical option available, right? I mean, you pick it up right after you have picked up your luggage and your drop it off at the same place once your holiday is finished.
But is the convenience of having all the international car rental companies in one location worth the extra fees?
Well, let me tell you a little secret – As long as you order directly from the airport rental page and well ahead of time the price is lower compared to Caleta de fuste and Corralejo. True story!
Caleta de Fuste
Caleta de Fuste is a famous resort-town that is well known for its amazing beaches, hotels and golf course. It is located 8 km south from Fuerteventura airport and easily accessible by car.
In this area you will find mostly small and local car rental companies.
Corralejo
Corralejo is a town on the northeast coast of Fuerteventura, one of the Canary Islands of Spain. It's known for Corralejo Natural Park, featuring windy, dune-backed beaches like Playa del Moro. It is located almost 40 km north of the airport and is about a 30-40 minutes drive.
What say you, Mr. Road Trip Guy?: Do you want to hear an interesting fact? Renting a car from the airport is almost 35% cheaper compared to Corralejo. Many tourists book all-inclusive holidays that include a transfer from the airport to Corralejo.
This means that the car rental dealers have a monopoly position in this town, as the airport is 40 km down south. If plan to rent a car for a day or two you can choose a local company in Corralejo, for anything else I recommend a car rental company at the airport.
Insurance & damage waiver
When you driving in unfamiliar car and country, after a long flight, during a holiday, often using a GPS navigation system to navigate, it's easy to see why rental car accidents happen so often! One survey found that 27% of men and 10% of women have experienced damage to rental cars. That is certainly not a great way to start your holiday!
If you are thinking about purchasing a damage waiver, there are two important factors you need to consider:
Are already covered by an existing insurance?

If the benefit of having a damage waiver is worth the cost.
Often times, you can get the same type of coverage through your standard auto insurance or a credit car
Young drivers and age restrictions
Even though you can legally drive a car in Fuerteventura at the age of 18 – almost all rental companies have an age restriction. All drivers need to be 21 years and older in order to rent the car. That includes the additional driver as well.
Extra options: GPS, additional driver, fuel policy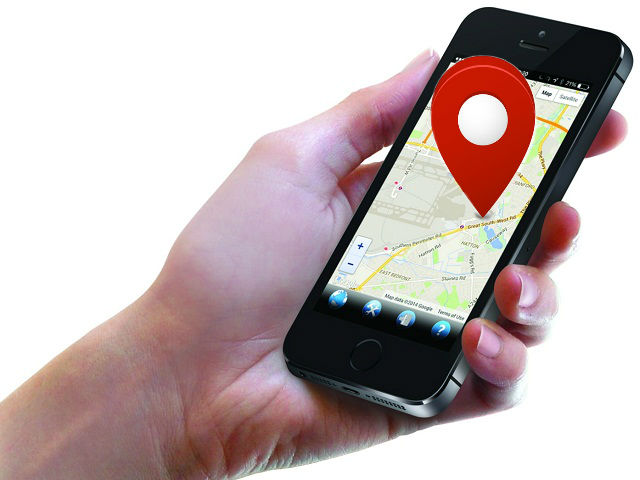 GPS
Adding a GPS system to your rental car is a great option to explore the island without having to worry about where you are going. You can also install a navigator application to on your phone like Google Maps – but keep in mind that these system use a lot of internet data. And most holiday people are roaming their internet whilst being in a foreign country.
That will be an expensive mistake!
Additional driver
Most rental companies offer an additional driver policy. This will cost you between €6,- to €9,- per day. I would only recommend this option if you are planning to let somebody else drive the car for two days or more. If you can't get a good deal, you can always ask the car rental company if you can just book the "additional driver" option for a single day, instead of the whole rental period. This tip will save you a lot of $$!
Fuel policy
Most rental companies in Fuerteventura use the "full to full" fuel policy. This policy means that the rental company will give you a full tank of gas when you pick up the car. You will need to return the car with a full tank of gas as well. If not, they will deduct the cost from your credit card and add an additional fine.
Another policy is the pre-paid option. With this option you pay for a full tank of gasoline and they will refund you the amount that you did not use.
Local traffic rules
Driving in Fuerteventura, the same rules when driving on the mainland in Spain. You drive on the right side and are required to keep the following documents with you at all times;
A valid, full driving licence.

Proof of at least third-party insurance.

ID – usually your passport.

Vehicle registration document (V5C)
U.S. citizens visiting Spain who want to drive in Spain must obtain an international driving permit prior to their arrival in Spain. The IDP is not valid by itself and must be carried with your driver's license. Europeans can use their own driver's license.
If you are driving without a IDP the fine will be €200,-. This fee will need to be paid directly to the police officers.
Toll roads on Fuerteventura
Toll roads are almost non-excisting on the Canary Islands. The few roads that are taxed are usually very short and will only cost you a few Euro's. You will collect your ticket as you enter and you make the payment at the tollbooth when you leave the road.
The Road Trip Guy Tip: Make sure you always have cash coins with you. The tollbooths don't accept credit cards.
Car seats for children requirements
Children under 135 cm (1.35 m.) and above the age of 4 are required to use a booster or a booster car back seat by Spanish law. Kids over the age of 12 years can travel by car without a seat.
Sometimes it is cheaper to bring your own travel seat for children compared to renting one. Check with your rental-company what their current rental rates are.
Road assistance service
Almost all rental car companies provide their own road assistance service. Double check with your supplier and ask if road assistance is included in your rental-agreement.
My advice: If you do not speak Spanish make sure you double-check if the company that provides the road assistance has an English-speaking representative. Unfortunately, English is not that common on Fuerteventura, even with the thousands of British tourists that arrive every year. You might want to ask the rental company for an English-speaking contact person as well.
Cancelation costs
The cancelation costs for renting a car is 9 out of 10 times for free if you cancel 24 to 48 hours ahead of time. Rental companies like Rentalcars.com use a 48 hour policy – but you should always double check the terms & conditions before you book the car. There might be some small print that states you can only cancel 48 hours beforehand under certain circumstances.
Road trips in Fuerteventura
Finally – You have found the best car rental deal in Fuerteventura, booked your plane-ticket and found that cute little hotel nearby the sea, it is time to discover the island!
And what better way to explore Fuerteventura than with a road trip!
Entallada Lighthouse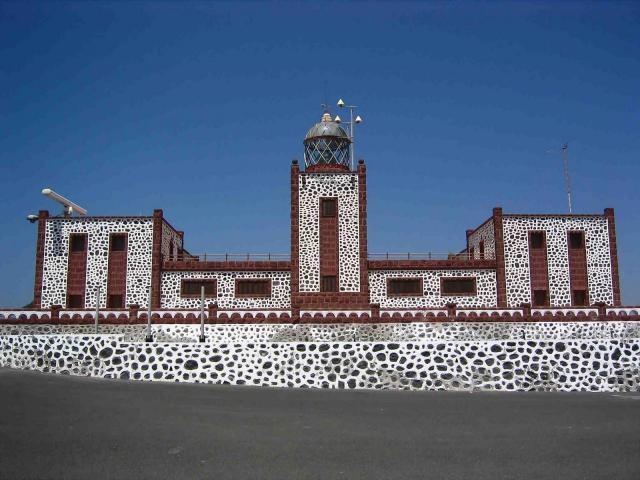 Go check the spectacular views of the Entallada Lighthouse. This unique piece of architecture was built in 1953 by the famous architect Carlos Alcon. It consists of a large lighthouse-tower and three homes. It is located in the muncipality of Tuineje, about 7 kilometers from the village Las Playitas.
Directions: Take the road leading to Great Tarajal (VF-20), and three kilometers before, turn at Las Playitas. Once you arrive in Las Playitas, you will see on the left the road to the Lighthouse Entallada. The road is about 7 kilometers long and can be a bit tricky. Drive with caution! There are parking spots available.
Visit the local zoo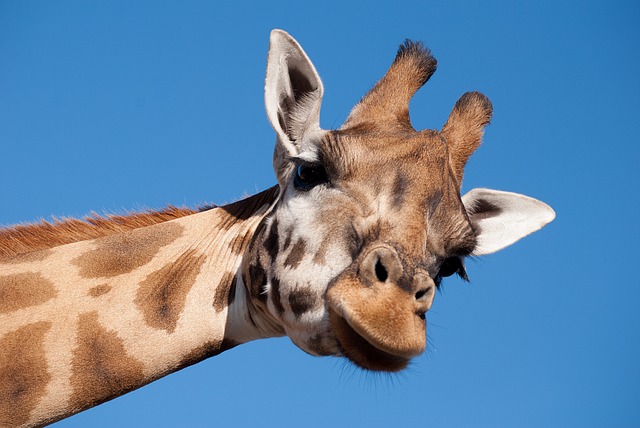 Discover the flora and fauna of some of most exotic regions of the world with an entrance ticket to Oasis Park Fuerteventura. Watch live animal shows and see birds of prey put on exceptional demonstrations. Discover the home of more than 3,000 animals. Get your discounted tickets here! If you are interested in spotting local marine life, you could also book a Whale Watching by Tenerife Whale Watching. They also cover the other Canary Islands
Ride the waves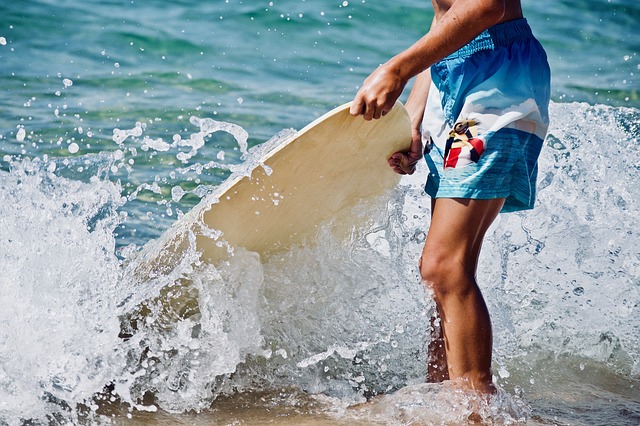 Choose from the variety of sandy beaches with the best conditions, where you will be kitted out with a wetsuit and board. Your qualified and experienced instructors have been surfing since their childhood.
They are passionate about their profession and will show you the theory and practice as you learn to board. Book your surfing lesson here!
Trade the car for a boat!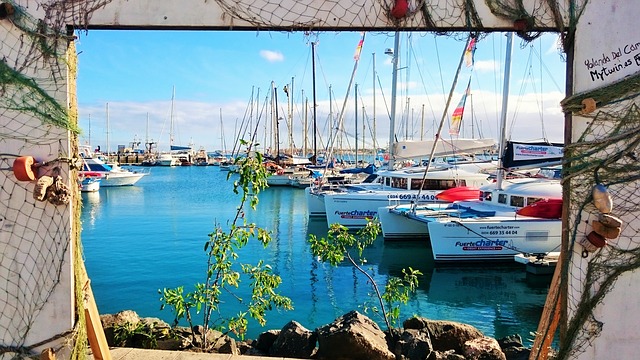 Climb aboard a traditional Turkish gulet and spend an unforgettable day at sea. Marvel at the coast of Fuerteventura and see secluded coves, fishing settlements, cliffs and more. Drop anchor to swim in the sea and enjoy an on board buffet lunch. Early-bird special prices can be found here!