Your No.1 Portugal Road Trip Itinerary Guide [ An Expert Point Of View! ]
Portugal is a beautiful country full of welcoming and passionate people. There are many places that are on the cannot miss list, but if you want to soak in the true spirit of this beautiful country, there is no better way than with a Portugal Road Trip Itinerary.
Traveling by car gives you the opportunity to be in control of your own destiny and go where you choose to. Spontaneity is great, but having some idea and direction to go in will help as well, therefore we go from Porto to Faro by car. The perfect route for you and all of your friends.
Are you ready? Let's go!
Portugal Coast Road Trip – What Route to Take?
A good map is a must-have for any Road Trip Portugal Itinerary. Without it you will miss all the hotspots, fun things to see and do, and of course not to mention the endless hours on Google trying to gather all information yourself.
Thankfully, we already did all the hard-work for you!
The below road map of your Portugal road trip has a distance of 810 km and starts in the beautiful city of Porto. From Porto you will make your first stop in Figueira da Foz, before checking the beaches and surf scene at Ericeira.
You will visit the capital of Portugal: Lisbon, before heading towards the south and explore the Algarve region.
If you want to do a shorter version you can also start do the: Lisbon to Porto Road Trip. This takes about half the time!
Make sure you print this road trip article and take it with you on your journey. You can also order the number one ranked Portugal Travel Guide on Amazon so you will never miss a unique and beautiful restaurant, landmark or attraction during your travels.
Time on the road: 8-9 hours
Distance : 810 km
Start : Porto (or reverse – Faro)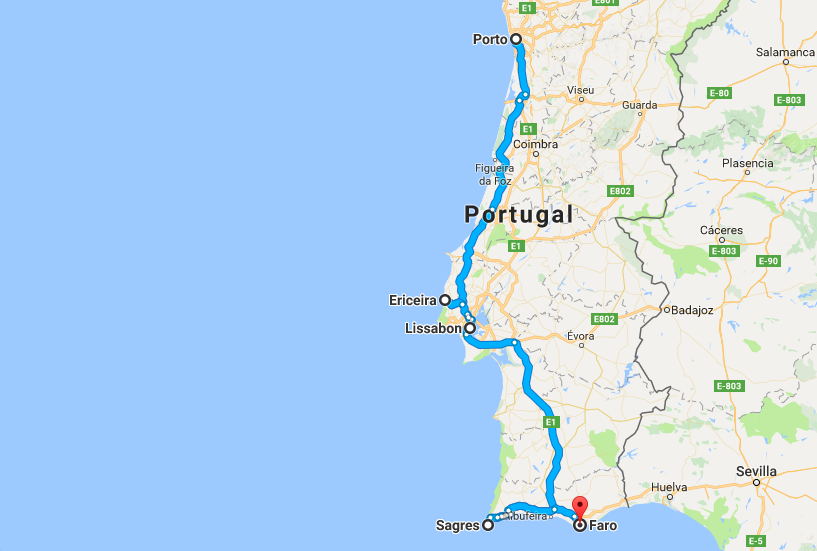 Portugal by Car – How to Rent a Car?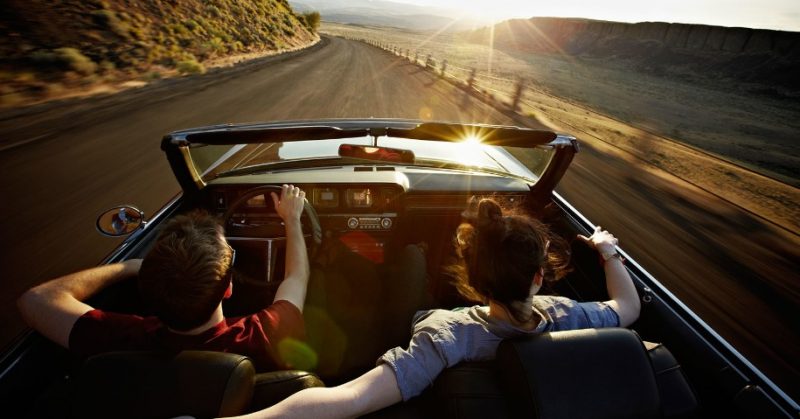 In this chapter I will show you how to make car rental in Portugal easy. Depending on your starting point, you can rent an affordable car at any airport and either return it at the same destination or pay an additional fee and drop it at one of their partner facilities at a different location.
Make sure you bring a valid EU driver's license or international drivers license. You should be ok with an American and Canadian driver's license as well.
The Road Trip Guy Golden Tip: Do you know the old saying;
Cheaper is not always better!
I am sure you do. Well – You would be surprised on how many tourists do not apply this knowledge when it comes to renting a car in Portugal. After traveling 30,000 km through every single European country, I have seen people make this classic mistake time and time again!
What is this mistake, you ask?
They always go for the cheapest option. It does not matter if the car dealer has only one red car, one blue car, a kids bike and a donkey for rent. If it is cheap, people will go for it.
And that's where the problems will start. In a BIG way!
I get it! Nobody likes to pay a lot of money on renting a car and getting ripped off by sleazy salesmen at the frontdesk. They are all acting very friendly, but as soon as you decline all the additional "add-ons" (where they make the money) the service is G-O-N-E!
The will discover hidden "scratches" when you return, take forever to return your deposit and you can forget about any fast roadside assistance when you cars breaks down.
It bothered me for years. Was it too much to ask for a trustworthy company that you know will give you the best price possible combined with excellent service and roadside assistance?
No, it wasn't – As Rentalcars is such a company!
Finally, I had the option to just simply check all the international car rental dealers on one single website. No more jumping around form Hertz to Europcar to Avis and back to Budgetcars again.
Right now I could compare all prices, types of cars, availability, special discounts and much more, in one clean overview. With the early bookings I could save up to 64% on the daily car rental fee!
Just by doing the early booking I earned back two hotel nights instantly. And as a cheap Dutch person, that is something that makes me very happy! 😉
Go check it out and see if your dream car is available!
Driving in Portugal
Driving in Portugal is not that different from other European countries, but the local Portuguese drivers do not seem to take the rules very seriously. Therefore, it is important to always double-check the traffic and other drivers as most of them like speeding and do unpredictable maneuvers.
I saw a few traffic-cops, but to be honest it was very minimal. Just enjoy the road, use common sense and you will be just fine!
Toll Roads in Portugal
Portugal can be a bit confusing when it comes to the toll roads. A part of them is electronic and a part of them is with a toll booth. Almost all of them accept a credit card, but just a few accept cash. I know, that does not make any sense, but unfortunate that's the way it is.
The following roads of "Brisa" accept credit cards: A1, A2, A3, A4, A5, A6, A9, A10, A12, A13 and A14.
If you missed a payment you can still make the payment within 5 days on pagamentodeportagens.pt to avoid a fine. Another option is buying a pre-paid card.
This card includes a deposit of € 5, €10, € 20 or € 40. It can be bought online at : http://www.tollcard.pt
Things to do in Porto
The journey begins in the town of Porto. This route will take your directly along the west coast of Portugal and gives you a chance to simply slow down and take in the scenery.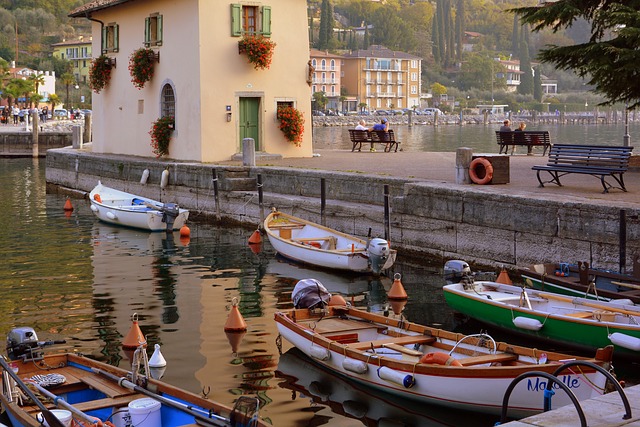 Porto is one the most famous tourist destinations in Portugal and is the second-largest city of the country after Lisbon. The historical city center has been part of the UNESCO World Heritage Site since 1996. The city is well-known for its export business, including the famous Port wine, which was named after the city.
I highly recommend you check out the any of the wine tasting tours in Porto. It was so much fun and to be honest it was one of the best investments I ever made. You will find the tours descriptions below.
Food, wine, Portugal and 4×4 Jeeps. Yes, that makes The Road Trip Guy a very happy person! 
Wine Tasting in Porto
Thankfully, there are some amazing wine & food tour companies available. Some take you on a journey full of delicious local foods, whilst others choose the adventurous route by exploring the outback of Portugal and discover the delicious wine-culture of the locals.
Me and my friend did the Douro Tour and we get very lucky with the weather. Crystal clear blue skies, about 24 degrees and a great group of people ready to explore the country-side of Porto. Loved it!
Ribeira Square
The Ribeira Square is a historical square in Porto, Portugal. It is included in the historical centre of the city, designated World Heritage by UNESCO. Here you will find the city market that sells local products including fish, bread, meat and other goods.
In the evening you can go visit one of the many cozy restaurants in the area that serve traditional Portuguese cuisine. Try the fish and seafood dishes as they are the most popular and of course in combination with a good bottle of Port wine. Bon Appétit!
Livraria Lello
Livraria Lello is a unique cultural icon that has been one of the most popular tourist attractions in Porto. This bookshop comes to live and brings you back in time with its traditional design and layout. Take a beautiful picture at its traditional curved stairways and make sure you do no forget to buy your new book.
Tip: Go as early as possible as it gets really busy during the day. It was so busy that there was a line of people standing outside!
Therefore, if you are looking for that perfect selfie (all alone) you should consider visiting the library very early in the morning and if possible in the low-season.
Price: 4 Euro per ticket. Can be used as a discount when you book something in the store.
Don't miss this one!
The Best Walking Tours in Porto
Exploring Porto by foot is such a great experience. I had a blast with the "Secret Sites" tour and it was worth every single Euro. Checking out all the funny and unknown places of Porto is a great way to experience the city to its fullest. You will meet great people as well!
And the best part? It is not expensive at all and there is wine everywhere!
I know what you are thinking. Did he do two wine tours in Porto?
Well, yeah! Why not? Do you only eat one pizza when you are visiting Italy? 😉
Hotels, Hostels & Apartments in Porto with free, paid or private parking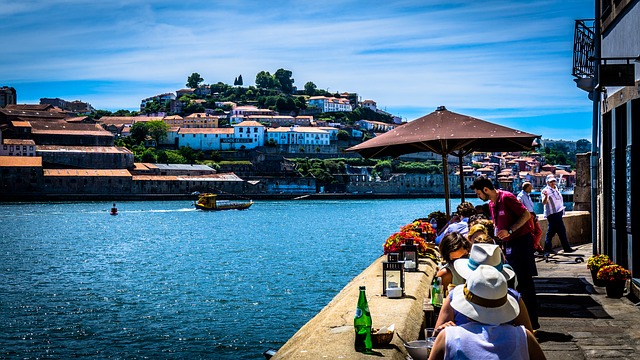 Finding a cheap and practical accommodation in a big city like Porto can be quite the challenge. Thankfully, we already have the experience finding the perfect place and since you will be traveling by car we recommend the following locations:
HF Ipanema Park is a beautiful 5-star hotel that is located just outside of the city center. It offers a stunning view of Porto and the Douro river. Parking is no problem and you can easily walk , take the tram, or a bicycle and you will be in the city centre in a just a few minutes. There is gym and recreational area for the kids!
If you want a nice relaxing holiday, this is the place to be!
Peninsular​ – Downtown with free Private Parking
Some travelers just want to experience a city to its fullest. Why not stay in a classic Portuguese hotel in the heart of Porto! That is right. With Peninsular accommodations you can stay right in the city center with your car.
The hotel comes with a private parking and elevator and is only 200 meters from the train station : São Bento. Within 3 minutes you will be at the famous shopping district Rua de Santa Catarina! – Perfect locations for families and couples!
Now this is one of the most popular hostels in Porto. It is beautiful, clean and right in the city centre. If you want to meet new people., this is the place to be. They organize all kinds of fun activities including pub-crawls , game nights and much more.
The only down-side was that I needed to park the car nearby costing me close to 20 Euro per day. But the hostel was also almost 40% cheaper compared to the other accommodations, therefore it is not a real problem if it fits your budget.
​​Click here to check out the cheapest hotel prices in Porto today!​ 
Paintshop Hostel – Figueira da Foz
Head south from Porto and slowly make your way down to Figueira da Foz. In this town, you can find many attractions to take up some of your time, but if you find yourself in need of rest, just check into Paintshop Hostel.
It may worry some people to stay in a hostel, but this one does have an option to purchase a private room, so there is little to worry about. It is also the perfect place as it is easy to park your car there.
An important aspect for when you travel with your car. Always make sure you double-check if your accommodation provides either free parking or parking nearby.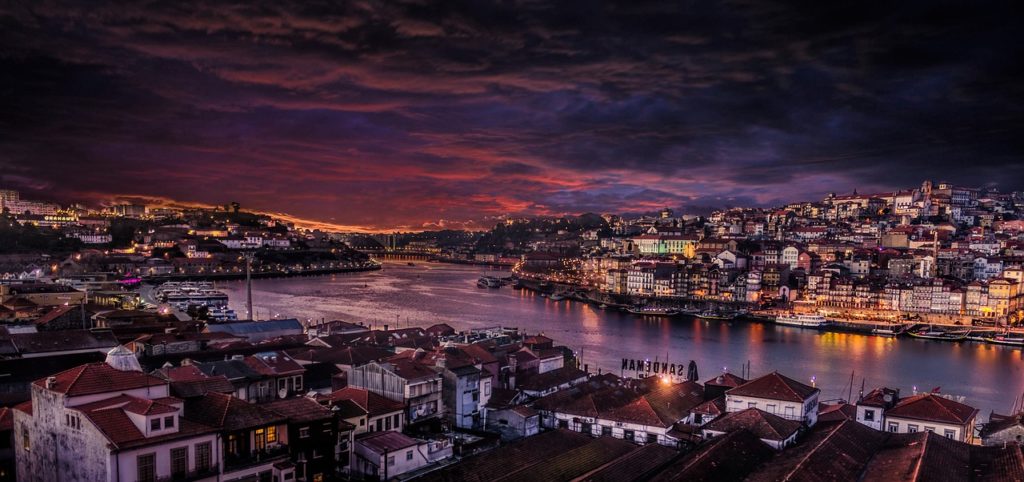 Ericeira Beach
Once you feel well rested and ready for a new day, continue south toward Ericeira beach. This city is known for hosting the ASP World Tour Championship and being a mecca for those looking to ride the waves.
Take some time here to grab a bite to eat and enjoy the waves yourself. There is nothing more satisfying than owning the ocean from your surfboard and it is the perfect way to spend an afternoon or even most of the day.
If you have not caught all the waves you want or if you simply want a change of scenery, just down the road is Cascais. Another town known for surfing, Cascais is a quaint area to soak up the sun and enjoy a bit of shopping. Of course, you might also enjoy other activities on the water, so make sure to check out my colleagues at Dive Inn for more information about other water sports.
How to take surf-lessons in Ericeira?
Look no further. You have found the best surf school for group surf lessons. All you have to do is bring a towel and a swimsuit. Have the rest taken care of for you so you enjoy the waves of sunny Ericeira.
With this student to instructor ratio, you can feel confident that you will receive a safe, high quality lesson. Time and energy have been dedicated to finding the best surf instructors in Ericeira.
A staff of professional lifeguards and CPR certified instructors will educate you on the proper techniques. The lesson is 90 minutes to 120 minutes – depending on the sea conditions.
What Will You Learn?
– Standing up
– Paddling
– Wave timing and placement
– Wave selection
– Surfboard and wetsuit education
– Wave physics
– Surf etiquette and safety
*Pricing includes wetsuit and surfboard, return transfer from the store to the beach and insurance for accidents.
Click here for more information or book directly at:
Hotels & Apartments in Ericeira with free or private parking
This beautiful beach house is located right at the beach! Its beautiful panoramic view gives romantic sunsets every evening! There is free WiFi and within a few minutes you are right in the small city centre, which is full of fun little bars, beach clubs and restaurants. Great for couples or families with children!
Party, surfing and meeting new people? The Blue Buddha Surf Hostel is the place to be! As with any hostel you will be sharing your room with other surf-fanatics and the owners will make sure you will have a wonderful time. If you want some privacy you can also book a private room and from the hostel to the beach is just a 2-minute walk. Cowabunga!
This guesthouse is a short 5-minute drive from the city centre, but is definitely a luxury retreat! It has a big garden, swimming pool and all the privacy in the world so you and your friends/family can enjoy and relax. You can use their washing facilities and there is also a pool table and darts available.
​​Click here to book the most affordable hotel prices in Ericeira!​
Things to do in Lisbon
By this time, you will definitely be in need of some rest and just a short jaunt from Cascais is Lisbon. Lisbon is the beautiful capital of Portugal and they have many accommodations and activities for the weary traveler to choose from. If you are planning to stay for a long weekend, check out this two days in Lisbon guide!
But if you are staying for a longer period of time, I highly recommend that you read this blog post about the best day trips from Lisbon. You will not be disappointed! 🙂
Time-out Food Market
But first things first: Let's eat! When you arrive in Lisbon you will face your first challenge, which is finding a parking spot! Thankfully, I did some research and found a perfect underground parking garage right next to the Time-Out food market!
It is located on the left-side of the food market with the entrance being on the right-side of Jardim Dom Luis.
The food-market is truly an amazing place for people who want to try the Portuguese cuisine and experience the local culture. Once you go inside you will see dozens of little shops offering a very broad selection of Portugal's finest.
It does not matter if you like deserts, grill, bread or even if you are vegan, there is something for everybody!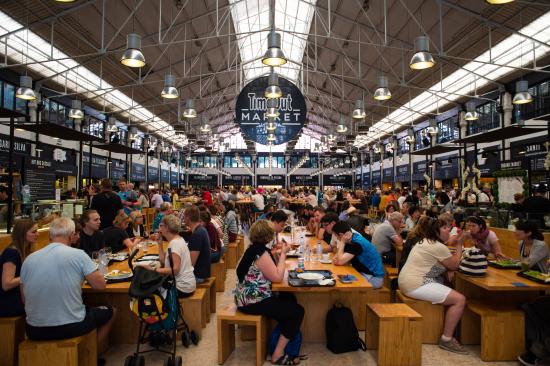 Meals are on average between 3-12 Euro's depending on the size. There is also a selection of local wines. These start at 5 Euro per glass. Keep in mind that during lunch-time it will get very busy, therefore I advice you to go before 12, or after 3.
Food Tours in Lisbon
We all love to eat right? Why not enjoy the capital of Portugal with a romantic dinner for 2 or a fun day out with friends tasting the most amazing foods and drink fantastic wine! I have summed up the best food tours in Lisbon for you to enjoy. Book in advance as they can sell out very quickly in the high-season.
I did the 4-Hour Culinary Evening Walk with 8 other people. It took us almost 4.5 hours and the food was amazing! We explored a remote area close to the Tejo River and the food was something out of a movie. There were small snacks, seafood, meats, wines, cheeses, bread and more wines! After the tours, the guide, me and 6 other people decided to explore to nightlife of Lisbon. It was amazing! 🙂
Elevador de Santa Justa
The Elevador de Santa Justa is one of Lisbon's most iconic monuments. The 19th century lift that transports passengers up the steep hill  to the Largo do Carmo and the Carmo church ruins.
The construction consists of an artistic wrought-iron and gothic styled arches. The inside is decorated with polished wood, therefore expect to go up in style!
At the top there is a new viewing platform which provides wonderful panoramic views over the beautiful city centre of Lisbon.
The Elevador de Santa Justa is open every day between 7:30 and 23:00h (7:30-21:00 winter)
The ride cost €6.00 per person. The viewing platform is an additional  €1.50 per person.
Hop on the tram 28
Traveling by tram is very popular in Lisbon. These old-timers were first introduced to the public in the early 1930s and are till this day still par of the public transport network. It connects Martim Moniz with Campo Ourique, and passes through the popular tourist districts of Graca, Alfama, Baixa and Estrela.
If you want to explore Lisbon by tram, this is the way to do it!
Some tips by Lisbon Guides:
• Ride the tram early (or late) in the day, to avoid the crowds.
• Board at Martim Moniz (or Campo Ourique) as there is a better chance of getting a seat.
• Always be wary of pickpockets (please see section later on).
• Get the 24-hour public transport ticket from any metro station.
• Ride the entire route as there is so much to see. (please see later section)
• If standing, hang on very tight as the brakes are very sharp!
The number E28 tram follows a two-directional linear route:
Martim Moniz – Graca – Portas de Sol – Se Cathedral – Rua Conceição (southern Baixa) – Chiado – Sao Bento – Estrela – Campo Ourique
If you are interested to learn more – make sure to check out this amazing blog post about other amazing things to do in Lisbon. You won't regret it. 😉
Algarve Road Trip
Surfing in Sagres
It is always a good idea to take in a little history on any road trip and the place to find history on your Portugal road trip is Sagres. It is the perfect region for doing a road trip with kids.
Who knew that driving the coast of Portugal can be so beautiful??
The road to Sagres will seem to take you away from your drive as you will have to turn back toward the coast to find it, but the side trip is well worth it. Here you will find more amazing views of the coast along with some more primo surfing spots.
https://www.instagram.com/p/Bc8S4UrAvbJ/?taken-by=theroadtripguy
Aways check the latest reports as you do not want to travel all the way to Portugal to find out the swell is going to be zero for the next week!
Renting a surfboard can be done at one of the many surfshops. It cost about  € 20 to € 30 per hour for a board and a suitable wetsuit.
Read more about Surfing in Sagres, Algarve!
Click here to book the most affordable hotel prices in Sagres!
Cabo de Sao Vincente
Another notable historic area in Sagres is Cabo de Sao Vincente. This Cliffside attraction maximizes the history of the area al while encompassing that remarkable coastal view that Portugal is famous for.
You don't pay any entrance and there is a small souvenir market before the entrance.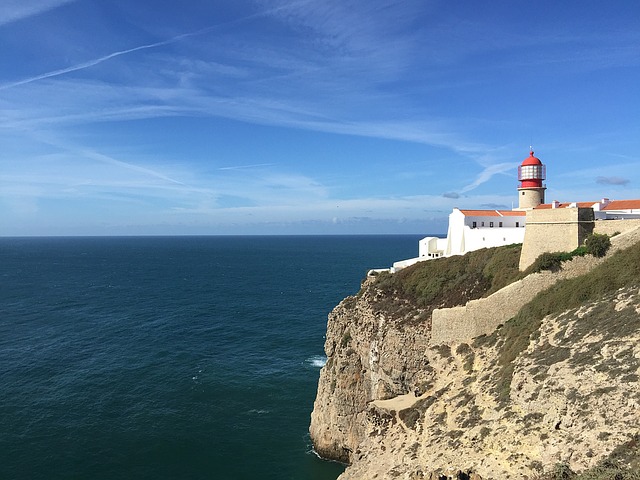 Walk with the Donkeys at Happy Donkey Sanctuary
Walking With Donkeys is an animal sanctuary that is located in the mountains of the Algarve, nearby Monchique. It is run by Robert, a biologist from germany who has a big passion for animal welfare and of course.. Donkeys!
All the profits go directly into making the sanctuary a better place, therefore if you want to support a small and local business, this is the place!
Enjoy a unique donkey walk in the most beautiful area of the Serra de Monchique in the Algarve, Portugal. For adults and young nature lovers alike!
Walk with a herd of five donkeys: Two adults, Cameron & Lucia, one youngster, Josefina and two babies, Frederico & Luisa.
All of them are very friendly, well-trained and kind to children and adults.
Experience the mountains of Monchique at the pace of a donkey, strolling the paths and walking along beautiful rivers or ascending to the top of Picota mountain, where you will be rewarded by a magnificent view over the Algarve.
Listen to the sounds of nature and catch a glimpse of bees, deers, wild boars, turtles and other wild animals
Lagos
Lagos is located on the west-side of the Algarve and is one of the most vibrant and popular cities of the region. The charming city center and active nightlife make Lagos one of the top tourist destinations and once you have visited the area it is easy to see why.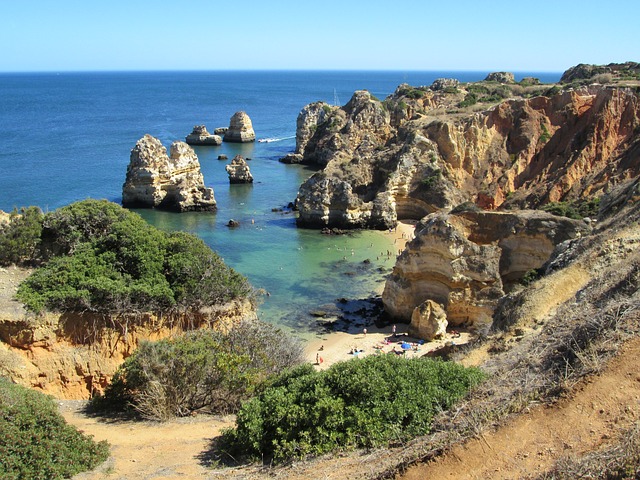 From Lagos there are several day trips available, including the Lagos Zoo, Zoomarine and many boat trips that explore its beautiful coastlines and provide romantic sunset cruises. It is also known for being the most famous spot to go dolphin watching in Algarve.
In the south of Lagos, the famous Ponta da Piedade can be found. This beautiful sight consists of a series of highly weathered cliffs that are lined with spectacular grottos, arches, sea caves, and are regarded as the finest natural feature of the Algarve.
Hotels, Hostels & Apartments in Lagos
This beautiful family hostel is located at walking distance from the city centre and the beach. I stayed here for 5-days and it was such an amazing experience! The people are very kind and I booked a private room with a huge balcony. There is a big clean kitchen and if you are interested in following a few kite-surfing lessons, the owner will be more than happy to help you out!
There is free-parking everywhere!
Click here to book the most affordable hotel prices in Lagos!
Faro
Your final stop on your epic road trip in Portugal is the city of Faro. Within this city, you will find an airport should you require a flight back home, but you will also find some attractions that should not be missed.
The area is dotted with ancient cathedrals that date back centuries. One of the most notable is Igreja de Nossa Senhora do Carmo.
The church is spectacularly well-preserved despite being originally built-in 1719, but scars are still visible from the 1755 earthquake that rocked the town.
This baroque style church was rebuilt and since has been lovingly maintained as a tourist attraction for those seeking historical attractions.
Before you leave Faro and head home from your road trip in Portugal, you may also want to see the Museu Municipal.
The Renaissance style structure was at one time a Jewish Quarter House and has since been converted into a museum that houses works of art as well as artifacts found in the area. History comes alive in this city and there is no place better than Faro.
Final Words
Your road trip in Portugal will take you to many places, but there is so much more to see in this vast country. Before considering hopping on a flight home or heading back the way you came, consider finding another route. There is so much to see and do, it would simply be a shame to not see it all.
If you liked this Portugal Road Trip Itinerary, please leave a comment below and let me know what you think.