When you think of surfing you might think about places like Hawaii, Bali and California. But did you know that Europe has one of the most populair surfspots in the world? And that the Algarve in Portugal has been in the top 5 for many years? During my 30,000 km road trip through Europe, I wanted to see what the hype was all about. In this blogpost I will discuss my time in the beautiful south region and will I describe how you can go surfing in Sagres. Cowabunga! Here we go!
Why surfing in the Algarve is the best!
If I can describe it in one word: Amazing waves! The region is directly located at the Atlantic ocean and there is something for everybody. Are you a beginner? No problem! Long boarder? Groovy! And even for the professionals can get their mojo on with some serious tubes. Yes, surfing in the Algarve offers it all!
(Related: Visit the Disneyland of Surfers Nazaré)
With the international airport of Faro, it will only take you 1-3 hours to fly to the south of Portugal. Here there are many car rental companies available, but public transportation is also available. For more information please check out Lagos Portugal Guide.
Where are the best surfspots in the Algarve?
Good question! For my weather and wave forecasts I have used MagicSeaWeed for the last 10 years. I love this page as it has all the current information and forecast of every surfspot in the world! A few populair spots are Lagos and Sagres. Sagres is divided in the south region and Sagres Tonel. Both have excellent spots, therefore you should go ahead and check them all out! Make sure you always check the website for the latest reports as you do not want to travel all the way to Portugal to find out the swell is going to be zero for the next week!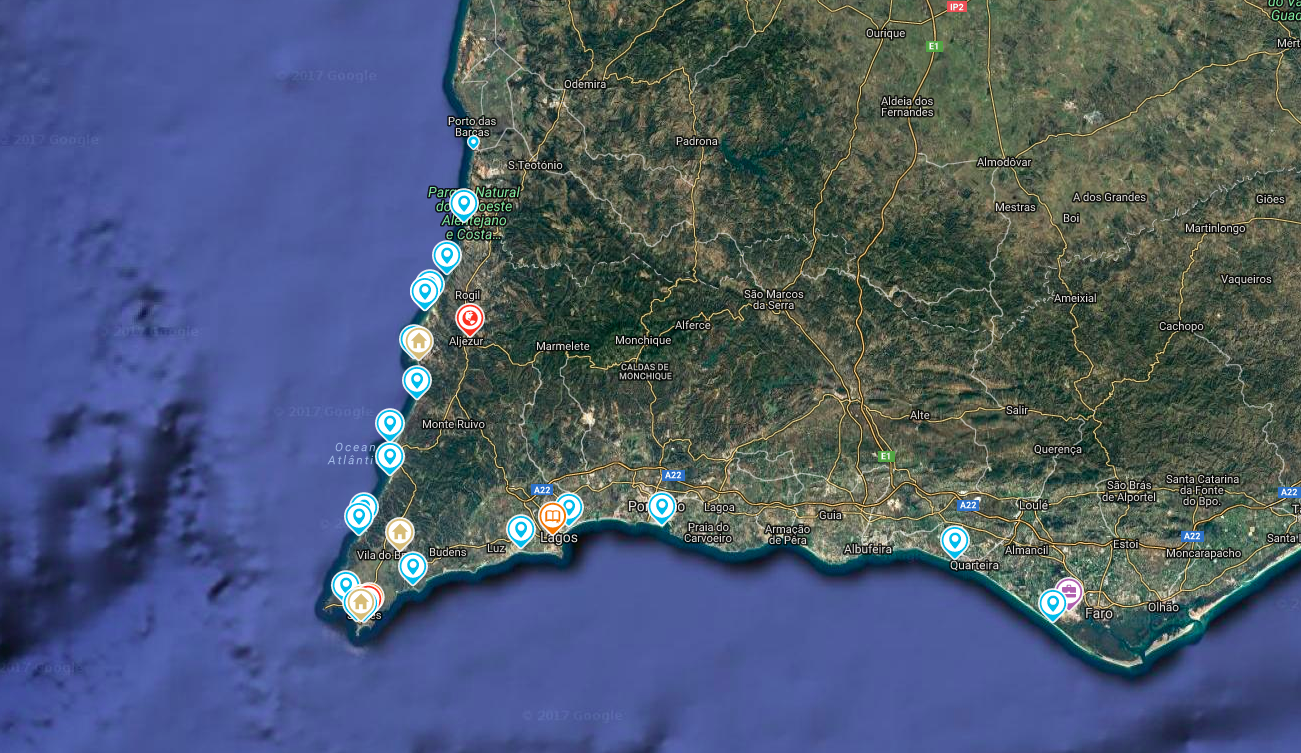 Where do I get my surf equipment?
When you go surfing you can either rent your equipment or bring your own. If you bring your own make sure you check with you airliner if you are allowed to bring your boards on board and how much extra it would cost. If you rent you can find plenty of surf shops/schools nearby Sagres and Lagos. In fact, you won't be able to miss them as they are basically everywhere! Price range between € 20 and € 30 per hour for a board and a wetsuit.
Here is an overview of some of the surf schools/shops in the region:
Finding the right accommodation in the Algarve
This is an easy one because the region is so populair for surfers, backpacker and vanlifers it has a wide variety of hostels and guesthouses available. The price range between € 25 to € 45 euro per night for a guest house and around € 15 per night for a hostel. Most surf schools also offer accommodation so you might just kill two birds with one stone.
Overview of hostels in Sagres:
Surfing in Sagres, Algarve… Vanlife style!
What is the first thing that comes to mind when you think about a surf holiday? I will let you think about that one for a second. It is not the beach..or waves.. or your wetsuit, but a real volkswagen T2 van!
Say what?
Yes! There is a company in the algarve called Siesta Campers and they rent out amazing volkswagen campers for you to cruise the coastline with. Who wouldn't want to enjoy the beaches whilst cruising in one of these awesome babies? I saw a few of them when I was in Lagos and let me tell you.. They are A-M-A-Z-I-N-G! Check out their website for the actual prices and make sure the next time you go surfing in Algarve you do it in style!