​Exploring The 7 Best Family Hotels In Gran Canaria – Something For Everyone
Whether you just want a tranquil place with no wild parties or you travel with family, finding a family hotel could be the key to a great holiday in Gran Canaria. 
Hi, my name is John and just like the Road Trip Guy himself I love to travel by car. Especially road trips with family is something me and my partner love to do. Niels Thomas asked me to write my experiences booking family friendly hotels whilst road tripping this beautiful Spanish island.
All in all, I go to Gran Canaria at least once every two years for the past couple of decades, so I know my way around pretty easily. I have been in quiet hotels, but I have also ended up in a few places with playgrounds nearby – quite loud when you try to take a nap after a long morning on the beach.
Furthermore, for a good experience, you want a good location, lots of facilities nearby, good amenities on site and a top service. It makes no difference if you opt for one of those all inclusive places or you want to look after yourself without any help.
Although I was really happy with some of my choices, it is a holiday. Personally, I do not feel like returning to the same place – despite how good it was.
Instead, I like to explore around, see other places, live in another town and discover new services. Sounds familiar road trippers?
Obviously, I have had some slightly unpleasant experiences – I cannot say they were bad, but just a bit uncomfortable at times. But overall, Gran Canaria has always been a great choice for me.
All in all, here are the best family hotels in Gran Canaria based on my personal experience. Enjoy!
Extra tip: Click on the link if you are interested in a the best car rental services in Gran Canaria. It comes with a free Gran Canaria Road Trip Itinerary. 
Radisson Blu Resort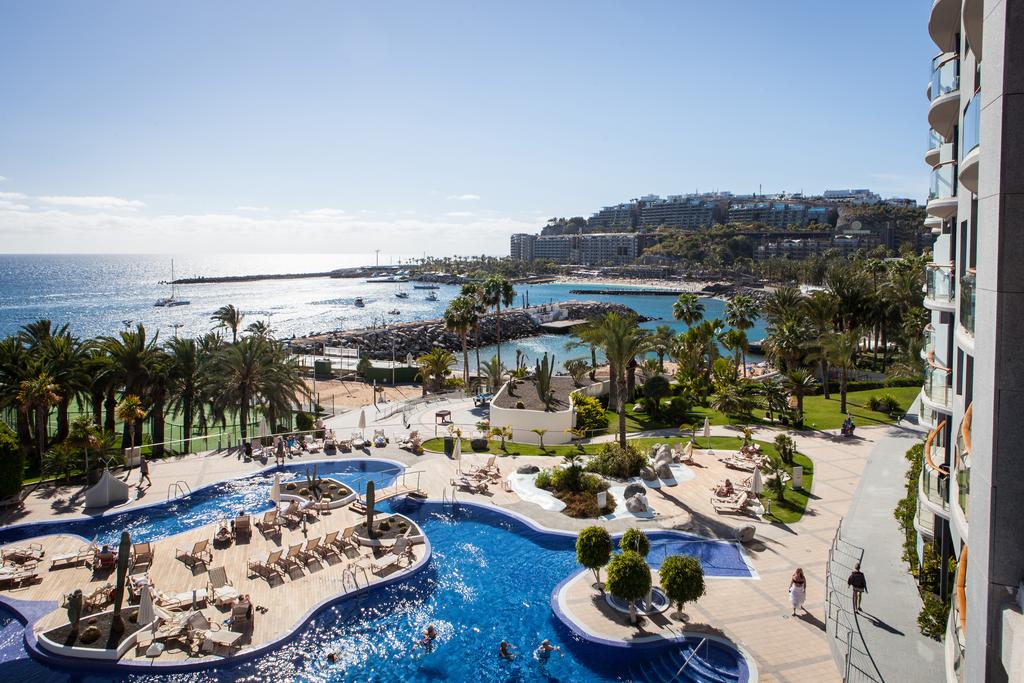 Radisson Blu has good quality standards all over the world and the location in Gran Canaria makes no exception either. You can book rooms with a sea view, as well as rooms with a garden view. Some of them come with a breakfast too.
The hotel is located on the southern coast of the island. It has easy access to a few nearby beaches – fine sand. Explore the nearby Arguineguin, as well as forests and mountains on the island. You have a few restaurants with amazing food, as well as bars.
Other facilities include pools (including pools for children) and a gym. The gym is open round the clock, so you can perform your workout at night too.
There are a few athletic courts to play games, not to mention the play area for children, rooms with kitchens and a nearby supermarket.
Personal note: It might be a bit upper-class, but it is so worth it when you see the facilities and location. 
Click Here For Discounted Rates and Availability
Servatur Barbados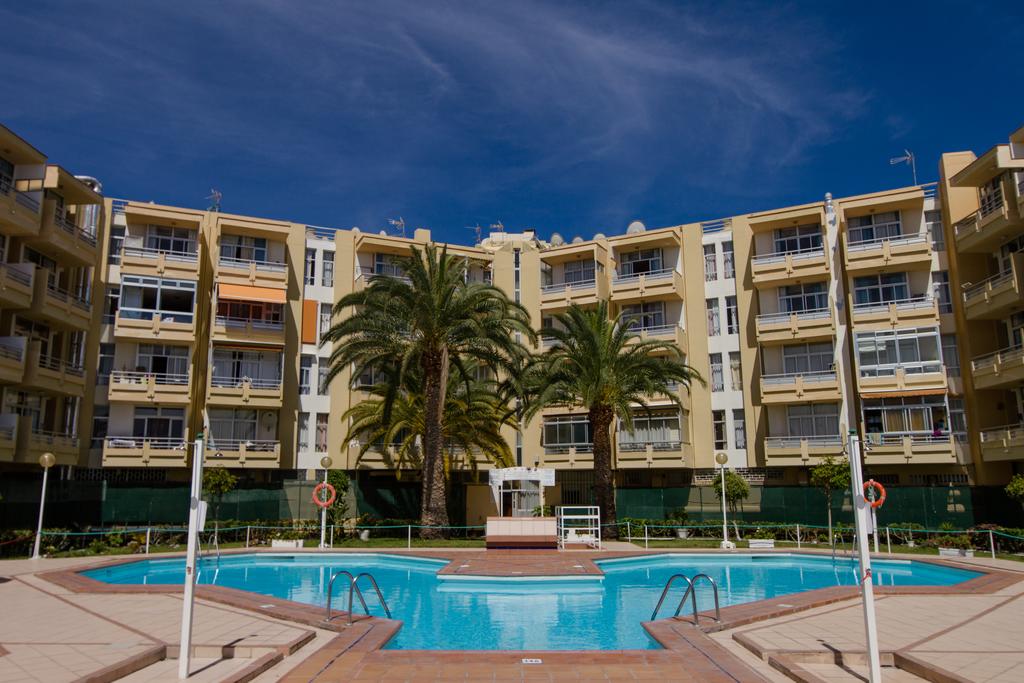 Servatur Barbados is among the best family resort in Gran Canaria. In 2013 we stayed here for two weeks and had everything we needed – it was an authentic home away from home. There are not less than 91 apartments – each of them with a couple of twin bedrooms and a sofa.
Apartments come with fully equipped kitchens, so you can cook something for your little ones or yourself if you are on a diet. You still have plenty of restaurants nearby.
You have easy access to shopping centers, nightclubs and bars too. Perfect for the date night of mom and dad! Kids can stay with grandma. 
Apart from kitchens, apartments come with balconies too. I loved having lunch on our balcony after a long day at the beach. Plus, our kids loved keeping an eye on the gardens to see when their new friends were out. Plus, given its location, the hotel offers access to pretty much everything you can do in Playa del Ingles.
Click Here For Discounted Rates and Availability
H10 Playa Meloneras Palace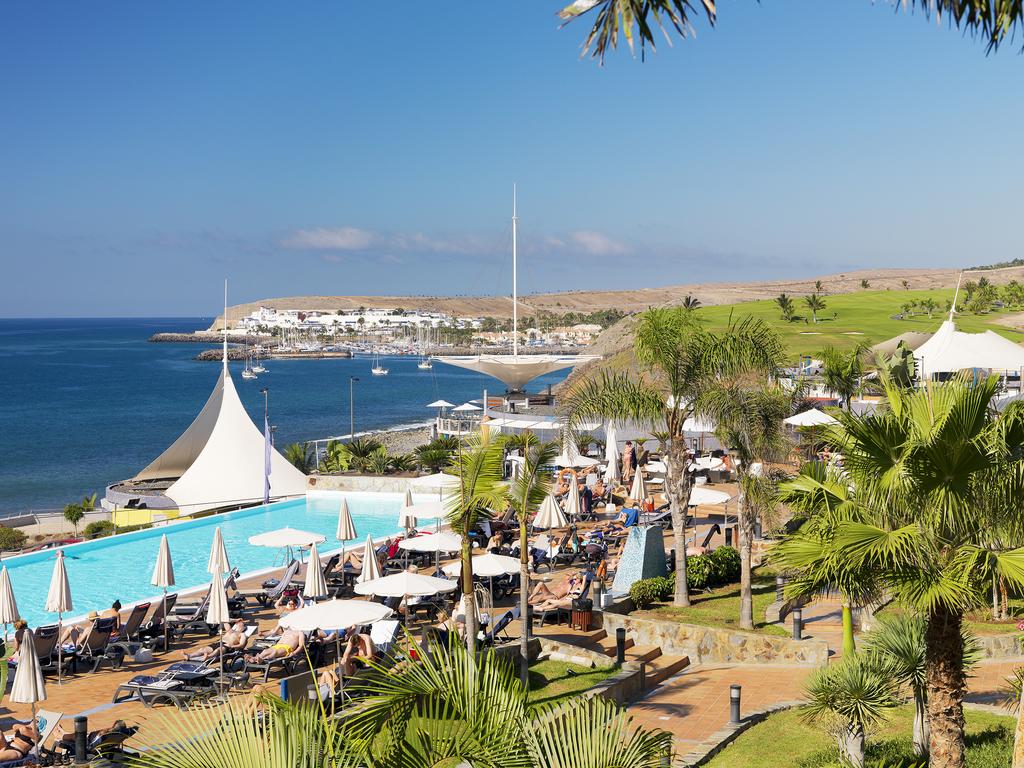 H10 Playa Meloneras Palace is definitely among the best kids friendly hotels in Gran Canaria. It offers a luxurious experience and great value for money. It makes you feel like in one of the most exclusive places on the planet, while still being close to the holiday spirit around you.
The hotel is in Meloneras – the southern side of Gran Canaria. It is in the immediate proximity of the beach, yet the area is relatively quiet. There are no wild parties on the beach, but just quietness, a bit of music and some restaurants.
We loved the fully featured room with air conditioning, a refrigerator for our kids' special food and minibar. You can opt for family rooms or suites. We had a suite – extremely spacious.
Rooms have been recently refurbished, while the chill out terrace with beautiful views and the garden were ideal for our kids to play.
Click Here For Discounted Rates and Availability
Servatur Terrazamar & Sun Suite
Servatur Terrazamar & Sun Suite is excellent for those who travel with kids. The family hotel has 306 apartments – all of them are double. Nine of them have wheelchair access and facilities.
We felt at home straight away – a separate bedroom, living room, TV and sofa.
Each apartment comes with a kitchenette – some sort of small kitchen with the basics. It worked out perfectly for our kids' breakfast, as well as my diet. We had a microwave too, as well as a fridge. The terrace in front provides access to pools – one for children.
The terrace is ideal in the afternoon or evening if you want to chill out. Apart from local restaurants and bars, you can also go out and enjoy the surroundings. While we have not tried them out, there are 48 upgraded apartments that provide access to even more comfort.
Click Here For Discounted Rates and Availability
Hotel Riu Palace Meloneras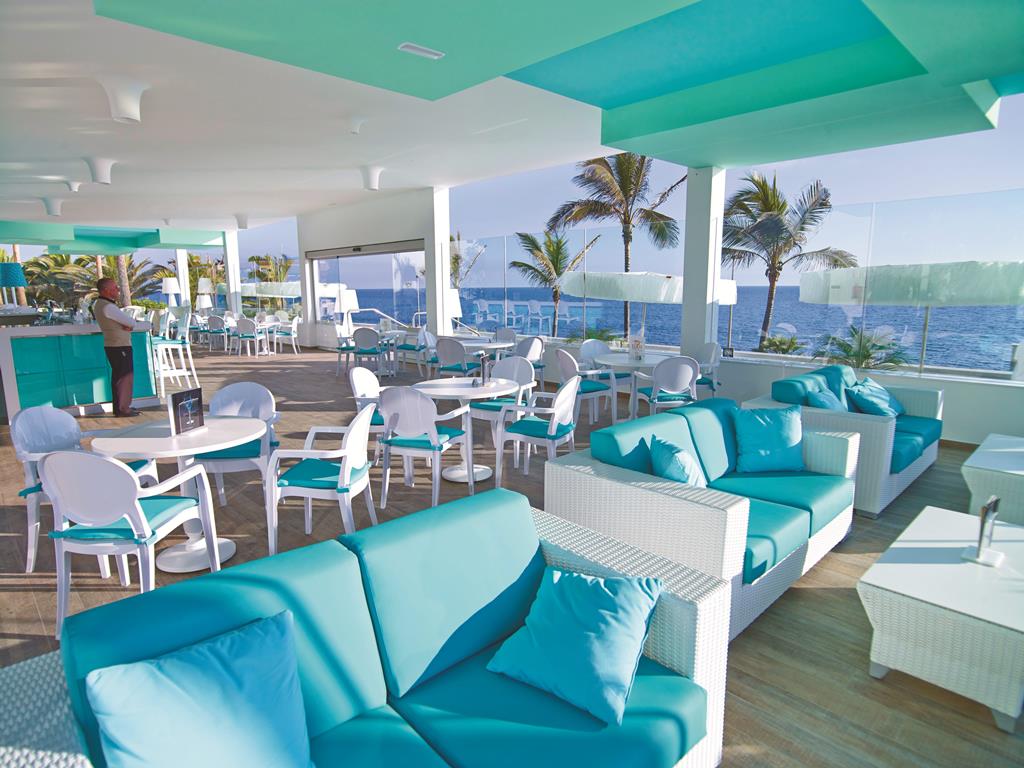 Hotel Riu Palace Meloneras is ideal for more categories of people. You can go there if you travel with children or you can hang around if you want some quietness – no wild parties, but just some music by the pool and a few family friendly bars.
It was the first time we went to Maspalomas in Gran Canaria, so this hotel was the first recommendation online. It is part of a chain known for its high standards. This hotel is about 10 minutes away from the famous dunes and the beach. The airport transfer took us 20 minutes.
Finding a room was easy in July. There are 332 of them and they all have Wi-Fi. However, the place tends to get busy in August, so book early. Other amenities include a children's pool, an adult pool, day and evening entertainment, restaurants, bars, spas and a gym.
What else can you ask for?
Click Here For Discounted Rates and Availability
Servatur Waikiki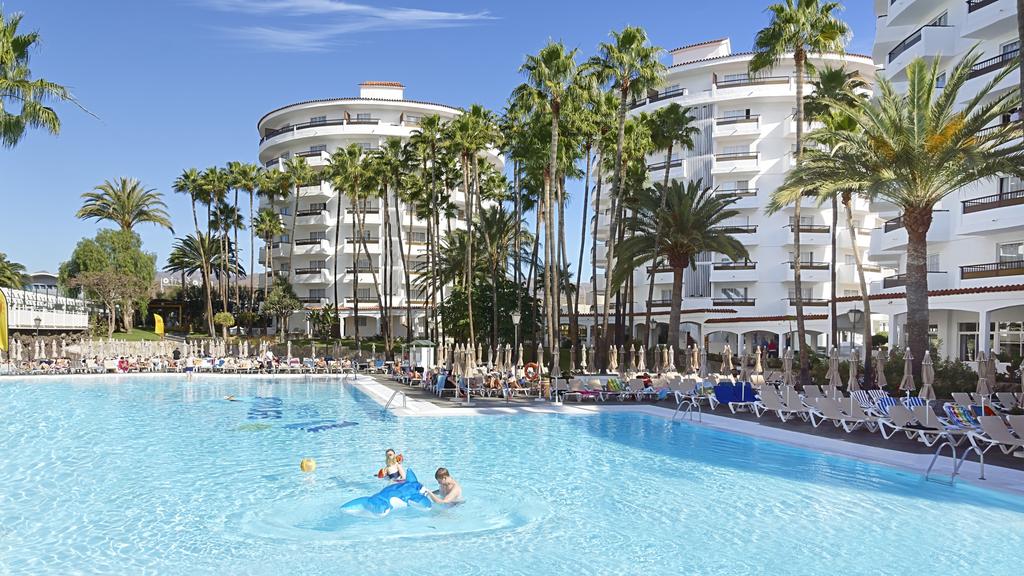 Servatur Waikiki is a peaceful and tranquil complex consisting of five round buildings – each of them counting seven floors. The place feels like heaven – palm trees wherever you look, flowers, grass, pools and white buildings. It is about 20 minutes away from the airport.
Our children loved this place, but we also enjoyed the feeling of safety. It is not too crowded, so you can leave your kids hanging around – they are less likely to get lost. Believe it or not, there are 3,500 m2 of gardens around these buildings.
It feels isolated, but it is not. You are a few minutes away from the city center, as well as the main shopping centers. The first bus stop is a minute away. Walking to Playa del Ingles beach will take 20 minutes, but you can take the bus. Breakfast and Wi-Fi are included.
We have also requested airport transportation. It was perfect!
Click Here For Discounted Rates and Availability
Bungalows Cordial Sandy Golf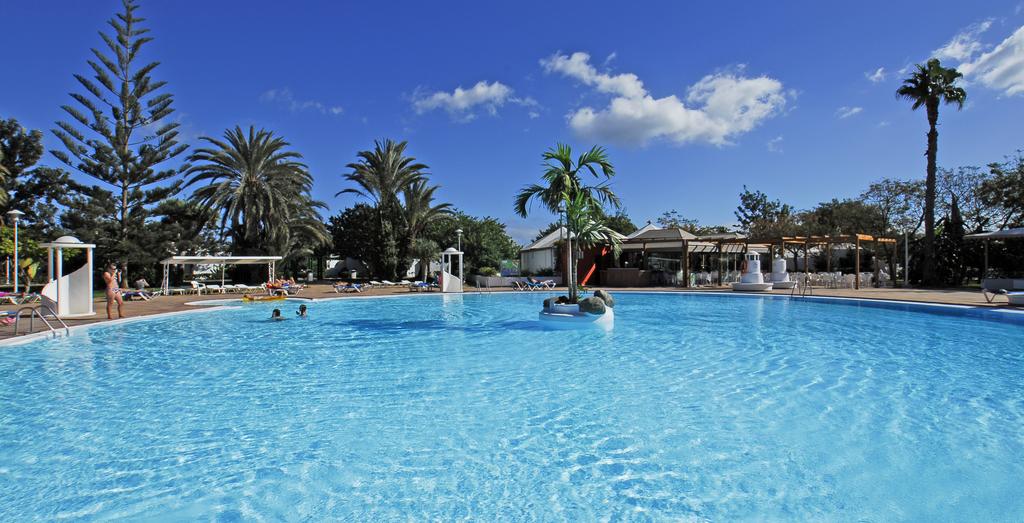 This may not really be a hotel, but we loved the concept, so we decided to spend a summer holiday there. You basically have a bunch of bungalows located close to the golf course in Maspalomas. You are about a mile away from the famous dunes and just minutes away from a shopping center. A free shuttle bus goes to the beach and the city center though.
Each bungalow has a comfy bedroom. You have a sofa, telephone, TV, full kitchenette, coffee machine and all sorts of appliances, a bathroom, a beautiful terrace and a garden. This place is ideal for kids because it is safe and they have plenty of room to play around.
Half board includes breakfast and dinner or lunch. You would have to reach to the Cordial Green Golf for it. Unlike other places in Gran Canaria, I found the Wi-Fi to be quite fast. Other facilities include a heated pool, an outdoor pool and free parking.
We just could not ask for more. If you want to go out, there are plenty of bars and restaurants around. Simply put, this place is great for families, groups of friends, couples and even elders.
Click Here For Discounted Rates and Availability
Bottom line
As a short final conclusion, I have tried all kinds of resorts and family hotels in Gran Canaria. I have returned to some of them, but personally, I love exploring new places and locations.
My kids do too – they tend to get bored very easily.
While I have not tried everything on the island, I can agree that these are the best family hotels in Gran Canaria for the average family. I mean… You can have some playgrounds around, a feeling of safety, children's facilities, adult facilities if you want some alcohol, nearby attractions to explore with your little ones, natural beaches nearby, bars, restaurants and towns just minutes away.
None of the above mentioned places will disappoint you – no doubts about it!​
P.S – Check out my blog post about the best water park in Gran Canaria. It is a great activity for you and the kids!