7 Best Adult Only Hotels In Gran Canaria -Reviewed In Small Details
While going on holiday with children can be a rewarding experience for your little ones, there are times when you want a holiday from everything – work, your city, everyday stress and even your children. This is when you leave them with your parents, pack your suit and go to Gran Canaria.
I take one of these trips with my partner on a yearly basis. While we normally go away with our children, we visit by ourselves every year. Since we try to get away from noises and screams, we obviously try to find hotels in quiet areas or at least adult preferred places.
Luckily, hoteliers in Gran Canaria are aware of this trend. Therefore, you will find many hotels recommended to adults only, not to mention a series of hotels that children cannot even be booked in. We try a different one every year to discover something new.
All in all, here are the best adult only hotels in Gran Canaria to visit. While we did have a few unpleasant experiences, I will only mention the ones that provided a great feeling of comfort.
Feel free to explore any of them and explore the perks of being a child free adult.
Bohemia Suites & Spa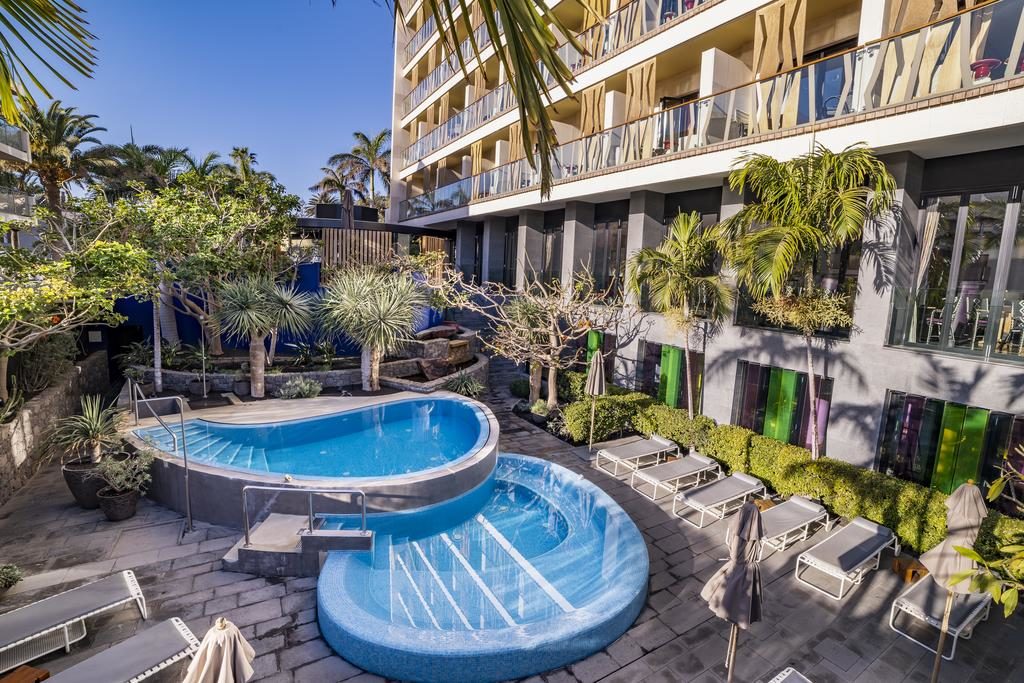 Bohemia Suites & Spa can be found in a stylish environment with pretty much anything you need. It is an adult only hotel, so no kids around. It is located just 200 yards away from the local Playa del Ingles beach, but you also have a couple of pools and two outdoor jacuzzis.
Rooms are stylish and elegant, available in a few different designs. While you can eat anywhere around the hotel, it also features a rooftop restaurant – not just a great cuisine, but beautiful views as well. Plus, there are a few cocktail bars on site.
Apart from the outdoor pools, you also have an indoor one. I particularly loved the Thai treatments in the spa, but I was also impressed with the aromatherapy. My partner spent lots of time in the local saunas, yet the Turkish bath area is quite interesting as well.
Check The Best Rates and Availability Here!
Hotel Nayra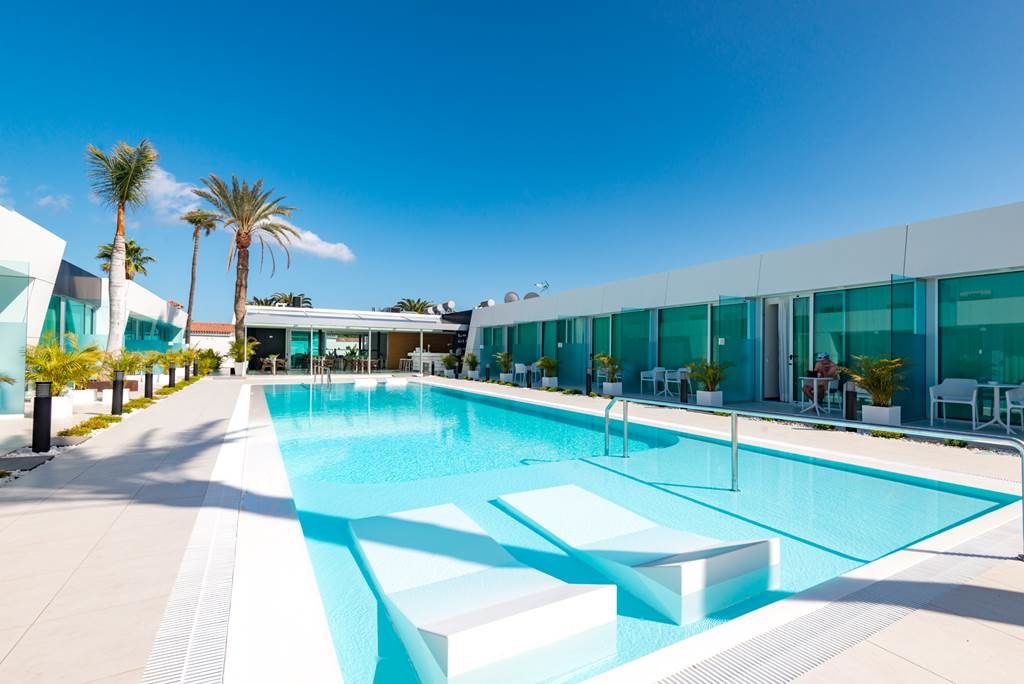 Just like Bohemia Suites & Spa, Hotel Nayra is an adult only facility with lots of amenities on site. Based on reviews, it is one of the best adult only hotels in Gran Canaria, so we gave it a try. It is located in Playa del Ingles, so there are lots of bars and restaurant around it.
However, you also have a buffet restaurant on site, as well as a bar. If you do not feel like chilling by the beach, you can rest on a sunbed by the outdoor pool. A sun terrace is also nearby. If shopping relaxes you, give the Yumbo Centrum Shopping Center a try – just seconds away.
As for the main beach, you will have to walk for about 15 minutes. My partner loves the golf, so we also went to the Maspalomas Golf Resort – less than a couple of miles away. Other facilities include Wi-Fi (quite strong if I may add), a fitness center and options for disabled people.
Check The Best Rates and Availability Here!
Don Gregory by Dunas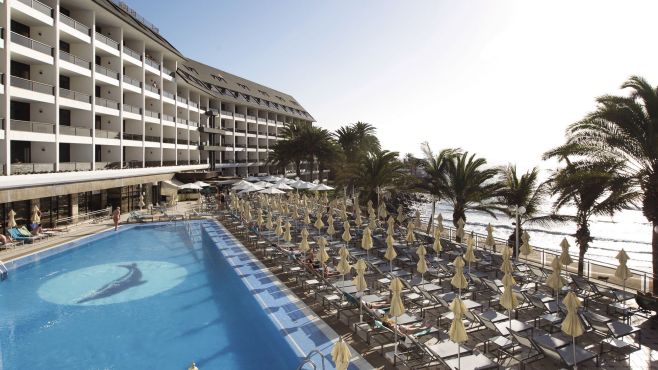 Based on reviews (we never guess when it comes to choosing a hotel), Don Gregory by Dunas is one of the best adult only hotels in Gran Canaria, scoring way above the rest. We visited it for a week and practically enjoy a home away from home – but with no kids, of course.
The hotel is close to the local beach of Las Burras – part of Playa del Ingles. However, if you do not feel like going down to the beach, you can use one of the pools on site – there is an indoor one too. The gym was fully featured (at least for what I needed), while the Wi-Fi signal was pretty good.
Every room has air conditioning – you do need it in the summertime. We also loved the private balcony for snacks and cocktails. They provide great views over the Atlantic Ocean. Satellite TV is also available. When it comes to entertainment, you have themed dinners in the buffet restaurant, live shows and music.
Check The Best Rates and Availability Here!
Sentido Gran Canaria Princess Hotels & Resorts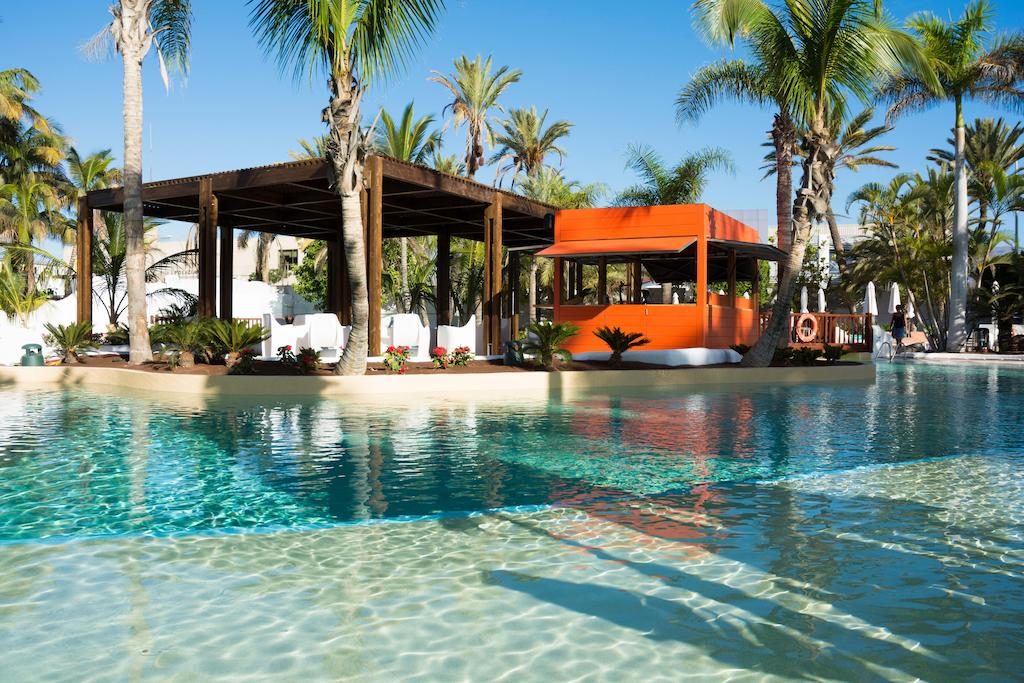 Featuring its own gym, a few heated swimming pools, Wi-Fi all around the property and a restaurant with a bar, Sentido Princess Hotels is exclusively open to adults only. We visited it due to its positive reviews and we found it to be perfect for a couple retreat. It is around five minutes away from the Playa del Ingles beach.
There are single, double and triple rooms available. Each of them has air conditioning, which was a lifesaver in July. Moreover, we had a TV set, as well as a balcony – we used the balcony for our breakfast coffee and a few evening cocktails. Room service is also available, but on request only.
What I truly liked about the restaurant was the thematic dinner idea. You can see the chef cooking for you, but you can also opt for all kinds of entertainment – shows, music and others. The sauna is worth a try if you are not hot enough, yet most people use to chill by the pool bar.
Check The Best Rates and Availability Here!
HL Suitehotel Playa del Ingles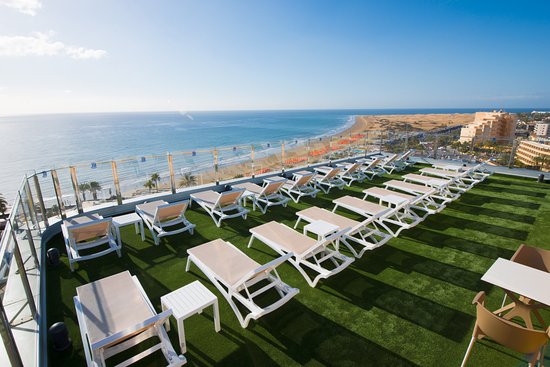 As you can tell, Playa del Ingles is one of our favorite destinations when it comes to child free holidays. Many local hotels are specialized in adult only facilities, mostly because of the rich nightlife. We visited this hotel due to being on the seaside – just 100 yards away from the sand.
If you want a more private settlement, you can relax by the pool. There is also a rooftop terrace for those who want to get some vitamin D from the sun. While it is nice and comfy, there is not much to do there. I liked the pool better.
Moreover, there is free Internet all around the property.
Air conditioning is a must in Gran Canaria during the summertime, so it represents one of our main requirements. All rooms have it, as well as private balconies. As for eating, you have a snack bar, a restaurant and the possibility to enjoy the local cuisine. Shopping centers are less than 20 minutes away. There are also waterparks nearby.
Check The Best Rates and Availability Here!
Club Maspalomas Suites & Spa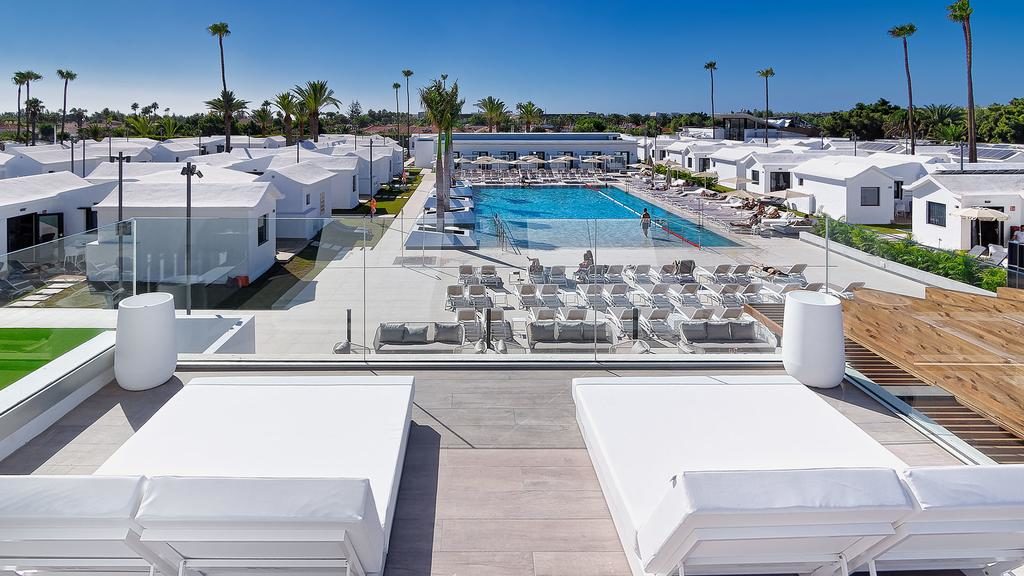 Club Maspalomas Suites & Spa might feel a bit weird when you get there. It looks beautiful and exotic, but we felt like there is not too much privacy. We were wrong though – you have everything you need, as well as a well deserved intimacy. The adult only property is located in a quiet area of Maspalomas.
Each room comes with air conditioning, a TV, toiletries and a minibar – you will have to pay for the bar. We found it a bit useless with so many bars around – plus the ones on site. Therefore, I do not recommend it – overpriced, as much as a regular drink at the closest bar.
The swimming pool has air hammocks. It is usually quiet and comfortable. It also features waterfalls and jets. Other than that, there is a Finnish sauna, a Turkish bath and even an ice fountain. Access is limited – we were given one free entry per person per stay, so you probably have to pay for more.
Check The Best Rates and Availability Here!
MUR Neptuno Gran Canaria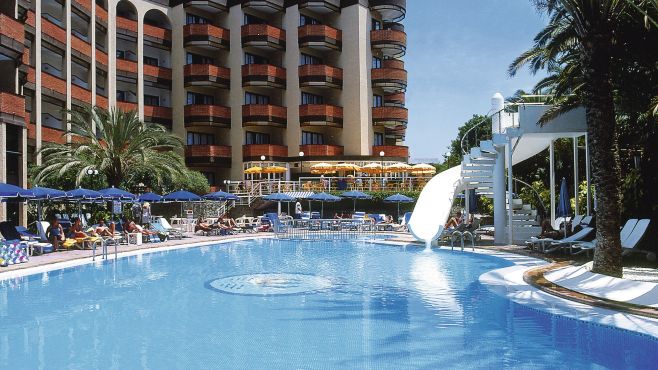 We were a bit anxious about staying at MUR Neptuno Gran Canaria because we could not find too many reviews about it, but we took a chance that we do not regret. There were couples everywhere you look, so if you want a romantic getaway with your partner, this is one of the best adult only hotels in Gran Canaria.
It is close to the Yumbo Shopping Center if you want to add some items to your wardrobe, but also just two miles away from the golf course in Maspalomas. We usually rent a car to explore the places we visit – there is free parking on site, yay!
Some of the facilities on site (in case you are too lazy to get to the beach) include an outdoor pool and a spa. You also have Turkish baths, a gym and a sauna. The beach is less than 10 minutes away – take a walk, yet you can get a free shuttle too. Other than that, you have free Internet, TV and a balcony.
Check The Best Rates and Availability Here!
Bottom line
At the end of the day, choosing the best adult only hotels in Gran Canaria can be hard because we have been pretty much everywhere on the island.
A few other names worth being mentioned include Marina Bayview Gran Canaria (great views), Servatur Casablanca Suites & Spa, Vila Bandama Golf (luxurious), Suite Princess (excellent views) and VEINTIUNO Emblematic Hotels (unusual architecture).
Deciding on the best one can be a bit challenging. After all, the facilities on site are quite similar. The service is good and you do have options around you.
In other words, I think choosing the right hotel with your budget and location in mind is the way to go.
Have fun!
P.S – When we do go with the family we check out the best family friendly hotel in Gran Canaria and use the best car rental service of the island.