It had been a long day and I drove from Athens (Greece) all the way to the border crossing nearby Sarandë. Here is where my crazy adventure in the beautiful country of Albania started. Demolished road, broken traffic signs, lunatic drivers and beautiful coastal lines. My road trip in Albania was of to a great start!
It was an interesting combination for sure, but that did not stop me from exploring the rich history and culture of this upcoming tourist destination. Although, I might have some trouble leaving Greece after all..
Catch you later, Greece! Or not..
Driving from Athens to Albania was a long one. It took me almost 6 hours and as soon as I arrived at the border crossing, the waiting started. Dozens of families and children came rushing to my green Beetle and started banging on the window asking for money. Normally, I fully support helping others, but the aggressive tone of their demanding request was getting on my nerves.
My best advice is to just ignore them and transfer funds to organizations who help these people, as it will be a lose-lose situation when they come to your car. If you decide to give money, they will swarm you from every corner and demand more money and they won't accept no for an answer. If you decline (and I saw them do this to the car coming into Greece) they will have no trouble spitting through your window or evening punching the window. Best would be just to ignore them and make sure your windows and doors are closed and locked.
The motivated customs officer.. on steroids!
"What is this road trip guy? Where is your vehicle ID? Why does it says a different company then the road trip guy? Why is it not in Greek?" He said.
Yes, unfortunate every so often you will encounter the motivated custom officer. This is a officer or agent who takes his works way to seriously and will live and die by the rules. It was also just my luck that this officer was a 250-pound bald and super jacked Greek version of Dwayne "The Rock" Johnson and he was on a mission that day.
I was taken apart and asked a bunch of questions over the next hour. The best thing you can do is to keep calm and just play the "Dumb tourist" act. What is the "Dumb tourist" you say? Well, let me explain!
Dumb Tourist – "A person who acts like a clueless tourist who does not speak the local language or is aware of the local legislation in order to avoid legal actions in the form of fines or additional paperwork as a result of having incorrect documentation."
I should have gotten an oscar for my performance to be honest. With years of experience working the Middle East I have gotten quiet familiar with bureaucracy. And although the veins on his forehead and biceps became larger and larger, I kept my act of smiling and making jokes as light and respectful as possible. Eventually, he gave up and I could go, but it did almost cost me 45 minutes. It might feel a bit risky, but what is the worst thing that can happen? Go back the Greece? Thankfully my road trip in Albania was still on.
First stop of my road trip in Albania : Sarandë.
Sarandë is the first real upcoming beach town and since recent years it has been receiving a lot of Italian tourists. The Albanians love the Italians as they are investing a lot of money of their neighbour (overseas) country and it was no surprise that I ended up with an Albanian/Italian family owned accommodation right next the boulevard.
When you are planning a road trip in Albania please keep the traffic situation in mind. Let me tell you, the Albanian people are one of the nicest people you will meet. Sure, most of them are crazy drivers on the road, but once the car is parked a whole different personality will appear. It just would not be the first thing that crosses your mind when you take a closer look..
The boulevard of Sarandë
You see, as I was walking on the boulevard there were lines and lines of cars "cruising" the strip and to my surprise they all looked the same. I started talking to one of the Albanian waiters and he was telling me a funny joke that in order to become Albanian gentleman you need the following starter pack: "An old Mercedes, tank top, tattoos, gold neckless, beard and of course loud loud music pumping out of the speakers!" 
I liked that the Albanians had a good sense of humor and my stay in Sarandë was a pleasant one. The food is cheap and of great quality and there are a lot of activities during the day. The beaches were not my favorite though as pollution in the water (as I would find out throughout the whole Balkan area) is still a problem here. Plastic was floating everywhere and although it was clearly visible a lot of people did not seem to care.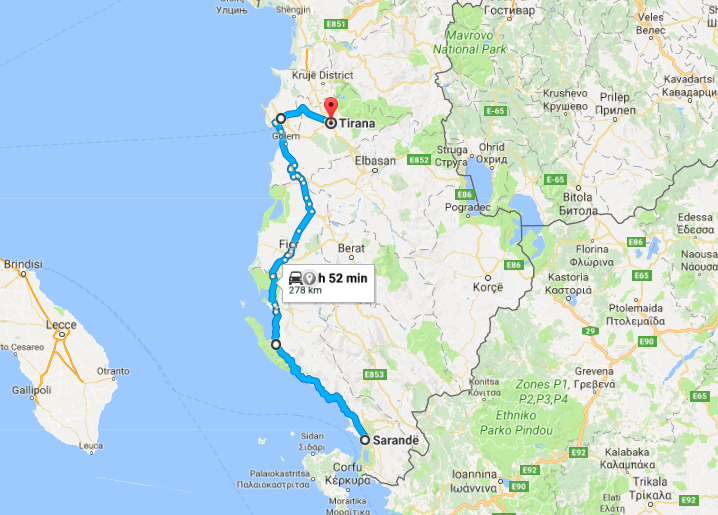 After paying to the boss (grandmother) of the appartement I set my sights on leaving as early as possible in the morning to the capital of Albania: Tirana. This would mean a beautiful 300 Km. trip past one of the most stunning beach shores you will ever see in your live.
Mountains and 5-star luxury hotels. Welcome in Tirana
On my must-see list of Albania was the Dajti mountain. This national park is just 25 Km. from the city center and you will need a 20-minute cabin ride to get all the way to the top. It only cost about 6 euro per person for a round trip. The views you will experience are stunning and you can take some awesome picture during the ride. I was all alone and it did not seem very busy once I reached the top.
There are some carnival activities like horse riding and shooting gallery but other than that there is not much to do besides hiking. I would recommend to go for a nice diner or lunch with your friends at the restaurant/hotel right next to the arrival station. It serves some amazing and huge meals!
During my stay in Tirana I found the 5-star Hotel Britannia nearby the mountain. Now normally I would not recommend spending crazy money on hotels, but for just 30 Euro per night it was unbelievable! This hotel was crazy luxury and till this day it was one of the best beds I ever slept in. I love Albania! And just in case you are wondering, they have indeed private parking! What an amazing way to end my road trip in Albania