Texas to Florida Road Trip – A Road Trip for Nature, Food and Beach Lovers!
If you ever planned to make an adventurous trip, you should definitely consider a Texas to Florida road trip!
Why adventurous, you ask?
Well, depending on your route during this road trip, it can be a very interesting experience.
Ever seen the amazing movie "Apollo 13" ? Or are you interested in visiting one of the best zoos in the world? How about eating in the most famous food-town of the United states?
Yes, this road trip has it all! We will start in San Antonio and after we visit Houston, Pensacola and Tampa. 
So get ready, road trippers! Put your cowboy boots on and don't forget to include an extra pair of swimming trunks! We are in for a wild ride!
Driving from San Antonio to Tampa – The Route
Distance: 1.213 miles
Duration : 10 days
Renting a Car in Texas
Renting a car in Texas is not that difficult. You will need to have a valid US or international driver's license and most European Union driver's license are accepted. 
Do keep in mind that most rental companies in the United States require a minimum age of 23 years in order to rent one of their cars. Please make sure you always check with your rental company about these requirements before you book your flights and travel. 
Click here to see the best car rental deals and prices in San Antonio – Texas
Things to do in San Antonio | Day 1-2
Welcome to the beautiful city of San Antonio! The 7th most popular city in America and the 2nd largest city in the state of good ol' Texas!
According to Wikipedia, the city was founded as a Spanish mission and colonial outpost in 1718, after which the city became the first chartered civil settlement in Texas in 1731, making it the state's oldest municipality.
It is home to the famous Alamo Mission, which is an old Roman Catholic Mission and Fortress compound that draws thousands of tourists each year. It is part of the famous UNESCO World Heritage list and is currently the number one tourist attraction in the whole state of Texas, followed by the famous River Walk.
The River Walk is actually one of the most romantic places you can visit in the city. It is full with great little bars and restaurants and has a unique architectural style with many bridges and walls.
For the lovebirds there is even a river taxi! How romantic, right?
Yes.. San Antonio is a great way to start your adventure road trip and see the beauty that Texas has to offer!
Ps. – Interested in more road trips that explore the beauties of Texas? Go check out this blog post on the best road trips that Texas has to offer!
Visiting Houston | Day 3 – 4
"Houston, we have a problem!"
Who does not know this famous movie quote of Tom Hanks starring in the blockbuster movie "Apollo 13". You have arrived in the beautiful city of Houston!
Houston is home of the NASA Space Headquarters and is home of the Houston Museum District, which houses 19 different museums. And guess what? 11 of them are for free!
YES! You will not have to pay a single USD and you can explore them all. What a great city, huh? There are so many options that you will never get bored and some of the themes include WW2, Photography, Space, Health & Medicine and the local arts.
Best Restaurants in New Orleans | Day 5-6
This road trip would take you through New Orleans, where there are great things to see and do, and of course…
Eat, eat & eat some more!
This popular city is one of the most popular "foodie" destinations in the United States. Because of its diverse multi-cultural inhabitants the city has some of the most delicious meal you will ever taste. If you love food, this is the place to be!
Get ready and try amazing traditional meals, like Gumbo, Jambalaya, Read Beans & Rice and so much more! Finger lickin' good, I must say!
Pensacola | Day 7-8
After eating your own bodyweight for the last two days it is time to hit the beach and relax a bit. Welcome to the 18 miles of the beautiful white sandy beaches of Pensacola!
With an average temperature of 75 degrees fahrenheit and 343 days of sun, Pensacola sure has a lot to offer when it comes to a fantastic beach holiday and a visit to Santa Rosa Island.
The Florida Gulf Coast offers beautiful emerald-green waters and there are many things to do and places to visit. For nature lovers there is a famous Sand Eco Trail Tour that allows you to learn more about the local flora and fauna. Their goal is to educate the public about the importance of nature conservation.
Arriving in Tampa – Florida | Day 9-10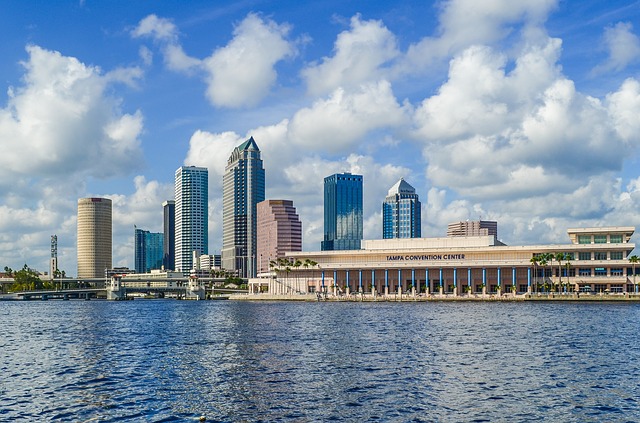 Congratulations! You have arrived at your final destination in the amazing city of Tampa in the state of Florida. If you like to visit some amazing theme parks & zoos, this is the place to be!
Tampa, Florida offers a lots of fun for the whole family and after driving for a few days, what better way to end your amazing Texas to Florida Road Trip by visiting one of the world's best zoos at Bush Gardens, or go on a thrilling travel back in time at Dinosaur World.