Road trip in Croatia – Beaches, Bears, Game of Thrones and more!
After Montenegro and Albania it was finally time to enter the European Union once again. A road trip in Croatia was next in line and the fairytale stories of the beautiful islands and coastlines of Dalmatia had been om my travel bucket list for quiet some time.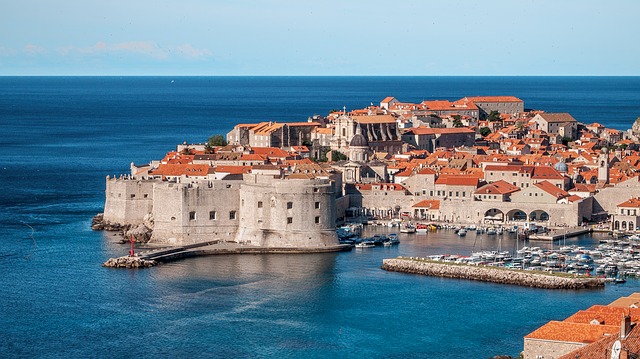 During this road trip, I encountered dragons and castles as I was visiting the filming locations of the populair TV-show "Game of Thrones" in Dubrovnik.
When driving towards the north part of Croatia, I stopped by a  brown bear rescue and rehabilitation sanctuary deep in the Croatian mountains.
Ready to make some extra kilometers, but all for a good cause!
Road trip in Croatia – Itinerary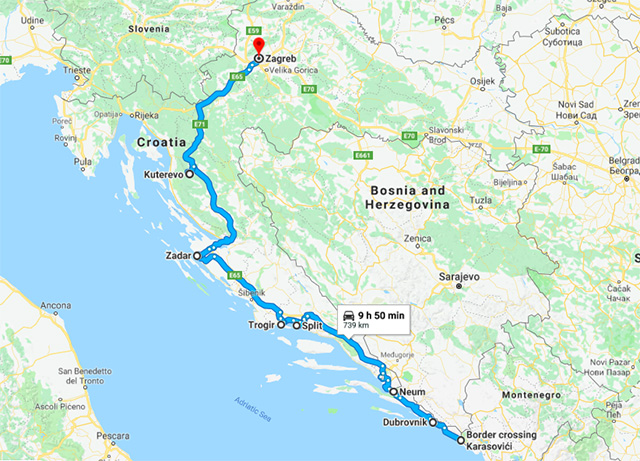 Duration :  10 days
Distance :  739 Km
Locations: Dubrovnik, Neum, Split, Trogir, Zadar, Kuterevo, Zagreb
You can also make your Croatia road trip shorter or longer depending on your travel plans.
And did you know that Croatia also offers some of the best walking tour experiences in Europe? BudgetYourTrip.com has an amazing blog post about the best routes, prices and locations. Check it out!
Dubrovnik
Ah, what can I say about Dubrovnik? One word: "Gorgeous!"
This beautiful old city is surrounded by ancient architecture, which instantly takes you back in time. When you arrive from the south you will have a glimpse over the city with an amazing topview, therefore I highly recommend seeing this view either by car or with a lift.
It will be the best part of your road trip in Croatia. Trust me!
For an overnight stay I recommend the Sun Gardens Dubrovnik, but if you are interested in more option make sure to check out this fantastic blog post on where to stay in Dubrovnik.
It is a childhood fantasy that right away pop's up when you enter the big gates of Dubrovnik. My heart was pumping, dry throat and my smile became bigger and bigger as we got closer to the gates. I remember thinking: "And here.. we… go!"
"Game of Thrones t-shirts! Get your t-shirt! Tours for sale! Book your tours today!"
If you are expecting to have some romantic times walking around the little shops and ancient churches you might want to skip the high season. Of course, it was also the high season, but when even the locals tell you there are too many tourists it says a lot.
Although I must say that Dubrovnik is the perfect honeymoon destination as the crystal blue waters and charming houses do give a romantic vibe. Minus the many tourists of course, so plan your honeymoon in the fall or spring. 😉
Game of Thrones – Enter the City Wall
If you want you can take a special "Game of Thrones" tour in the city. There are several companies who over tours to show you the filming locations of the popular TV-show.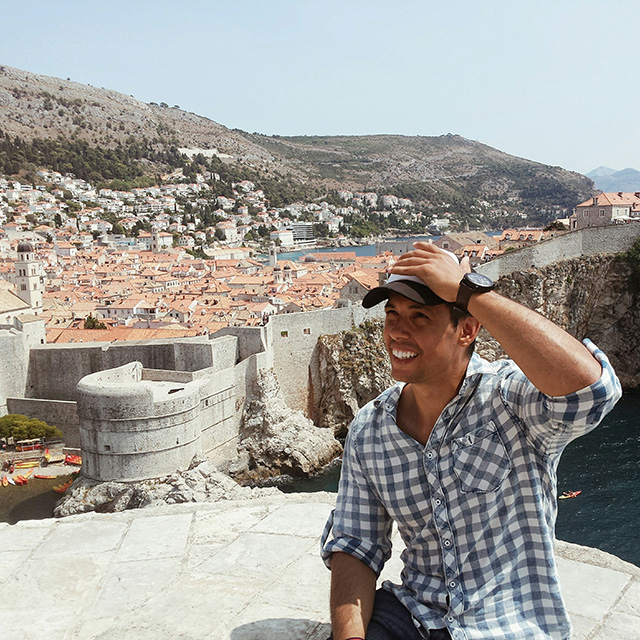 I personally did it myself as I was only interested in a few spots, but either option would be interesting as the guide also gives you a lot of extra information.
To make things easier, I wrote down several film spots that you can visit with just one ticket all by yourself.
Game of Thrones – Film Locations
You will start by purchasing a ticket for the Dubrovnik City Wall. The tickets can be purchased at the kiosk straight on your left-side when entering the city (Stradun).
During your walk you will be able to get some amazing shots including from the island next to the wall; Lokrum and Ford Lovrijenac.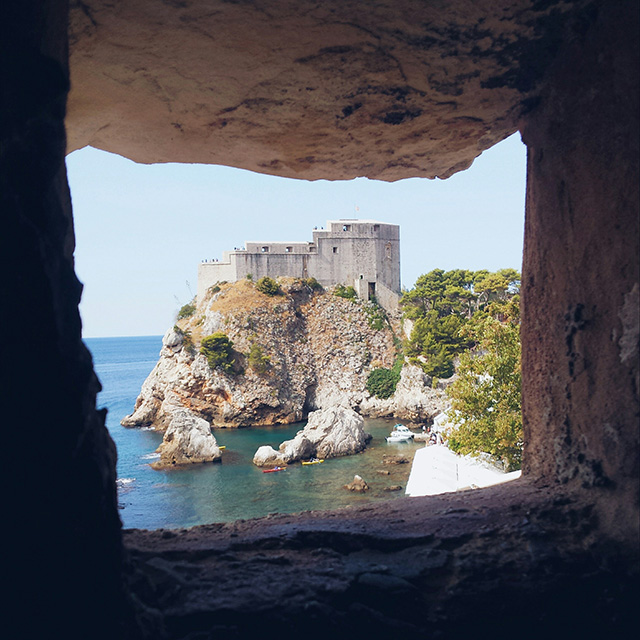 The City Wall
Once you enter the city wall you should walk straight towards the sea. At one point the wall will take you left, but at this corner they filmed a scene with Tyrion and Lord Varys.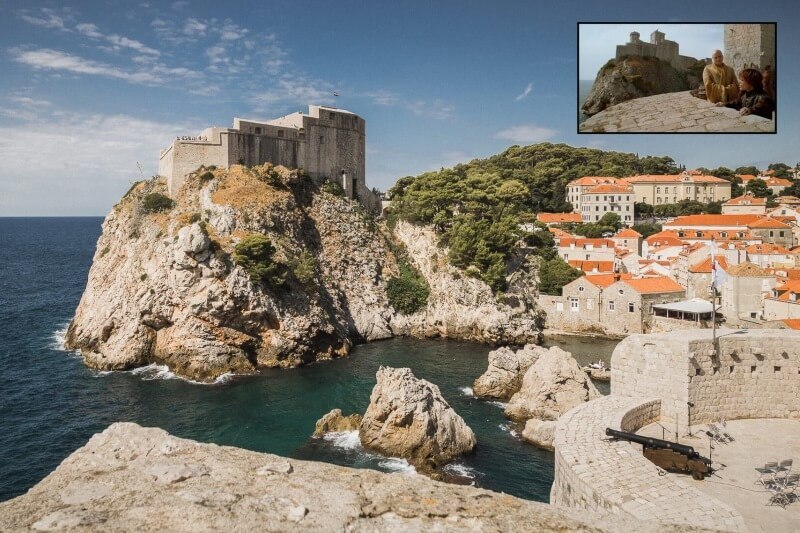 Ford Lovrijenac
To walk the entire wall you need about 1.5/2 hours. After you can visit Ford Lovrijenac which is included in your ticket price. Here you will find the castle square at which this particular scene was filmed.
Little Marina
Now the little marina is a lot harder to find. It is located right in between old-town Dubrovnik and Ford Lovrijenac. Here they filmed one of the farewell scenes of the show.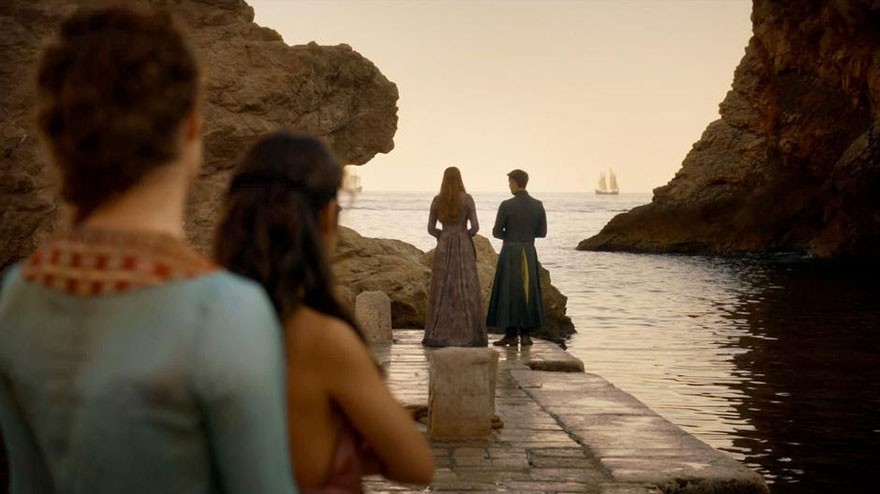 There are several more locations, but in my experience these locations were the best. Of course there are many more Dubrovnik attractions that one might experience.
Ticket prices
150 HRK per person (includes a visit to the Ford Lovrijenac)
Parkingcost
6,50 Euro per hour.
Neum – Bosnia
When you drive from Dubrovnik towards Split you will encounter a bordercrossing into Bosnia. Do not worry as the beach village Neum is actually really fun. There are many small restaurants and bars located right next to the water.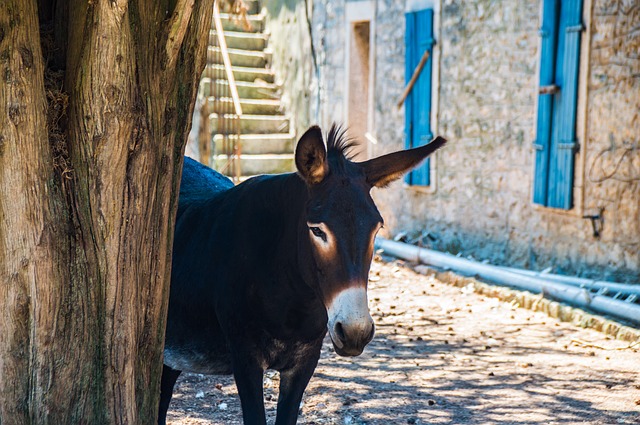 It takes less then 20 minuten to drive around the place, after which you will enter Croatia again. It is a fun experience for sure, but it might come as a big surprise if you don't know its there.
Trogir – Traditional Croatia
Trogir is located on a small island linked with bridges to the mainland. It is a 30-minute drive from Split and during the summernights they town-square is absolutly packed.
It looks like a little version of Dubrovnik and is filled with fun little barsm cafes, a marina and a seaside promenade.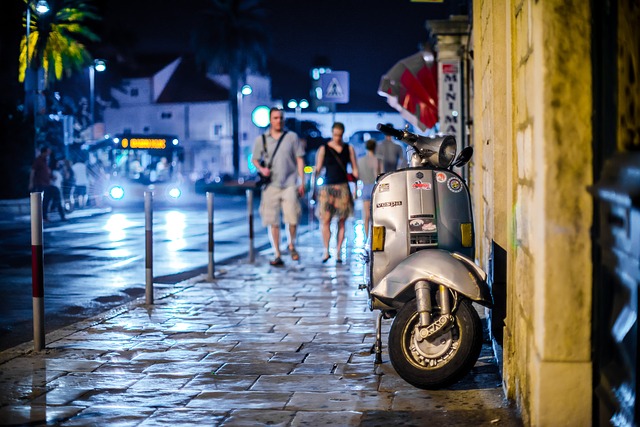 I recommend you park your car outside of the town and take a taxi, walk or bus to go to the center. In the summer it just gets to busy to go through the little streets with your car, because you will be stuck for hours.
Zadar – City of sounds
I stayed in Zadar for 2 days and it is a great city to relax and escape to busy tourism areas of Split and Dubrovnik. The city has several markets during the week and is located right now to a calm and beautiful turqouise beach. Perfect to relax in the sun and enjoy the wonderful sounds of the sea.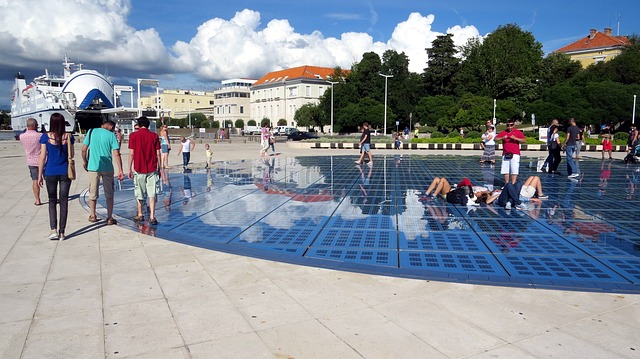 And by enjoy, I mean really enjoy as they have built their own musical instrument which is called the Sea Organ. This artwork creates natural sounds by pushing water from the sea trough its pipes, which produces an unique melodie depending on the current and activity of the waves.
Kuterevo – Bear sanctuary
After a short stop in Split, I continued my road trip in Croatia and drove up to the northern part towards a little village in the mountains called: Kuterevo.
"Hello! Sir, where can I find the bear sanctuary?" I asked a local farmer as I was obviously lost again. He did not understand English very much and shrugged his shoulders as he waived his hands in such a way that it could only mean: "I have no idea what you are saying, boy" in Croatian.
As my internet connection was not working I had to do my best impression of a bear. After several minutes of me making bear movements and growling sounds the farmer must have had two thoughts; Either he knew exactly what I was talking about or he thought I was batshit crazy.
Anyway, he waved his hands towards his left and shook his head with a "yes" gesture.
I thanked him and drove towards his suggested direction, but I could not help thinking that I might have given the farmer his best "pub story" ever about a foreigner doing a road trip in Croatia, with a green Volkswagen Beetle doing bear movements and noises for minutes, all whilst the farmer could speak English perfectly. Oh well, who knows! 😉
https://www.instagram.com/p/BYUAxc6gUOR/?taken-by=theroadtripguy
Information
The Kuterevo Bear Sanctuary was founded in 2002 and is currently the home of 9 bears.
The European brown bear is a common bear species in Croatia and the Balkan area, but although the animals are protected they are still in need of help.
Hunting and habitat destruction are the most common threats, therefore the sanctuary educates its visitors about the morphology of the bears, diets and behavior and their natural habitats.
There are about 1000 bears left in the wild today in Croatia.
https://www.instagram.com/p/BYSsQgXAFkm/?taken-by=theroadtripguy
The current inhabitants
The Refuge is separated in two parts. The first one is dedicated for the younger bears and the second for the older ones. In this moment we have three bears in the first part – Marko Kralj, born in 2012; and Mlada Gora and Mlad Dol, both born in 2010. And in the second part we have six bears in total: HuuBear and VladMir, born in 2008; BlagoZoo, born in 2007, coming from the Zoo in Zagreb; LjuboLik and ZdraviGor, both born in 2003.
All of these males share one enclosure. The Lady of the Refuge – Mirna, lives in another enclosure all by herself.
She spent almost all her live in the Zoo in Split, but joined Kuterevo in April 2015. Being born in 1984, now blind and deaf makes her the oldest bear in the Refuge, thus being the biggest attraction here!