After having a great time in Berlin seeing the city on a budget and racing past all the big landmarks and architect wonders in a Trabi it was time to continue my journey. My next step was suppose to be taking the ferry from Rostock, Germany to Gedser to enter Denmark. After a lot of remarks and feedback of people they mentioned I would definitely miss out on a lot of fun if I did not see more of Denmark.
So I would not be called The Road Trip Guy if some extra kilometres wouldn't mean another great adventure. And it sure was! From eating hamburgers in Hamburg, to meeting my first road trip buddy to beer drinking in Odense and visiting Tivoli gardens and the Ice bar in Copenhagen. You can read all about it in;
25.000 Km Europe Road Trip part 2: Berlin, Hamburg, Odense to Copenhagen.
Previous chapters: Part 1 : Amsterdam to Berlin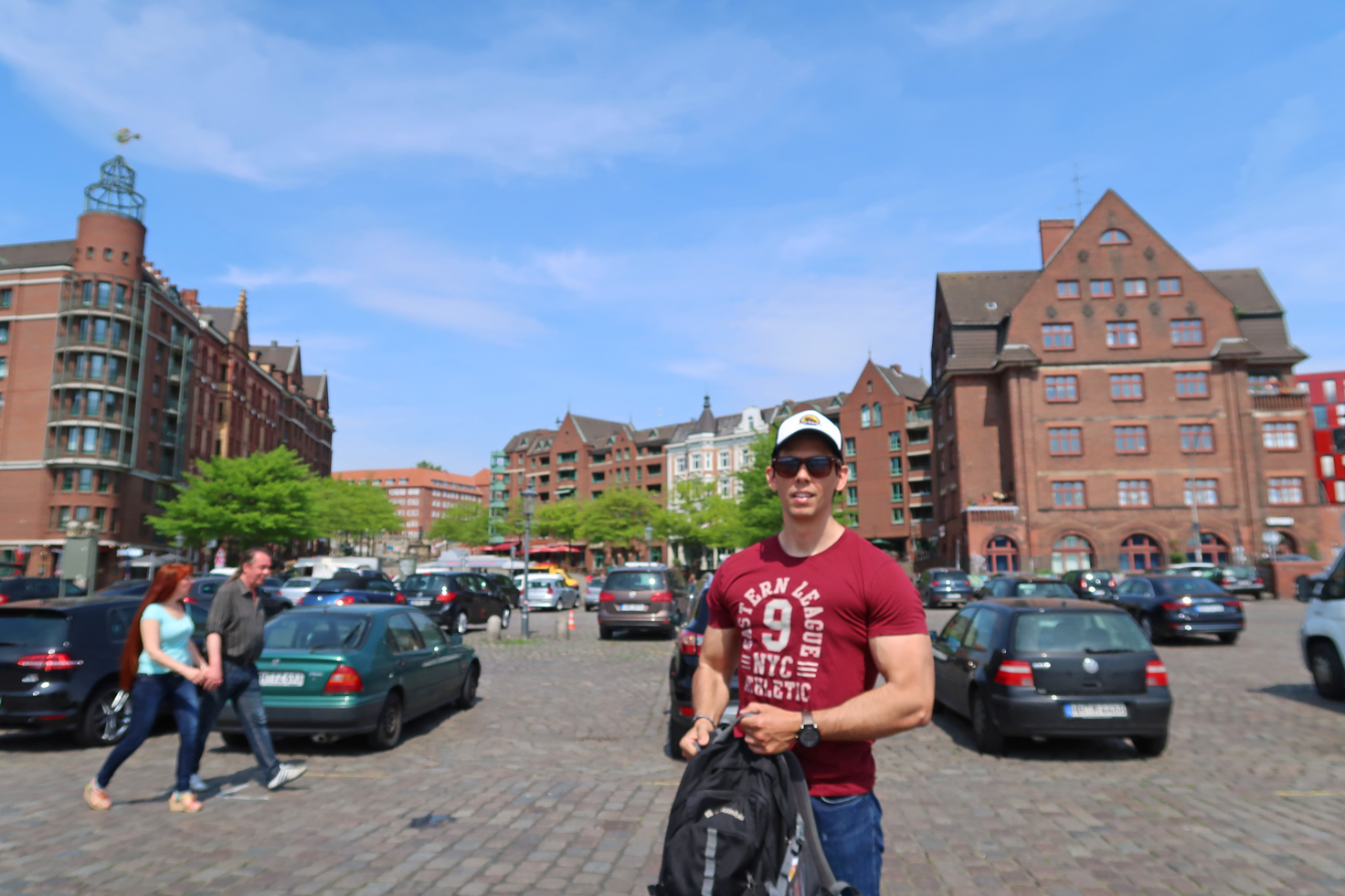 Leaving Berlin
Right after my adventure at Trabi Safari World, I hit to road on the 17th of May. Next stop was Hamburg! People mentioned to me it was an interesting city and I was keen to find out. This route was around 300 km and would take me about 3 hours including a break. Once arrived in Hamburg I stayed at the Instant Sleeper Backpackers Hotel. The hotel was based just outside the city centrum and with a 25-minute walk you were downtown. Also good was the parking option right in front of the hostel. For only 7 euro per day, you could park your car with some supervision. Good thing I could see Lazy Louie from my bed every night so I could keep a close eye on him! The staff was extremely helpful and overall it is a good hostel for the price that you pay.
My review on Instant Sleeper Backpackers Hotel:
Location                    : ***
Bed                           : ****
Facilities                    : ****
Staff & Service           : ****
Price   : € 20,- 
The Hamburg hamburger
I explored Hamburg by foot and it was an interesting neighbourhood the hostel was based. First it was time to explore the harbour area but unfortunately the fish market was closed. Good thing I already knew what my second option would be: A real HAMBURGER! In Berlin people kept mentioning this Strand Pauli beach club. There is beach club in Hamburg? Yes sir! And it serves some delicious burgers!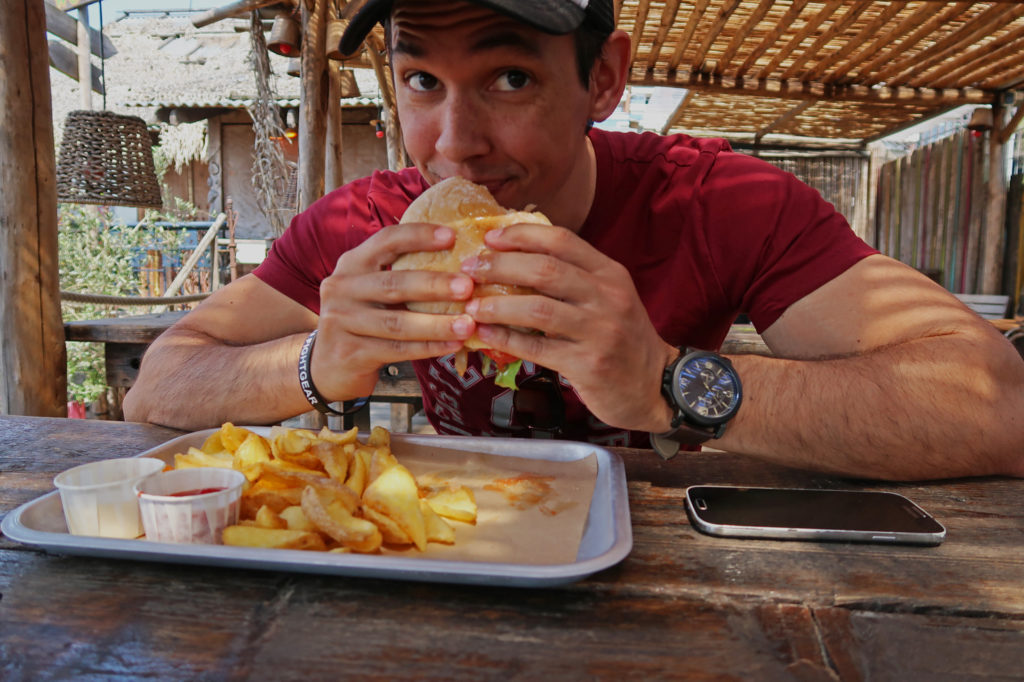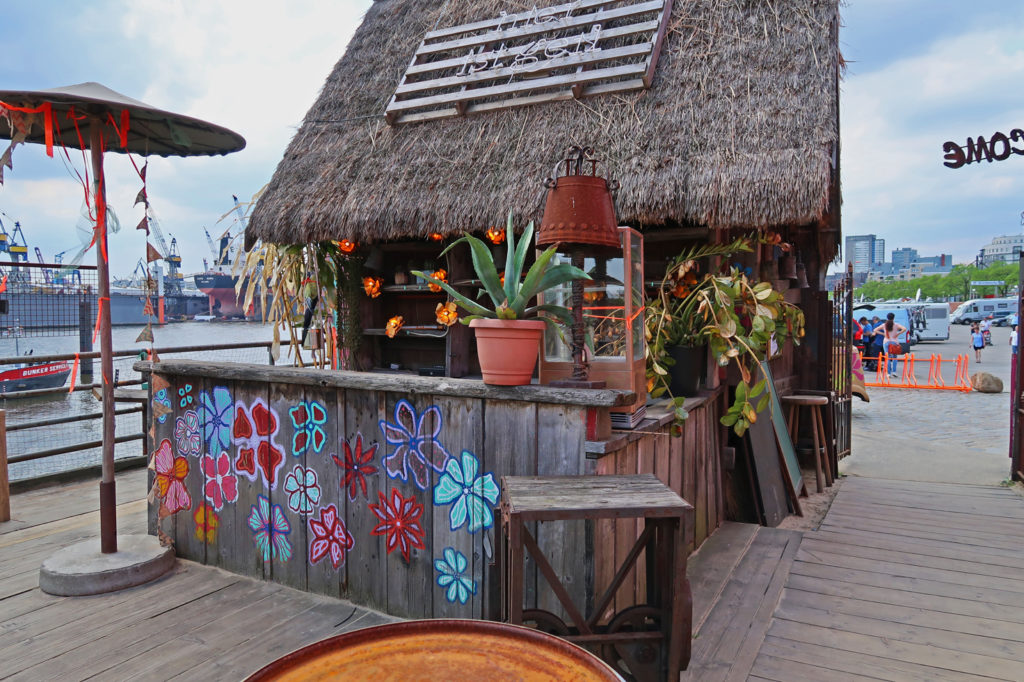 After having this interesting lunch it was time to explore the city. I was in for a bit of a surprise though..
Downside of Hamburg
Apparently Hamburg has an open drug policy therefore It felt I was in a very liberal 60's kind of setting. There were all kinds of people openly using a wild variety of drugs and there were some trailer park areas build where people lived in their vans either on the park or parked close by. A lot of free love was going on in the parks and drug selling and trading in public was real common. Although being from Amsterdam I am used to a certain public drug scene, but unfortunate you could see that Hamburg also had some problems as so many people were sleeping on the street of passed out on benches and other public locations and aggressively begging/demanding money from tourist. Also the abundance graffiti on national monuments of the city did not make the sightseeing very interesting other then the new build concert building.
The good part of all this was the large variety of retro-vans I saw parked in the city. This really made my day and got some great shots of these beauties!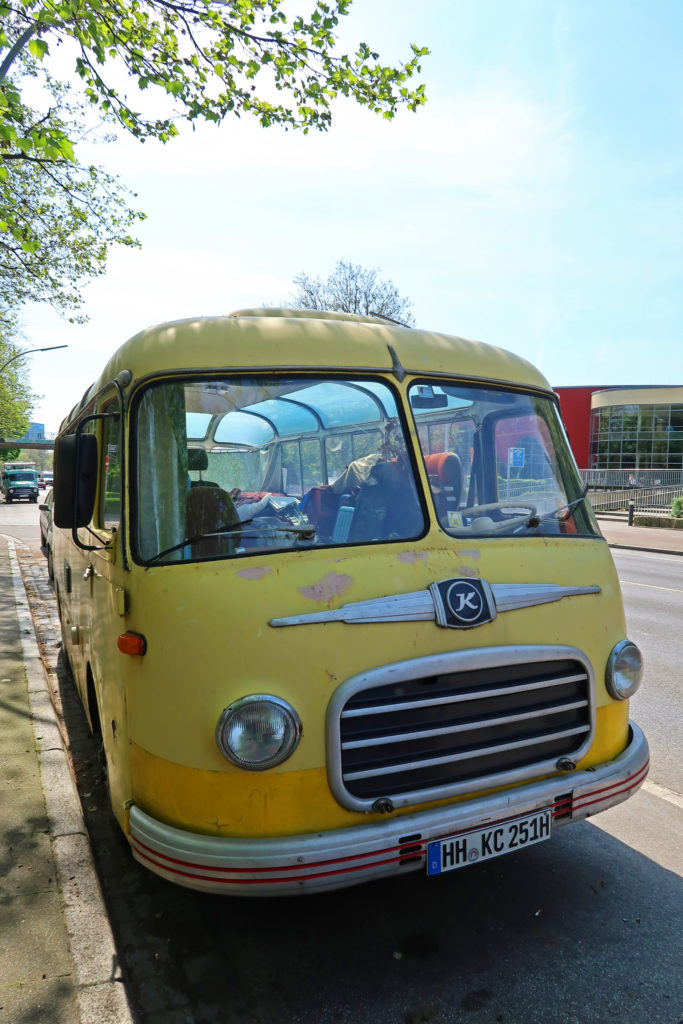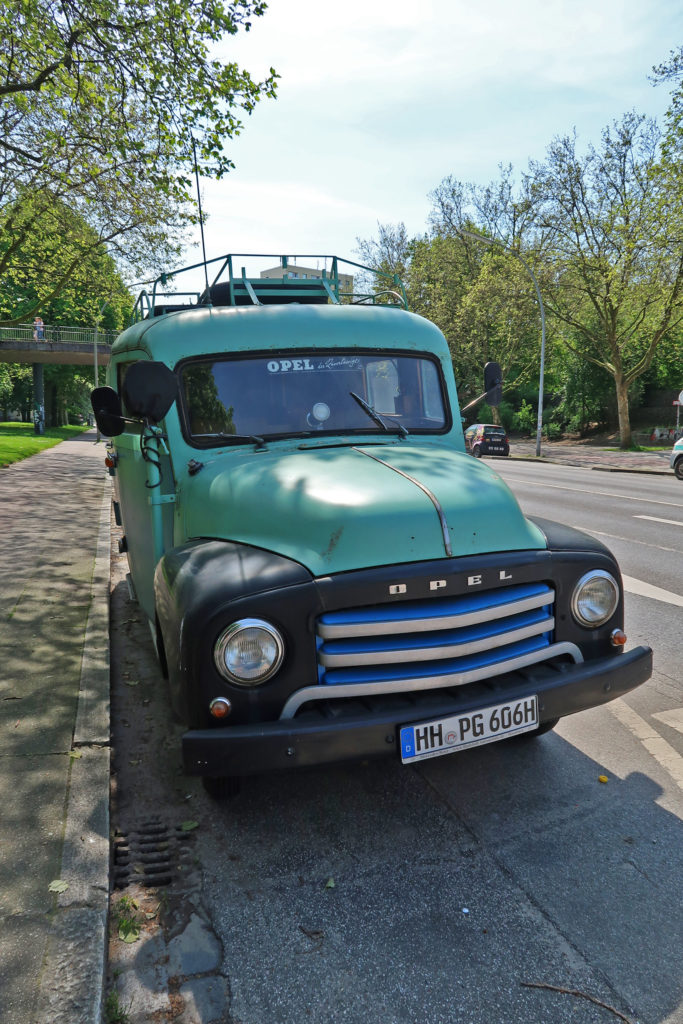 Planning to go to Copenhagen
Being a bit disappointed with Hamburg I decided to plan my next route towards Copenhagen. I met Angelika, a nurse from Zurich (Switzerland), the night before at the hostel and we shared our traveling stories. I found out she was also planning to go to Copenhagen. Since the idea about The Road Trip Guy was to meet new people, I offered her to ride along to Copenhagen in Lazy Louie. Without any hesitation she said yes (still surprised till this day, Angelika!) so the next morning Lazy Louie and I had our first road trip buddy! The route would take us through Denmark and with a quick lunch stop in Odense to Copenhagen. Travel distance was about 500 km and would take 6 or 7 hours depending on our time spent on lunch.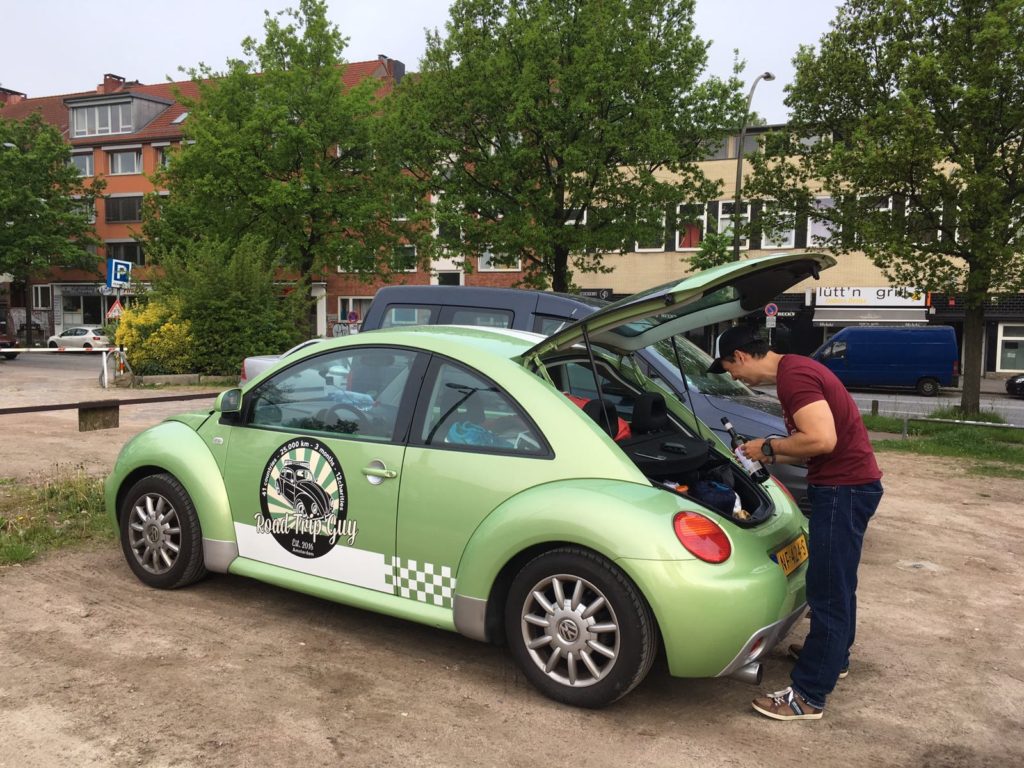 The ride itself was great. Nice smooth roads and with plenty of time to spend talking. I learned all about the travel ideas and motivation of my first road trip buddy. We discussed all our travels, cultures, religions and other interesting aspects and I must say it was great an refreshing hearing the travel stories of other people and what inspired them to do so. After a few hours on the road it was time to have a lunch break in Odense. This town is famous for Hans Christian Anderson who wrote the popular children story "The Little Mermaid".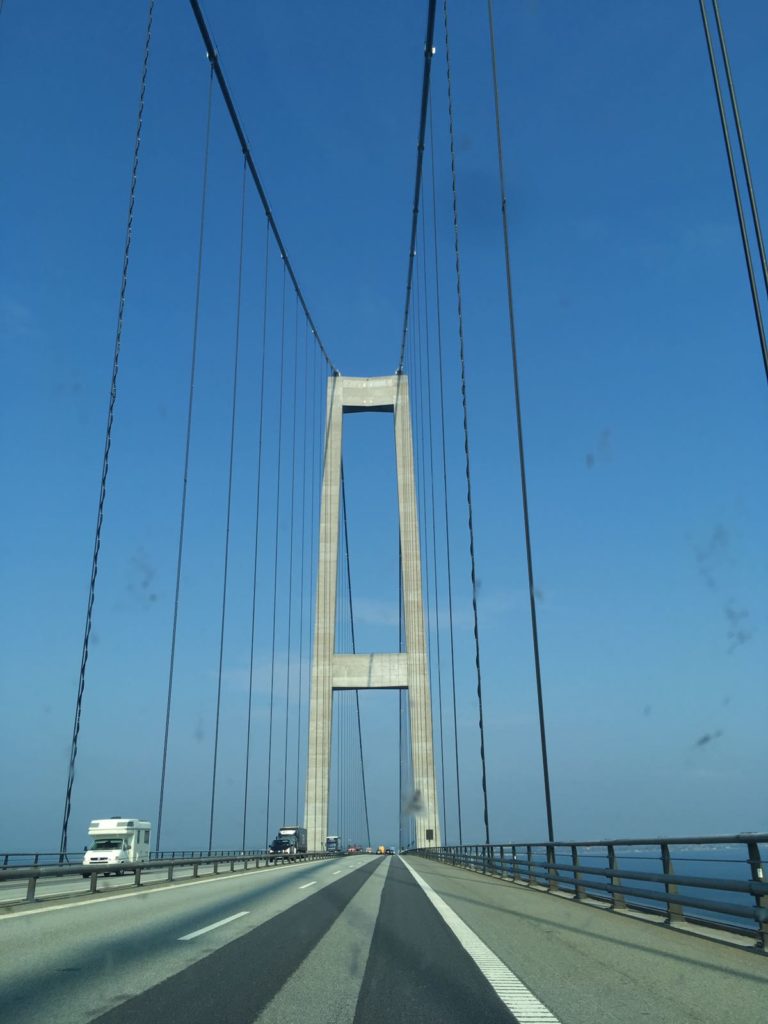 But things took an unexpected turn when we met two Danish gentleman..
Lunch in Odense and the unexpected.. 
After some time finding a parking spot, we walked towards the city centre. Angelika and I both were starving so we quickly find this nice little Vietnamese restaurant called Mother's Street Food. The staff was really super polite and had the biggest smile I had seen in a long time. What a relief after many hours on the road. We ordered different dishes and tried some of the recommendations of the waitress who did an excellent job trying to explain a Vietnamese menu written in Danish to English speaking people. Good job! The food was really amazing! I had a BBQ pork sandwich, which had delicious vegetables and super crunchy crisp bread. Just some light sauce (I hate it when they drown your sandwich in that stuff) that kept the bread crisp and dry even after you start eating it. It was there that we decided to start shooting some footage for my Vlog. Two gentlemen behind us heard me do my little speech in front of the camera and that is where the fun started!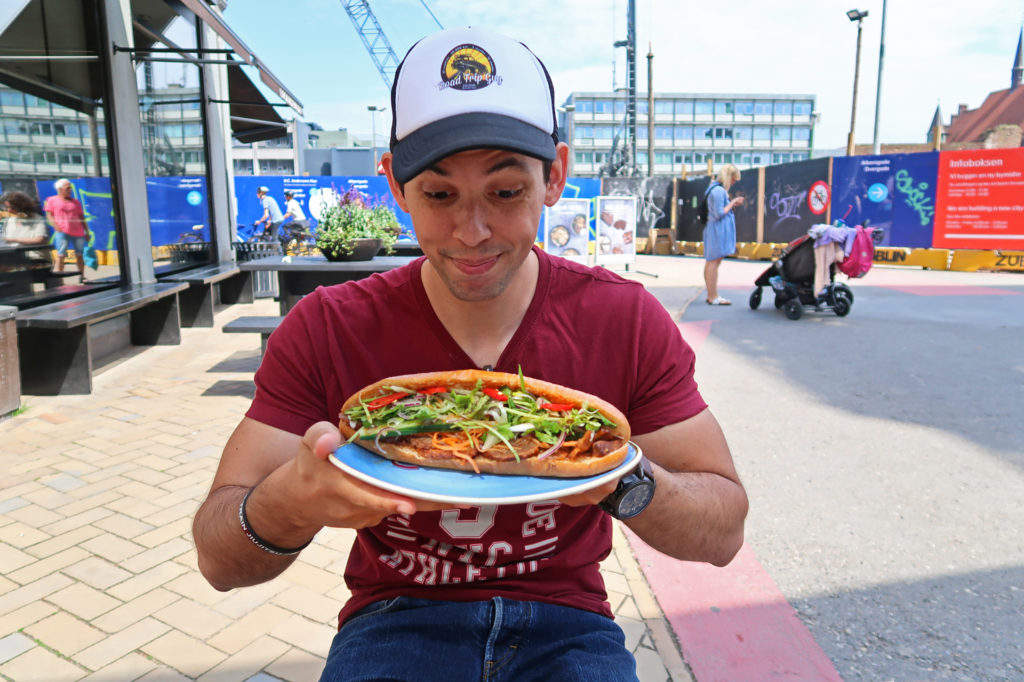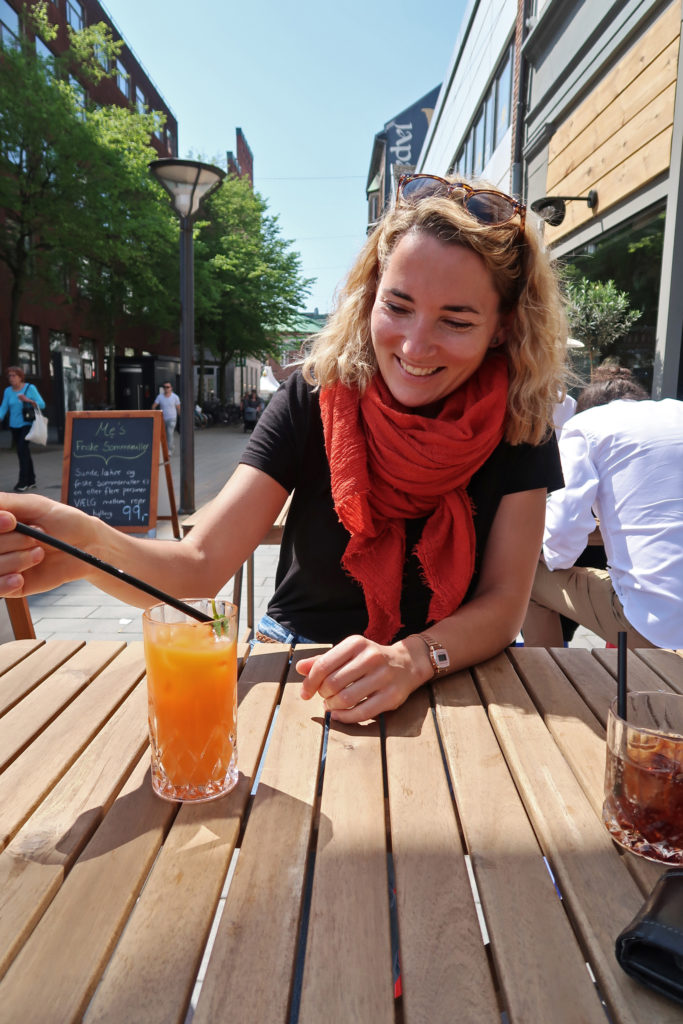 Exploring Odense with locals..
Michael and Anders were two young business-owners who happened to have a lunch at the same restaurant as Angelika and I. We got talking and I explained a bit about my road trip adventure and they offered to show us around Odense. Our quick lunch idea was thrown out of the window and we started exploring downtown with Michael and Anders as our guides. This was amazing! Another turn of events and totally unexpected just because I happened to be making a vlog. We first went for a traditional local beer at the Christian Firtal café in the famous Vintapperstræde.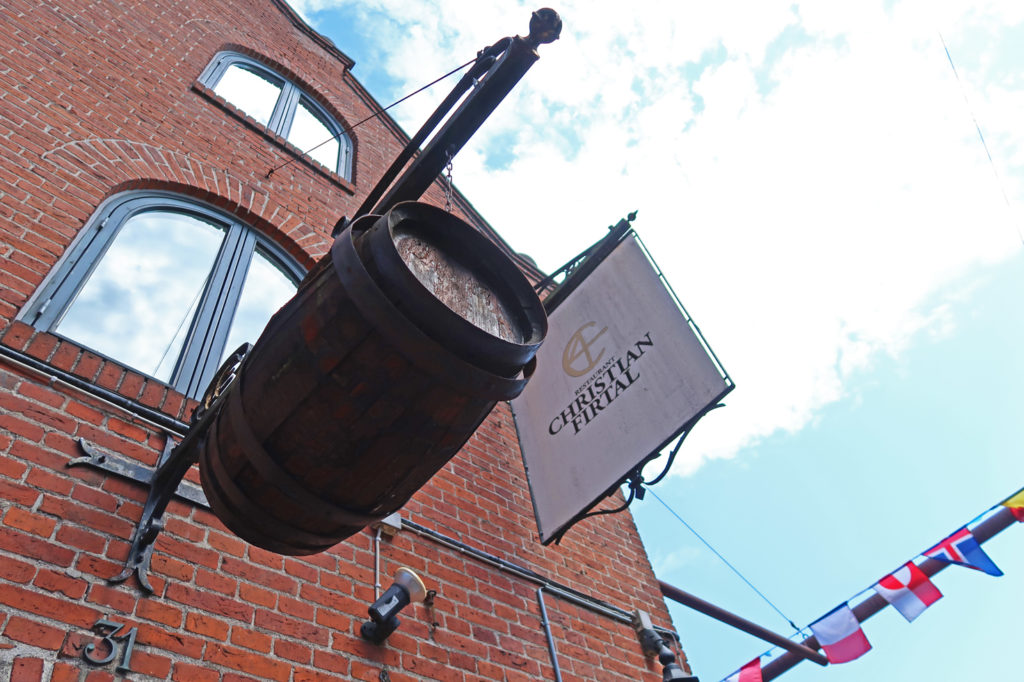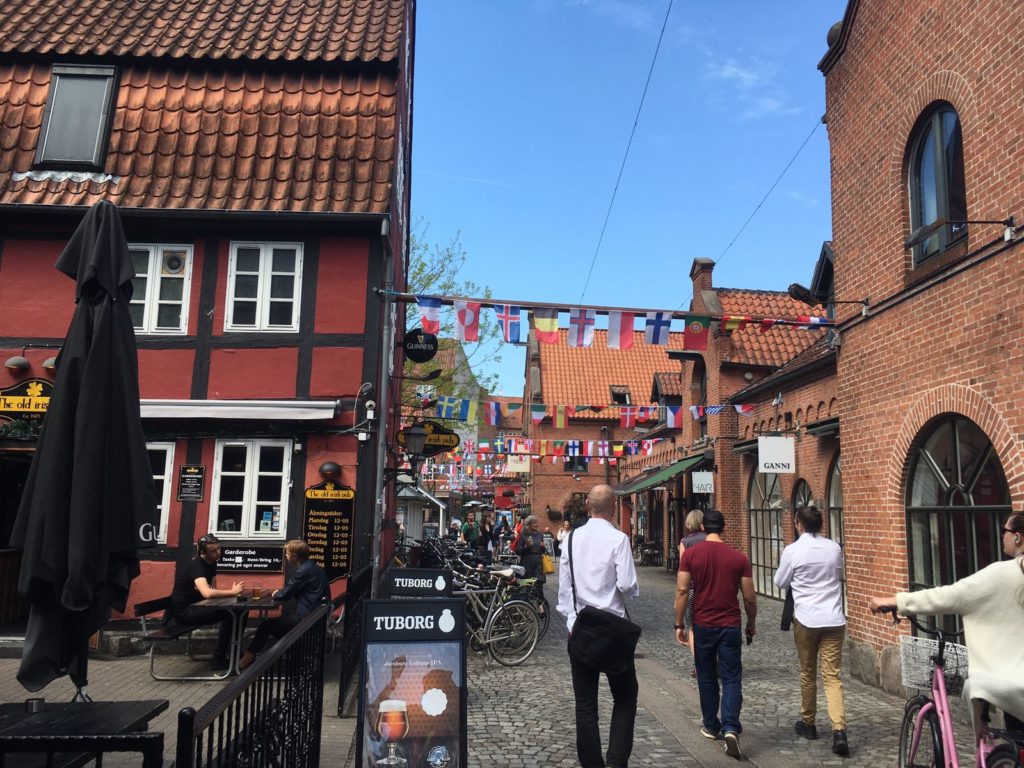 This street shows many traditional Danish beer brewers and restaurants. What a great way to learn more about Odense and the history behind it. We finished the afternoon with a visit to the best Italian ice cream store of the city where Michael used to work in his younger years. We also saw across the street the interesting (also a bit strange) canned sausage museum. It was basically a display of maybe 2 cabinets but a very good tourist attraction as it was in the middle of the bar. Such good times and I learned much about the history of Odense. It was exciting to see where the project was taking me and what people I was meeting.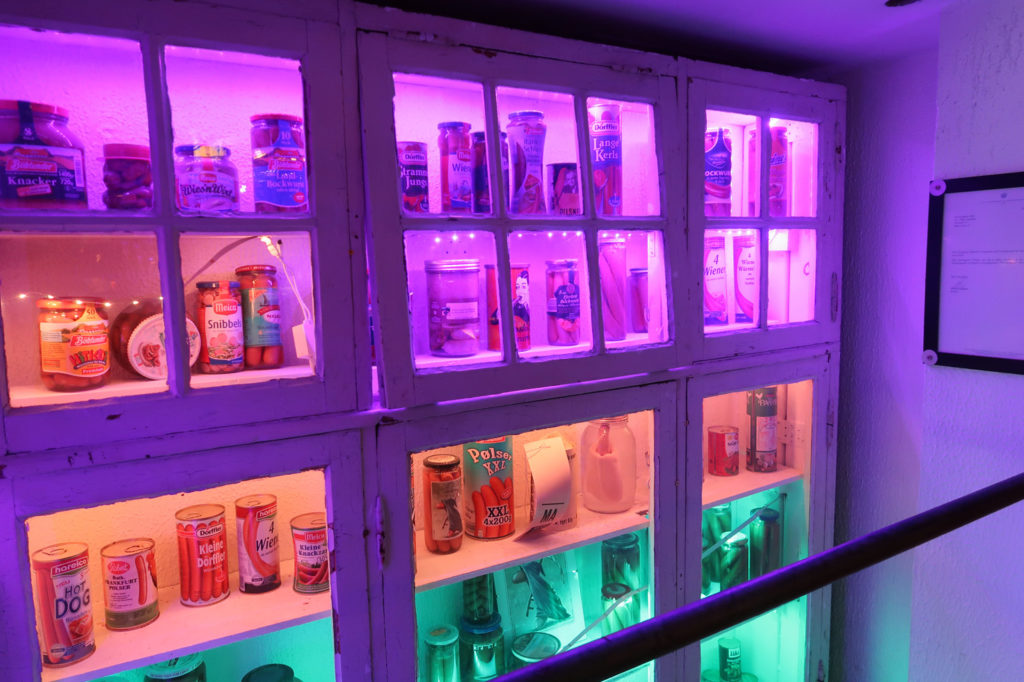 We said our goodbyes and realized we spent well over 4 hours in Odense. The quick lunch just became another story to tell..
Arrived in Copenhagen. Let the fun begin!
Around 7.00 PM we arrived at the Generator Hostel in almost central Copenhagen. What a great location for a hostel and it looked actually more like a hotel. All facilities were clean ,new and downstairs there was a huge lounge and bar where also families and couples were staying. So, definitely not just for backpackers. The room was great and everybody became friends instantly. It is great when it happens because in hostels it can be really be a hit or miss when it comes to your roommates. This time it was a big hit! I was able to park the car at the Q-park for about 350 Danish Krone per day. You can get a discount at the reception of the hostel of 40% so don't forget to ask the staff to scan your parking card!
My review on Generator Hotel:
Location                    : *****
Bed                           : ****
Facilities                    : *****
Staff & Service           : ****
Price                         : ****
Price per night          : € 40,-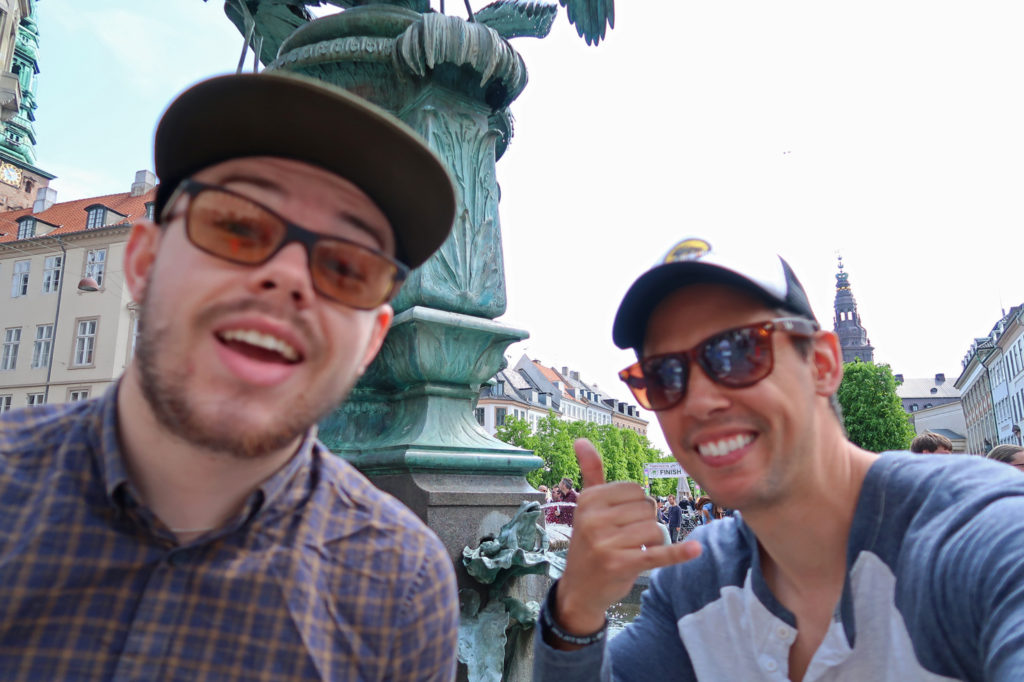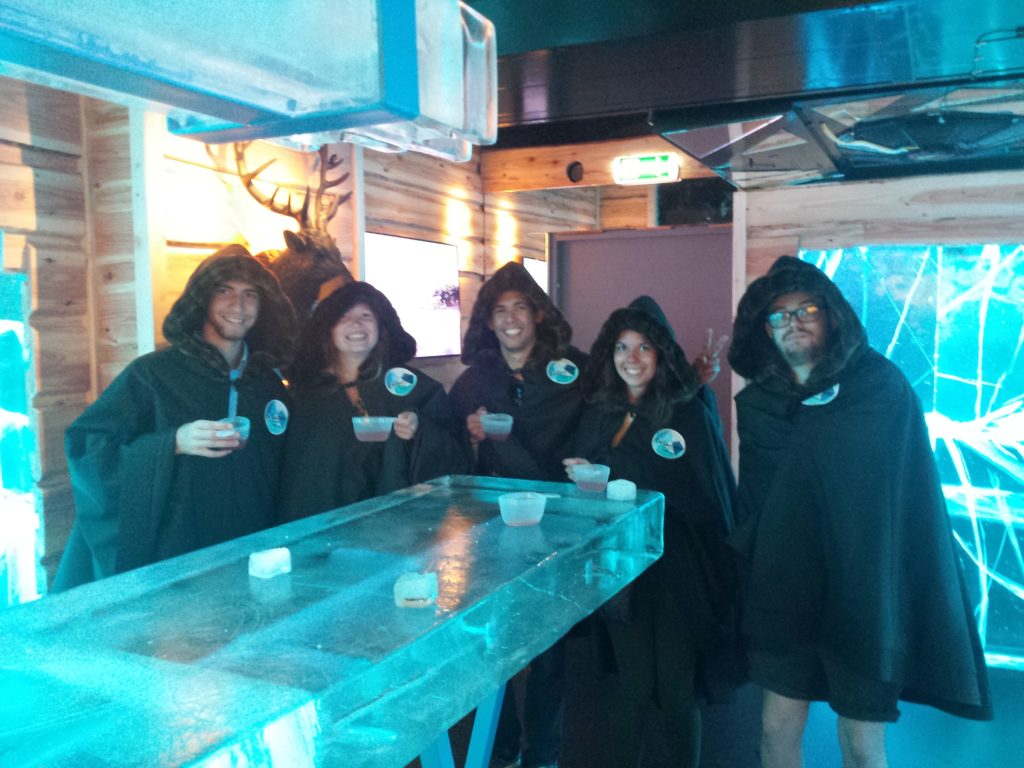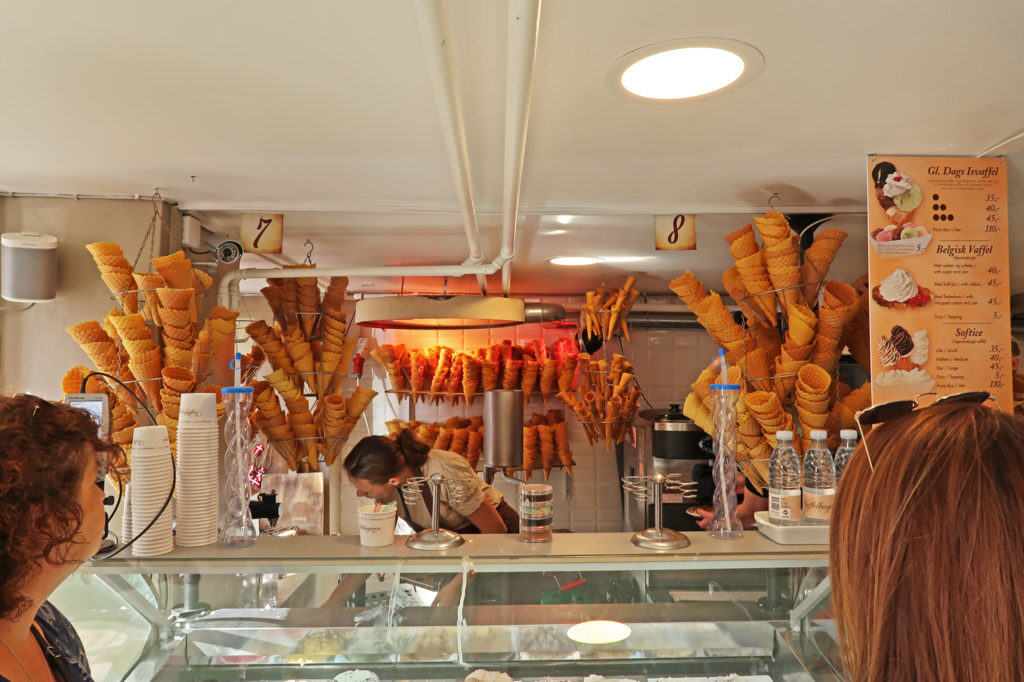 Bartending 101 in the Scottish Pub
The first day Steven and I went out to explore downtown Copenhagen. Just relaxing a bit and start making a plan for what will we do the next. We visited Tivoli Gardens to check on the prices and right next to area was a nice Scottish pub. As Steven is from Scotland we decided to get a well-deserved beer and just relax before heading back into the city. Little did I know, I was about to get schooled on bartending and different Scottish beers by one of the coolest bartenders in Copenhagen!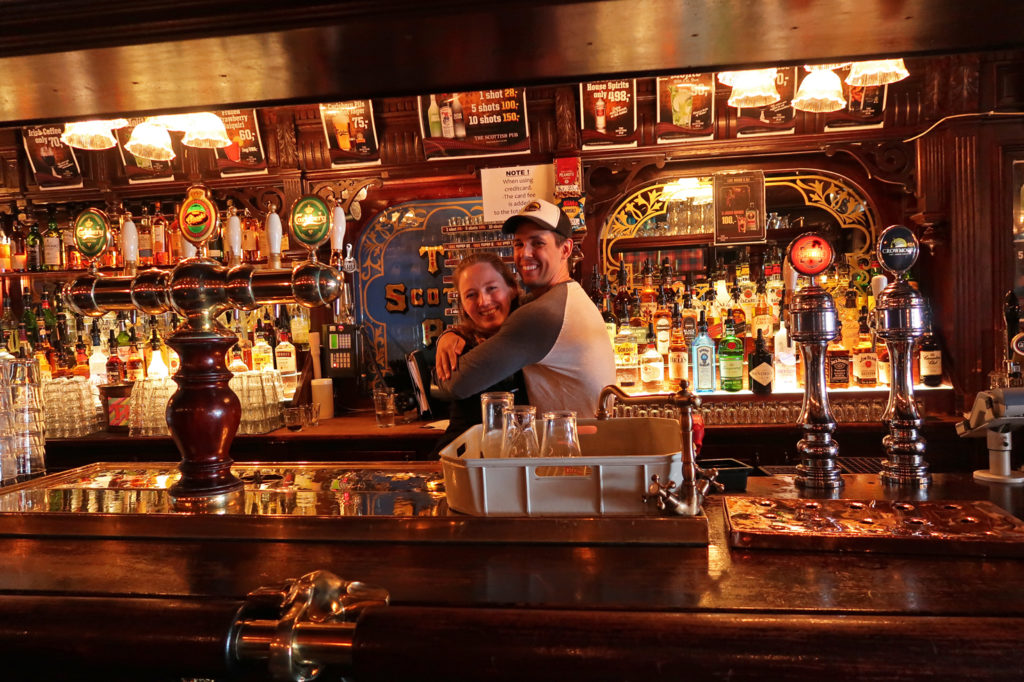 Meet Amy! Apparently born in the same city as Steven (how big is Scotland??) and has been studying for her law degree in Copenhagen and working part-time at the Pub. She was ready to teach me a thing or two about bartending and the different Scottish beers. It was a blast and again a totally unexpected turn of events as that morning I would never have thought I would be ending up learning about this stuff in a Scottish pub. How cool is that?
Tivoli Gardens
The next day we visited Tivoli Gardens and Steven and I were joined by Tom & Kane from The United Kingdom. Tivoli Gardens is an interesting theme park as you are allowed to bring in your own food and can just relax and spent the whole day inside. The entry price is 120,- Danish Krone but you have to pay extra for the rides.
Please check this blogpost which describes our day in Tivoli : My experience visiting Tivoli Gardens on a budget!
I recommend just doing the basic entry price and just see which rides you find interesting as a lot of them are more for children or have huge waiting times as it gets really busy in the summer. Also don't be surprised if kids come asking you for your plastic cups. There are machines through out the park that give you a bit of money once you return your plastic cup. So, if you wish to sponsor the local youth entrepreneurs go ahead and give them your empty plastic cups. They will be grateful for it.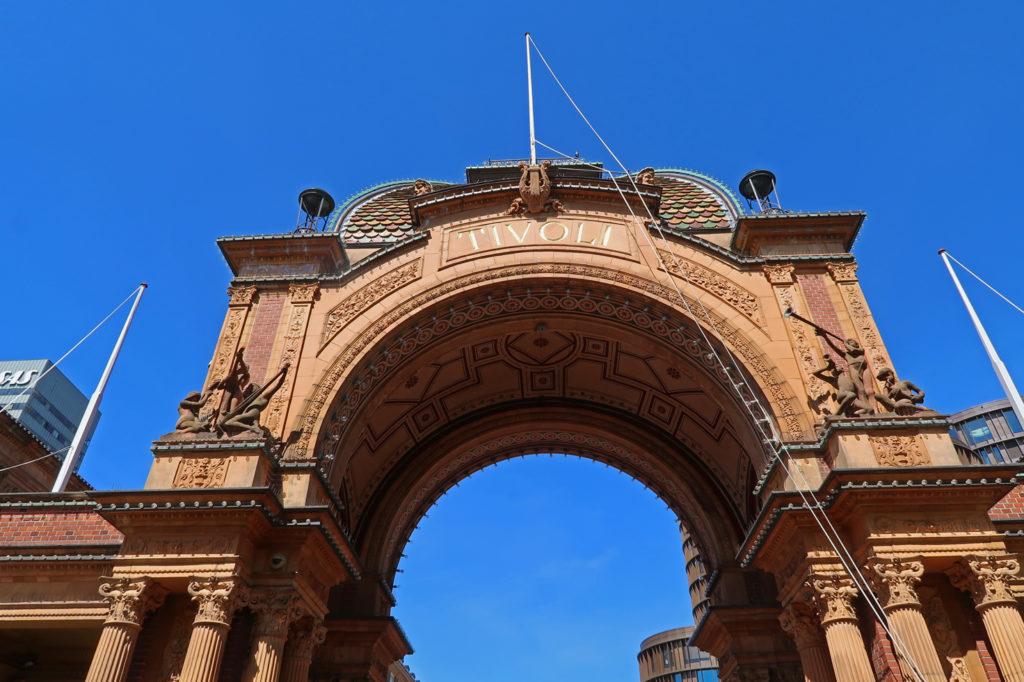 Good times..
I was very lucky to experience Copenhagen with all sunny days. The capital of Denmark is trendy, social and most of all lot's of fun! Go check it out with a group of friends, buy your food & drinks at the local Aldi or Lidle (It is an expensive city) and go sit at one of the many harbour or marina areas. You will fall in love instantly!