6-Day Balkan Road Trip With A Volkswagen Bus
Meeting point is in Ljubljana (Slovenia) where we pick up the campervans, load them with our luggage and then…let the journey begin. Join our 6-day Balkan Road Trip while we explore the incredibly diverse Slovenia and its hidden gems in a caravan of retro VW busses. Each group gets their own campervan. Let the unforgettable journey begin!
To book your reservation or for more details: Please contact us!

Balkan Road Trip Route
Ljubljana – Welcome to the Capital | Day 1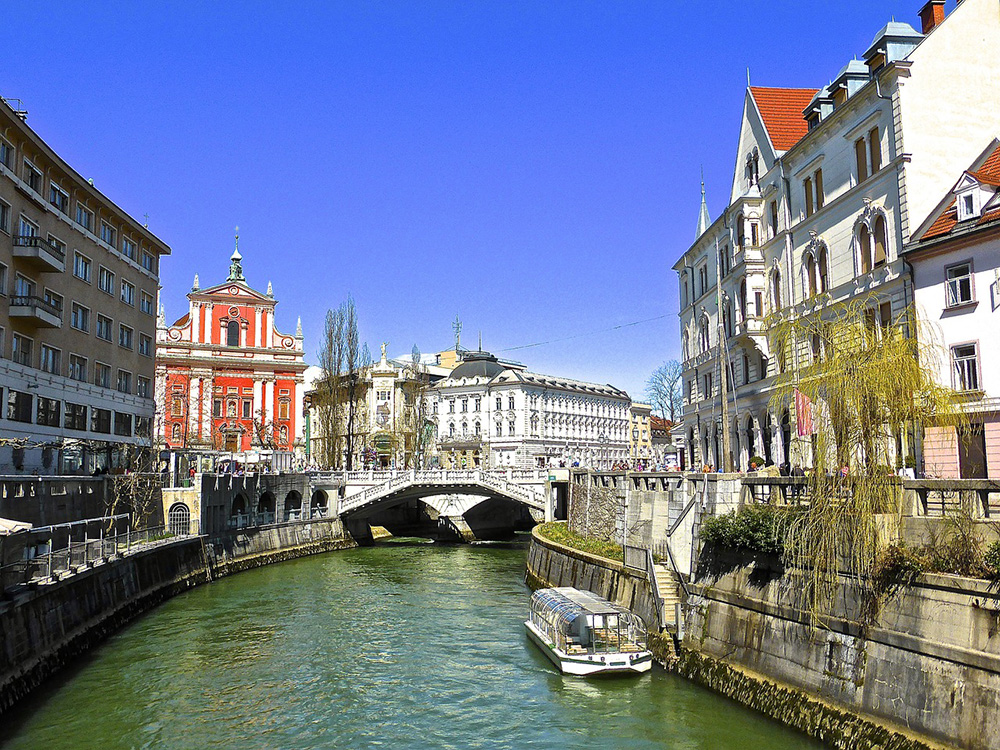 Ljubljana is like an open-air living room. But you aren't a true Ljubljana resident unless you once owned the legendary ROG bicycle. So you will get your very own for this lovely retro Ljubljana day trip that we'll spend swerving through the romantic squares and listening to the sound the old Roman cobblestones make in the narrow streets.
Time for lunch? Let's ride our bikes to the bankside of Ljubljanica River and indulge in some traditional Ljubljana food and a few romantic views. After lunch, we'll load the bikes up into the vans and start our road trip adventure. In the evening we arrive at our first camping spot next to the fairy-tale world of underground caves. Ever heard about them?
It's time to relax now, and sleep. Under the stars. What an amazing start of the Balkan road trip!
Piran – Visiting the Caves | Day 2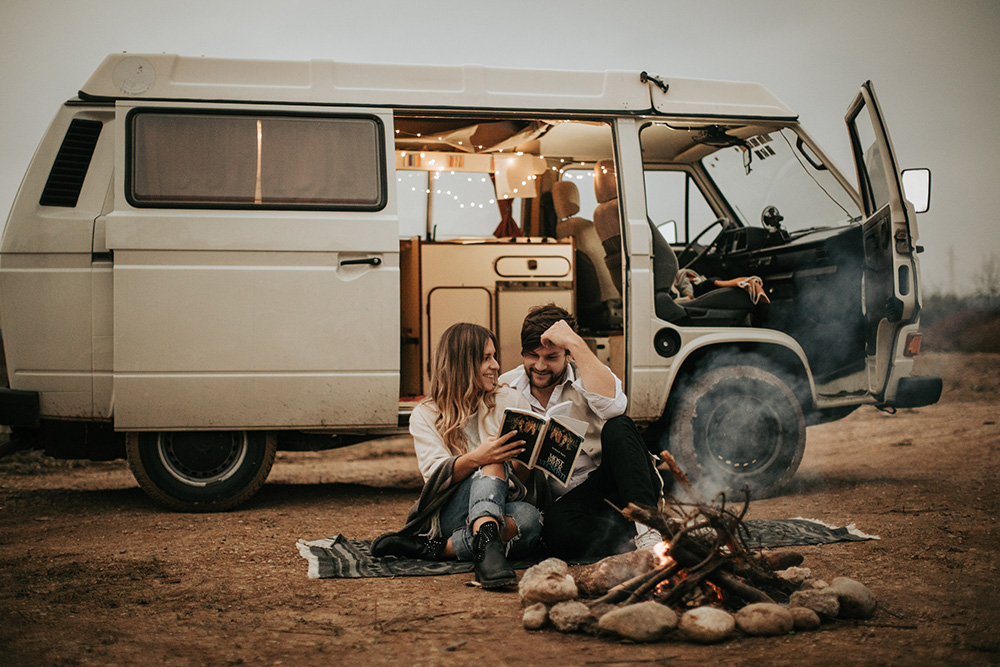 Slovenia's Karst region is famous for its breath-taking underground world of caves. Want to visit the famous big Postojna Cave, or the UNESCO world heritage site of Škocjan Caves or maybe the wild and mysterious Križna cave?
If you're feeling a bit claustrophobic, skip the caves and go for a proper bear safari in their natural habitat. Did you know Slovenia has one of the most thriving brown bear populations in the entire Europe? The chances of seeing one in the wild are really high!
Romantic souls will fall in love with Piran, a truly picturesque old town by the coast. It's said that the town grew from salt and its salt pans have not changed in centuries. Let's take a walk and admire the old school methods of salt production. After Piran Salt Pans we'll drive to an oil mill and tourist farm above them, where we can enjoy a breath-taking view of the entire coast. Together with the locals, we'll prepare some fish from the Piran bay below.
Goriška Brda – Wine Tasting & Culture | Day 3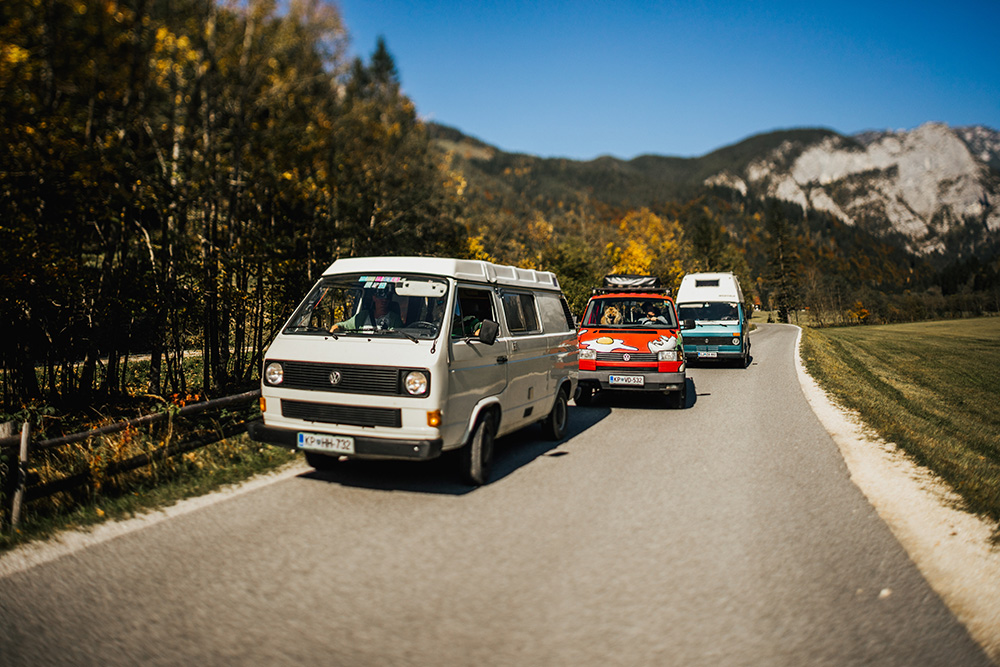 Before we visit the fairy-tale villages and endless wine roads, we'll take a quick peek inside the traditional olive oil production. Take a spoon and taste for yourself. It tastes like the sun and wind and everything good. One last look at the sea and the endless salt pans, then back to our campervans and off to Goriška Brda, the fairy-tale land of hedonism, where every hill hides a new passion for life. Let's discover them all!  Walk among the blooming cherry trees, from vinery to vinery, and take a look inside the wine cellars where you can taste the amazing wines that Slovenia has to offer.
After three days of camping, this is the perfect opportunity to relax in hot tubs, spas and saunas, which we'll follow up with another evening round of wine and traditional food tastings.
What happens in Brda stays in Brda, so late night wine cellar exploring is an option.
Bovec – Emerald River & Devil's Bridge | Day 4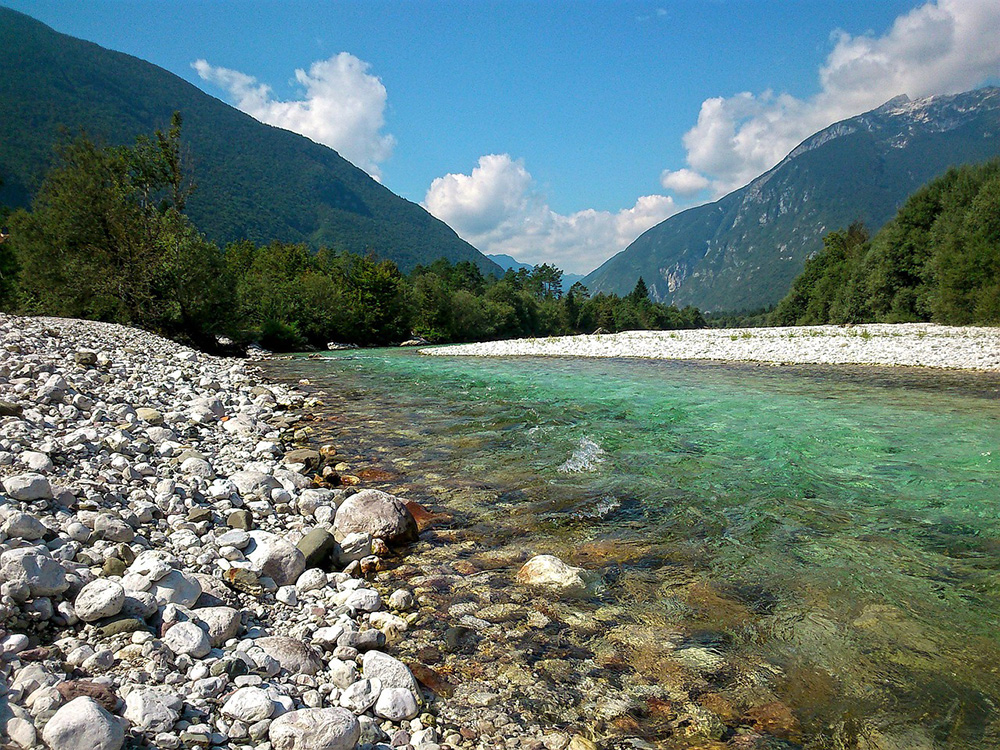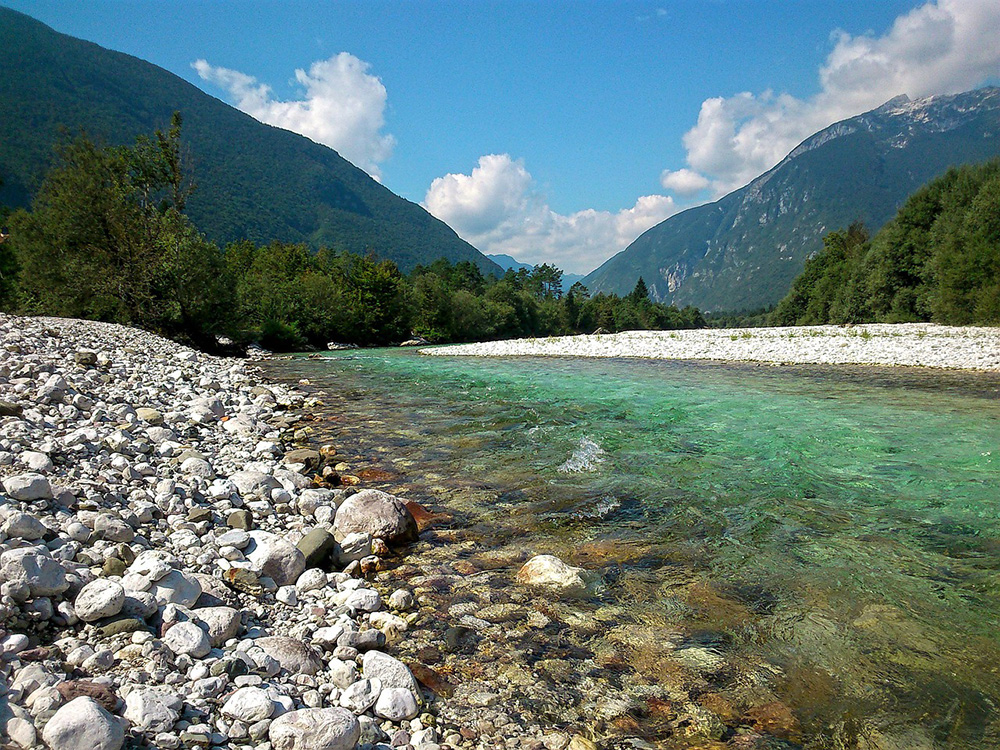 Leaving the wine land is never easy, but luckily we'll be heading towards the Soča Valley, where the emerald pearl of Europe lies. First, we'll visit Tolmin, where we'll cross the Devil's Bridge and go all the way up to Čadrg – a small village that still uses one of the oldest cheese production methods in the world.
The view there is spectacular and our lunch will be a local mix of what the village has to offer.
We know it's hard but we must continue our Balkan road trip to Bovec, a small town surrounded by breath-taking nature. Join in and help us find the perfect camping spot, right next to the emerald Soča River. Time to sit by the fire and listen to the local guide. He'll tell us all about the adrenalin highs we'll get to enjoy soon. After all, Soča Valley is the Slovenian capital of extreme sports. Do you dare?
Bohinj – Land of the Goldenhorn | Day 5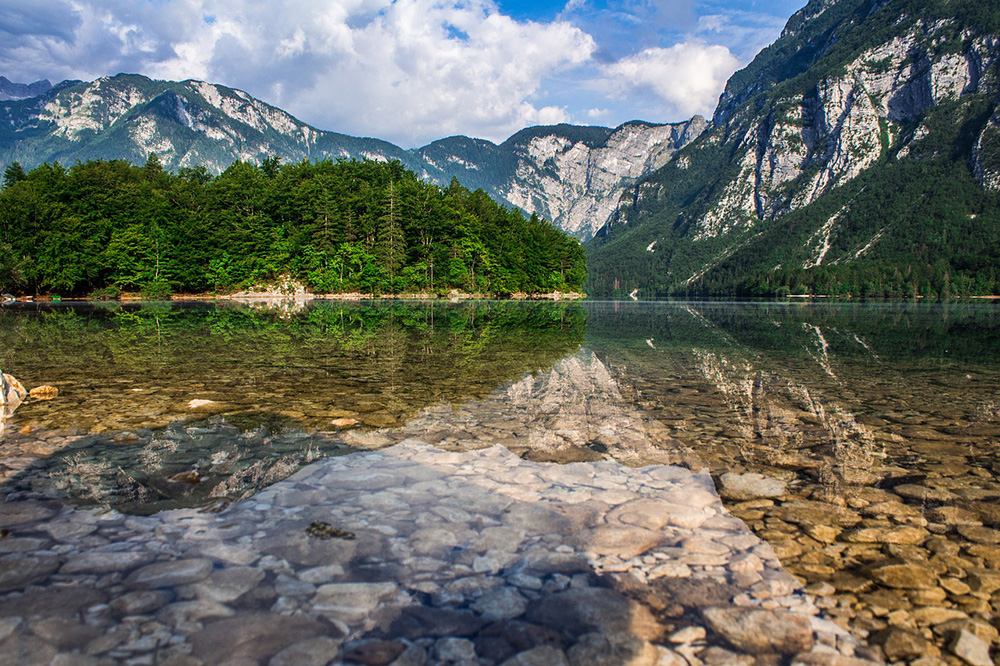 Remember the big wooden closet from Narnia? Behind its doors lies the end of the ordinary world and a fantasy fairy tale begins. In Bohinj, the fairy tale hides behind the snowy Alpine peaks that surround the mysterious lake. Come and take a look. You'll find the magic land of the golden-horned capricorn that has been protecting the surrounding nature for almost 3000 years. Nobody knows why, but it's said that here love does miracles and creates connections between living beings, fairy tales, and nature that last forever. We'll prepare some local specialities by the bonfire at the lake, and a guitar and drums mixed in with some wine will warm our hearts. And on this night, our last night together, night swimming and howling at the moon is allowed.
Lake Bled – The Savica Waterfall and Osojnica Hike | Day 6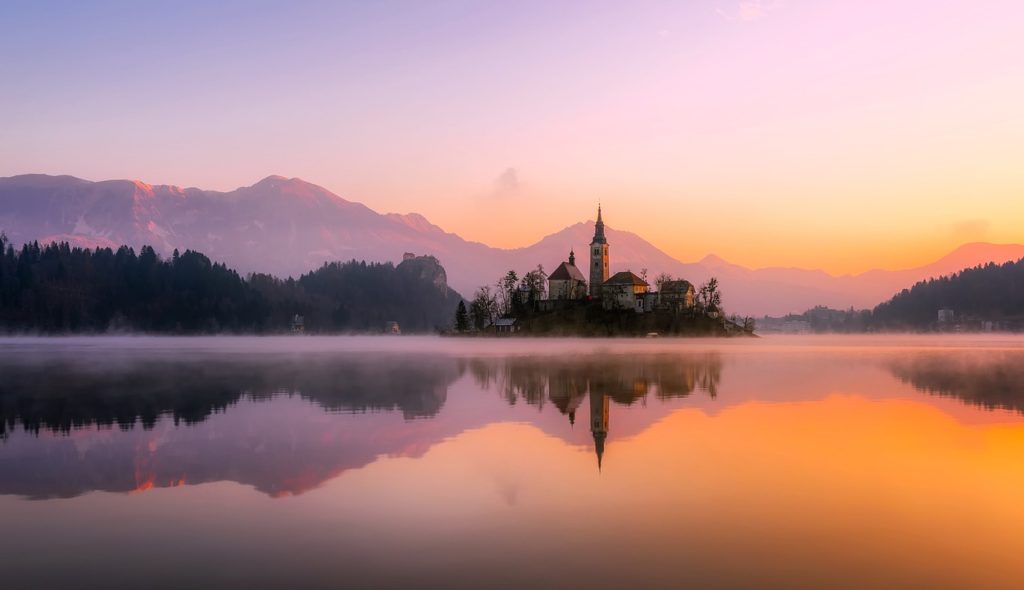 After our breakfast with a spectacular view, we'll check out the Savica Waterfall and then continue our journey to what will probably be the highlight of this entire road trip; one of Europe's most beautiful hidden treasures – Lake Bled. Our short hike to the Osojnica hill will be rewarded with the best view of the lake, its castle, and the surroundings. And this is where our journey together ends. After the obligatory hugs, we'll take you to the airport or another destination that you had in mind. But the smile on your face will probably stay there for days.
Travel facts
While we set up our campsite, we'll also build a campfire and prepare a nice traditional Slovenian dinner. Time to meet each other without apps, phones or computers, just face-to-face.
Each day our crew will pass around a sheet for you to mark what you'd like for your next breakfast. We'll start each morning with your favourite food, some coffee and the sounds of nature.
The great natural conditions and nearby Italian influence make for some amazing local food and wine that we will be tasting throughout our entire road trip and will no doubt surprise you.
We'll always do our best to avoid crowded tourists spots and take our caravan to hidden places where the locals are big-hearted and still in touch with nature, living hand in hand with the land.
Driving our retro vans is pure joy that always brings a smile to people's faces. We're sure this also has to do with the good vibes left behind by past adventures that these vans have already experienced.
You need to stop and buy some water? No need. In Slovenia, it's all drinkable and it's all around us. We'll just refill it from the pipes, fresh streams or rivers.
We can't promise you'll see a unicorn, but we can guarantee you'll connect with nature and others around you and most importantly – reconnect with yourself.
To book your reservation or for more details: Please contact us!
Highlights of your Balkan Road Trip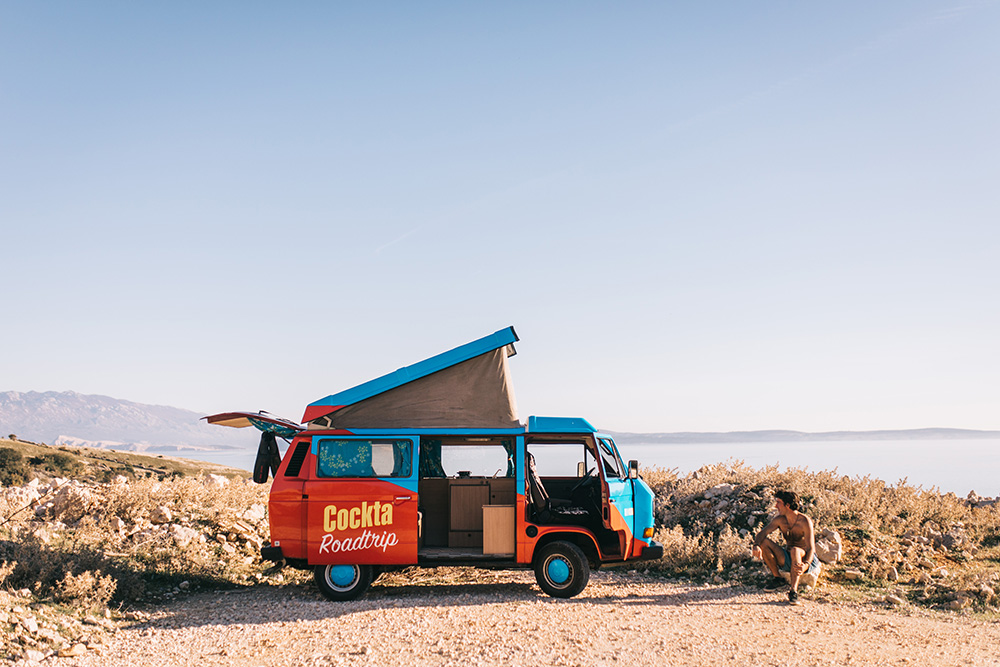 Driving, sleeping & cooking in VW oldtimer busses.
Riding through small romantic Ljubljana streets on retro bicycles.
Sleeping in spectacular places surrounded by pure nature, with local specialties & bonfires.
Underground cave exploring and bear watching.
Hedonism among blooming cherry trees and wine cellars.
Outdoor adventures in the valley of the emerald Soča River.
Swimming, bathing, and playing in lakes and rivers.
Included
Retro VW campervans for every group or couple
Retro bicycle for every person
Breakfast, lunch, and dinner for each day
A lot of fun
Gasoline for the entire road trip
Guidance and technical support (our crew is in the first van and available 24/7)
Relaxation & no-stress therapy
Price
€ 1600,- per person (All inclusive)
Dates of 2018
First Balkan Road Trip Tour of 2018 : 5-5-2018 till 12-5-2018
For other dates please contact us below.
Booking & Contact
To book your Balkan Road Trip or for more details, please contact us. You can fill in thee form or E-mail me.
Hope to hear from you soon!
[contact-form-7 id="11934″ title="Untitled"]