For our first interview on The Road Trip Guy I got the chance to speak with Brian DeFrees. Brian has done a massive USA road trip of 12,255 miles (19.600 Km) and made a time-lapse video of his trip. Unexpectedly that video went viral on the internet and received well over one million views on Youtube! I would like to thank Brian for his time and for sharing his inspiration for doing this amazing road trip. You can visit his website on: http://www.briandefrees.com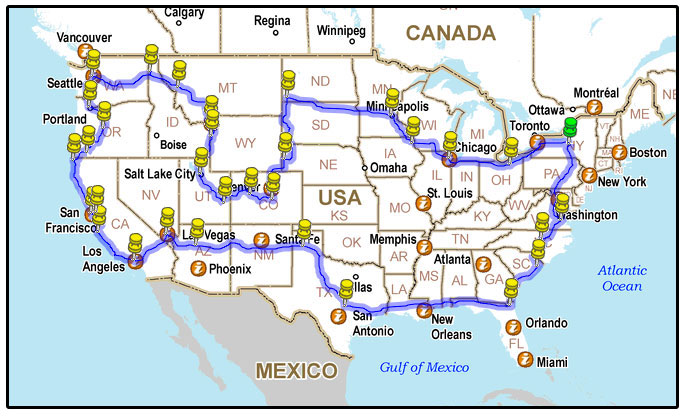 When I look at your resume you have a very broad work experience in graphic & website design, management, social media operations and video production. When did you first discover your passion for traveling by road and how did your epic Road Trip of 12,255 miles across the USA come about in relation to your previous experience & ambitions?
Brian: As a kid growing up in Syracuse, NY my parents had photos on our walls from their 3-month cross country road-trip they took when they were in their twenties. I was always intrigued by the scenery in those photos and how different it was from the area I grew up in. They also used to show us slides on a projector from time to time that featured places such as Death Valley, Yosemite and Yellowstone. I was always inspired each time we reviewed them and promised myself I would visit each and every place they did so I could see all these landscapes with my own eyes.
Fast forward to buying my first new car in 2009 (Honda Civic Si) and for the first time in my life owning a vehicle that was dependable enough for long-distance travel. My brother and I decided to take a trip to meet other Civic owners at what I would soon discover as the most fun road to drive in America: "Tail of the Dragon". We had no real schedule and were on somewhat of a budget so we saw as many states and cities as we could in only a week's trip. Something about arriving in a new town at dusk, enjoying the nightlife, passing out in the car parked in a street or parking garage and then waking in the driver seat ready to do it all over again… it's so liberating and opposite of how most people prefer to travel. After taking this trip I knew I wanted to do a longer version someday without a time restriction.
After working my first job out of college (video producer at an advertising agency) for three years, I was ready for a change and wanted to pick up where I had left off in 2009 by exploring the rest of America. I saved up for months before quitting my job, working freelance gigs and taking any work I could find to help fund the trip including filming music videos and wedding videos. I eventually had enough money to live for a few month comfortably without income, so I quit my job as soon as the lease on my apartment was up, moved my belongings to my parents house and hit the road.

The drive-lapse video has received well over a million views on You-Tube. Did you ever thought it would be such a success and how did you come up with this style of editing when making a Road Trip video?
Brian: I had no idea it would be such a success. I made it because I thought it would be a cool way for me to reminisce about the trip and a great way to show all my friends and family that wanted to go with me what I saw while I was out on the road.
I knew this might be the only time in my life I had the opportunity to see this much of the US at one time. Having a strong creative background, I also wanted to capture my trip in a way no one had ever attempted before. Everyone I told my plans to always responded with: "I wish I could go with you", "I've always wanted to do that!", "I wish I had the money", "I wish I had the time" etc. Hearing those responses made me think to myself: "How can I capture the trip in a way that puts you in the passenger seat next to me?". I had been experimenting with time-lapse videos before I left on the trip and thought to myself "Why not just time-lapse the entire trip?" I decided to point my camera out the front of the car and capture everything I saw in 5 second intervals.
When I got back I had hundreds of thousands of photos equating to hours of footage. I knew no one would take the time to watch the whole thing so I started cutting out the parts I thought weren't as interesting. I kept going back and removing more and more every time until I had only the best of the best left in the video. I knew I could get people to watch the video if I summarized the entire trip across the US and back into only 5 minutes.
What was your best experience during this Road Trip? And did you encounter any problems during your travels?
Brian: One of my favorite experiences was in Idaho one morning on the second half of the trip. I passed a garage sale and decided to turn around. Not because I saw anything interesting but because I though "Hey, I'm in Idaho…I wonder what is sold at a garage sale in Idaho vs. one in NY". It turned out to be mostly the same stuff but the best part was talking to the husband and wife who lived there. They were so friendly and fun to chat with and had the best stories about their lives. What was supposed to be a quick stop and shop turned into a two hour stay and them cooking me a delicious lunch!
I didn't have any major issues but did get a flat leaving Vegas and coming into California. Ended up needing to get a set of all new tires because the ones I had on the car were so shot they were unrepairable. Always make sure you have a fairly new set of tires before taking on the entire US! Other than that I had one night where it was so cold my tent frosted over and I had to sleep in the car (starting it every hour) but again not too big of a deal.  

Most of our readers (including myself) are trying to make our travel on a low-budget, what tips & tricks could you give beginners? 
Brian:
Number one would be to camp. The website 
freecampsites.net
 has free campsites around the US that you can stay at completely free of charge. Having a fuel efficient vehicle and free places to stay helps keep your budget low. I also stopped and saw friends and family along the way so had free places to stay and occasional meals that I didn't have to pay for. While I did this trip solo, I had friends and family meet me for legs of the trip so splitting fuel and misc. costs with an extra person or two definitely helped. While I did eat out from time to time to experience local cuisines, I also had a loaf of bread/crackers and peanut butter handy for quick easy and super cheap lunches. If I was at a campsite at night I would have ramen noodles or the noodles with powdered flavoring where all you need to do to cook them is to add water. Again very cheap and you can easily add in meat or vegetables from a gas station/food mart or local grocery store without breaking the bank. 
What is your favorite motto/quote in life?
Brian: Follow your instinct, trust your gut and take risks. I never want to look back while on my deathbed wondering "what it?". There will always be the "but money…", "but time…" excuses to not do something. While those are legitimate reasons to play life safe, don't let them overpower your will to explore and seek adventure. If you truly have the will to travel you won't find yourself falling back on those excuses but rather doing everything you can to find ways around them in order to achieve your goals.

Do you already have your next road trip planned? If so, what is the route and in which country?
Brian:
I just got back from my first international 
road-trip in Spain/Portugal
 and planning on doing 
One Lap of America
racetrack/road-trip event this year so this will likely take the place of a normal road-trip. As I'm writing this I am on a plane to Scotland/England working out details to visit state number 49 (Alaska) hopefully later this year. I'm also hoping to do more motorcycle adventures and travel from Texas into Mexico at some point this year. Hawaii is also on the future list as is possibly doing a Canadian road-trip similar to what I did here in the US.  The list goes on!