If you have ever looked at a map depicting a very winding road that seems truly unimaginable to say the least, you can rest assured that it is not an illusion. There is such a road that seems to have been carved out by the rivers flowing between the mountains. It is known as the Transfagarasan Highway and it is the most populair Romanian road trip out there. It is known as one of the most entertaining curves anywhere in the world and for good reason.
The twists and turns seem to have been inspired by a Doctor Seuss book as there are relatively no strait lines so you are assured an entertaining trip. The Transfagarasan Highway is an experience that should not be missed, but there are some precautions you may want to take for this particular trip
When to Travel
Travel through Romania can be a bit precarious at times. Due to the intense winters, many roads are inaccessible during heavy snow. That includes the Transfagarasan Highway. The highway is only open from July to September, so plan accordingly and even though these three months allow for travel along the highway, you still need to check if the road is open as there are times that they will close it for certain reasons.
Transylvania
If you have ever studied anything about Romania, you will know that it was the famous home of Vlad the Impaler. This was the inspiration behind the famed Dracula and the beginning of your trip along the famous highway just so happens to be in Transylvania at the infamous castle of this devious miscreant, so make sure that you take some time to explore and take pictures before taking on the highway.
Vidraru Dam
The next stop on your journey will not be very far down the road at Vidraru Dam. This structure is quite imposing, but one that should not be missed. The dam is relatively new when compared to other structures in Romania as it was only built in 1966, but it provided hydroelectric power to the very remote part of the country and formed Lake Vidraru. Nestled between the mountains, it makes for a great place to take photographs or simply walk around for a bit.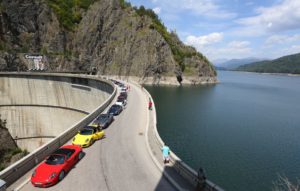 Lake Balea
When you reach Lake Balea along the Transfagarasan Highway, you will likely be a little hungry. There is no need to fear if you did not pack ample food options as the Romanian style shops and food stalls are the perfect way to go here. You can have a rest along the lake to take in the sights or you can even find a place to camp if you want to rough it. It is a good idea to take some time within the area before taking on the road once more because just at the base of the lake is the classic hair pin turns through the valley. You will have to drive considerably slow through this part of the highway, but that is not a problem, because you will want to take pictures along the way.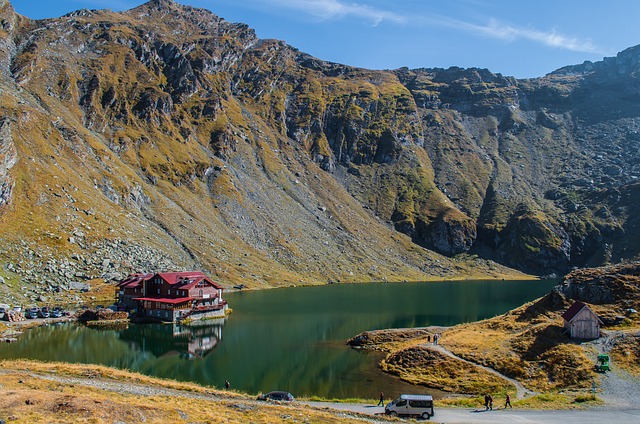 Cascada Balea
When you leave Lake Balea, you can enjoy the tallest waterfall in the country known as Cascada Balea. Although it is not recommended that you swim in the pools due to the extreme cold, it is a wonderful place to just sit back and enjoy all that nature has to offer.
Throughout the Transfagarasan Highway you will see quaint little villages that offer a variety of Romanian gifts and novelties as well as traditional areas that are sacred to the Romanian people. The road is one that should not be missed and even if you are in Romania to take advantage of sights such as the famous painted monasteries, take advantage of the highway. A trip along this winding road only takes about 2 hours from start to finish if you do not stop, but stopping along the way is what makes a road trip so fun. Have a good time and do not drive to fast while on your road trip in Romania.
Quick Safety Guide
I am sure that you have read all the safety suggestions for the standard road trip, but when you embark on such an epic experience as the Transfagarasan Highway, you will want to take just a few extra precautions. It is true that you do not go out for a Romanian road trip without first checking that your vehicle contains all of the fluids needed to run, but when you travel on curvy mountain roads, it is a good idea to check the brakes as well.
The number of times that you will hit the brakes on this road will be too numerous to count and if they fail on you, you will be in danger. That was just a quick precautionary reminder, so onto the sights that you can see while on your epic road trip through Romania along the Transfaragasan Highway.