When you choose to fly to a destination, you are often doing yourself and your traveling companions a significant disservice. You can see quite a lot from the sky, but when you arrive at your destination is entirely up to the airline. If there are any flight delays, you may miss out on some of the activities that you had planned for the trip. Taking a road trip completely bypasses the cancelations and delays set forth by the airports and therefore you are free to see and do more. A road trip in Norway is the perfect setting for your next road trip and here is one that will enable you to see the best of Norway.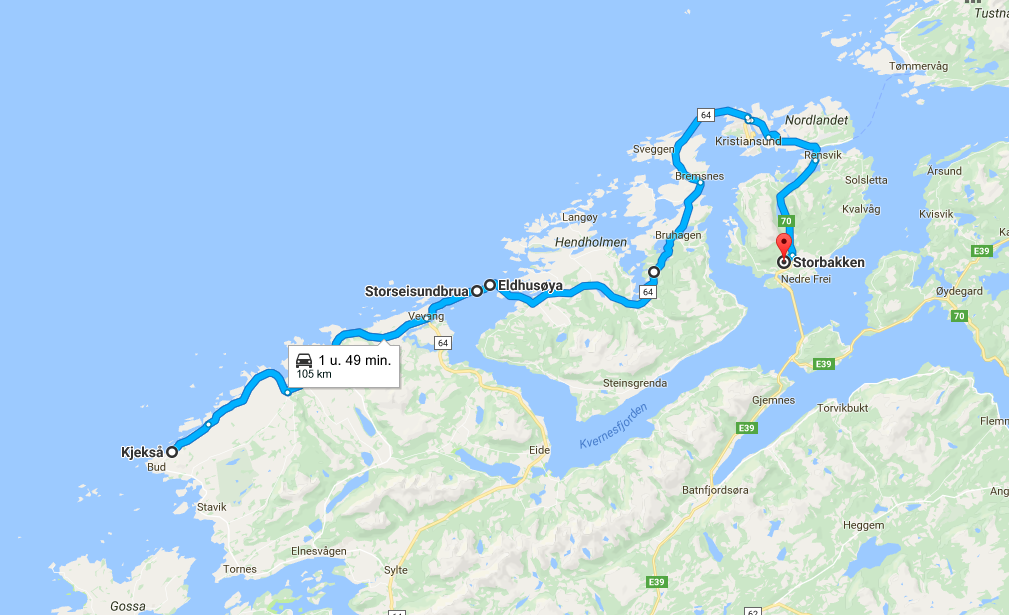 The Atlantic Road
Some road trips allow for beautiful landscapes in which to take pictures, but there is little in the way of actual attractions. If, however you find yourself on the Atlantic road, you will be pleasantly surprised to find that it has everything you could want while you travel. This particular road is a part of a specialized group of roadways that has been perfectly designed for the tourist. You need not worry about it being a tourist trap either as the attractions along the way are unique without being heavily traveled by tourists. The road is named for the views of the Atlantic Ocean so all along the way you will be privileged to have a front row seat to the amazing views of the ocean.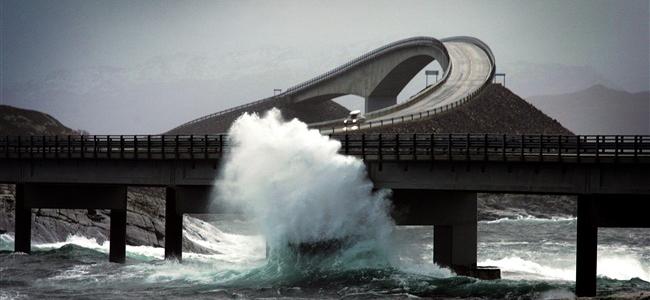 Storseisundbrua
When you begin to drive along the Atlantic Road you will discover something amazing about the experience. Much of it is not on land at all, but rather traveling on water. There are a number of bridges to be found on your journey. When you travel along the road you will want to see the biggest bridge along the way and that would be Storseisundbrua. It is not only the longest bridge that you will find, but is actually the symbol of the entire experience along the Atlantic Road. It is on all the advertisements and is the pinnacle symbol for the experience.
Bridges.. A lot of bridges!
It may be a bit of a mouth full to pronounce, but Myrbairholmbrua is sure to be an attraction for anyone who has an affinity for fishing. Not all bridges that you will find will allow you to fish from them. In fact, some have strict rules prohibiting people from fishing with the possibility of stiff fines, but Myrbaerholmbura is the perfect place to stop if you have little ones wanting to stretch their legs or you simply want the opportunity to hopefully catch your lunch. You are able to fish from both sides of the bridge so there is no problem no matter which way you are traveling along the Atlantic Road.
Kjeksa
You will need to get out of the car from time to time and you will want specific mementos from your journey. There is nothing more memorable than a photograph and Kjeksa is the perfect place to stop for a view of the village of Bud below. It is one of the highest perches in the area and from the vantage point, you can see all the surrounding areas. The pictures will last a lifetime and should you get hungry, it is easy to find a bite to eat in the village below.
Eldhusoya
What is even better than stretching your legs for a few minutes taking pictures or fishing, is taking the opportunity to have a hike with your traveling companions. Eldhusoya is an area full of hiking trails. Not only are you able to hike some of the more challenging trails, but they also have easy hiking trails for people that may not be as experienced as others. There is a hiking trail to be found for every type of hiker and should you get a little hungry from the trip, you can stop by the convenient café during the summer months. At other times, it makes for a very wonderful picnic spot.
Take in the Art
Close to the end of your road trip you may begin to see white columns peeking out of the coastal waters and along the shore. There is no need to fear as these columns are meant to be a piece of unique art. If you love a good art exhibit, stop for a while and take in the sights created by artist Jan Freuchen. You will love the contrast of the columns along with the meandering waters as they dip and glide through the rocks and pools.
Norway is a beautiful country that is a dream to explore while on a road trip. You are sure to come across some amazing sites along the way that you may not have known about from previous research, but that is the true fun of a road trip in Norway. You do not know what you are going to find and therefore it is a true adventure.