Welcome to France! With 22 provinces, France offers a wide variety of road trip routes and is perfect for celebrating your next holiday on the road. This road trip guide for France will help you plan your new adventure in the land of wines and cheeses, beautiful architecture, the Eiffel tower, stunning landscapes and churches and last but not least, the beautiful streets of Paris. Visit the famous Dordogne regions or take a spin through time at the coastline of Normandy. And if you are more into the water activities, then you will be pleased to hear that the surfscene in France is one of the best in the world.
With my "A Complete Road Trip Guide for France" I will help you plan the best road trip in France. Bon Voyage!
Hotels, hostels and Airbnb
Hostels and hotels can be found through out the country as France welcomes close to 80 million tourists each year. Even the smaller villages will almost all have hotels and Bed & Breakfast options. Hotel prices are on average € 65, – (80 USD), but in Paris the cost are € 125, – (145 USD) per night. Hostels are on between € 12, – and € 35, – (15-42 USD). Keep in mind that hostel and hotels are most expensive in the big cities like Paris, Bordeaux and Nice. The prices are also higher when you go to the French Riviera.
Couchsurfing is very popular in the province capitals. You will not have any trouble finding a sofa to sleep on. Airbnb rentals are between € 25, – and € 125, – (30-150 USD) depending on your location.
Free or private car parking is available at almost any location with exception of the city centers.
Campsites
Campsites are widely available in France. Prices per night are between € 15, – and € 50, – (18-60 USD), but it is recommended to only be used during the spring/summer period when using a tent, due to the low temperatures at night. France is very well equipped for traveling visitors and you will have no trouble finding a camping during the spring/summer season.
Camping in the wild is not allowed in France, but very little check ups are done. Also if you ask a farmer nicely he would not mind as it is part of their hospitality. Also almost every major gasstation is equipped with showers and a hotel. You are even allowed to sleep in the parking.
Food
The cost of food is normal in France. When eating fast food the prices start at € 4, – to € 6, (5-7 USD) per meal. Eating out in in a normal restaurant is between € 10, – to € 30, (12-35 USD) per meal. Low-cost German supermarket chains Aldi & Lidl are widely available through out the country, Buying groceries at these chains normal results in € 30, – (36 USD) for a weeks worth of groceries based on 2 persons. In France you can make it as expensive as you want due to their broad variation in the kitchen. I highly recommend eating with locals to taste their amazing local and bio-friendly cooking.
Road tolls & Vignette (Road taxes)
In France you have to pay road taxes on certain routes. Do you want to know which routes? Please visit the site Autoroutes.fr and you can easily see if you need to pay taxes on your route. Almost all stations accept creditcards and cash.
Gas prices
For the latest gasoline prices in France: Click here
Drive safely
The traffic rules a strictly monitored by the French police. They have radar controls on almost every major highway, do regular alcoholic breath tests and drive undercover to catch traffic violators. Also there are a lot of long distance speed checks, in which they will measure your average speed over an X amount of kilometers.
Rent a diesel car 
Diesel is much cheaper the gasoline in France. If you plan to rent a car upon arrival, try to secure a car with a diesel engine. It can save up to 10 euro per tank! Also the price difference between getting gas on the highway or in a village is almost 10%. All the big supermarket chains like Carrefour and Leclerc have a station.
Travel in the off-season
Peak months are June, July and August. During this time it will be very busy in the capital cities, but also on the campsites. Having a caravan or camper is a big part of the French culture, therefore you will save some money if you travel outside of these months. If you do plan to make a road trip during this time, make sure you made all your reservations in advance. It will get packed as it is the number one destination in Europe.
Join a free tour
By joining the walking tour of Free Walking Tours France, you'll be guaranteed an intimate and personal guided experience from a local perspective. They over a wide variety of free tours including Paris, Nice, Strasbourg, Montpellier, Nimes and Beziers. You will see all the famous tourist attractions and of course get that amazing selfie shot. It is also a great way to meet new people and really explore the city on a budget.
Fly to a smaller airport
Although, most people only know the international airport Charles de Gaulle Airport, low-budget airliners like Ryanair, Easy Jet and Wizz Air mostly use smaller airports like Paris Orly Airport. For a full-list of all French airports please click here
Parking regulations in France
Almost all the city street parking in France is regulated by parking machines (horodateurs). The rules can vary from location to location, so please make sure you read the rules before you park.  If you would like to park for more then 24 hours it is only allowed in locations that are specifically for long-term parking. In most small towns, parking is permitted to one side of the street (the side with odd-numbered houses) for the first half of the month and on the 'even' side for the second half of the month.
Parking in the Blue zones
For parking in the blue zones you will need a parking disk (disque de contrôle). You can buy these in the small kiosks, garages, gasstation or at the police station. Parking should be done in the same direction of traffic for that side of the street.
It is possible to park for free for one hour between 09.00 – 12.00 and from 14.00 / 14.30 until 19.00, whilst being valid from Monday to Saturday. There is no limit outside of these hours and parking is free on Sundays and public holidays. Always display your disk in clear sight under your windscreen.
Parking in Paris
This is just a nightmare! Do not do it! Park outside of Paris and take the public transportation to get to the city centre. You will not be able to park anywhere and if you are lucky you will see that the prices per hour are ridiculous.
Things to see and do during your road trip in France
Visit the beautiful clifftop village: Rocamadour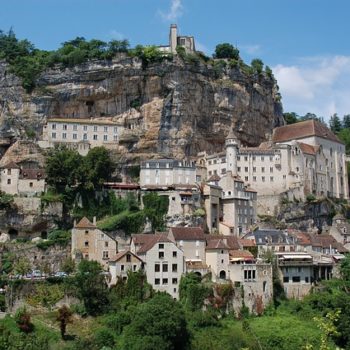 Visiting Normandy
Normandy is a populair region north of France and is well known for its white-chalk cliffs, long and beautiful coastlines and the WW2 beachheads (including Omaha Beach, which is well known as the locations of the famous D-Day landing). The bucolic farmland is mostly used for cheese and apple farming and is one on France's biggest tourist attractions. Although it can get very busy in the tourist season (May to mid-October) it is wise to pre-book if you are traveling in Augusts.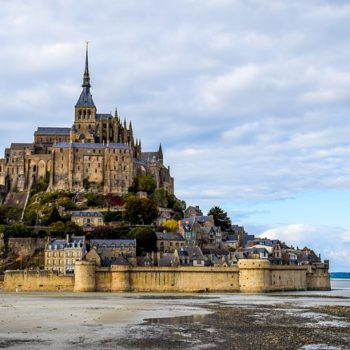 Relaxing at Lake Annecy
Lake Annecy, in the Haute-Savoie region of France, is fed by mountain springs and known for its clean water and is located close to the border van Switzerland and Italy. Did you know that Annecy is often called the French Venice, due to its similar small canals and flower decked quays. Visit the beautiful Palais de I'Isle (Island fortress) in the River Thiou and experience the stunning views over old town. The evening you can relax and eat at one of the many delightful street cafés where you can experience a real French meal. On Tuesday you can find a local food market in Rue Ste-Claire.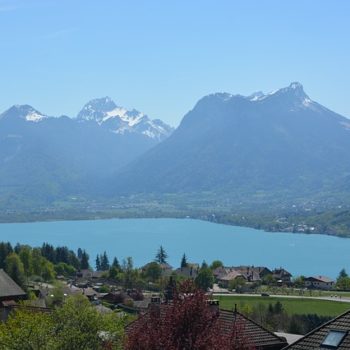 Cruise along the "French Riviera"
The French Riviera (or Côte d'Azur) is the Mediterranean coast of southeastern France. It includes famously glamorous beach resorts such as Saint-Tropez, Cannes, and Monaco. But don't worry as there is so much more to see, like a variety of festivals! The Mimosa Festival, The Lemon Festival in Menton, the Nice Carnival, all these summer pyrotechnics lend a festive colour to your stay on the Riviera. The Cannes International Film Festival starts the season with a series of prestigious cultural and artistic events, followed by the Nice Jazz Festival and Jazz in Juan.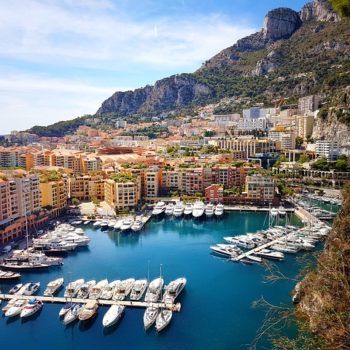 Surfing in France
When you think of France, a "hang loose" surfscene might not be the first thing that crosses your mind, but did you know that West Coast of France is actually one of the worlds most famous surfspots? And that they offer a variety of surf opportunities for beginners and the more advanced surfers? Starting from Soulac sur-mer all the way down to Biarritz, France has many small surf villages that provide surf lessons and equipment rentals. Use MagicSeaWeed for the weather forecast and the best deals!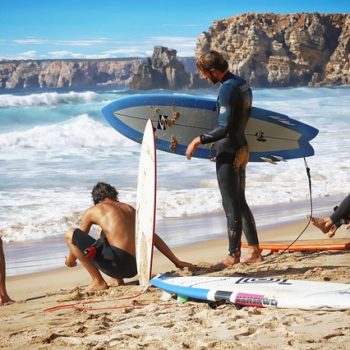 The city of love: Paris
We could not leave out the capital of France: Paris! But please keep in mind that parking in this beautiful city is an absolute nightmare! We strongly recommend you park outside the city and take the public transportation to the city center. There you can easily travel between the famous landmarks like The Eiffel Tower, The Louvre, Arc de Triomphe and if you have extra time a day visit to the Euro DisneyPark. You can also explore Paris by water with a boat tour on the Seine.  Use ParisFranceParking to reserve your parkspot today!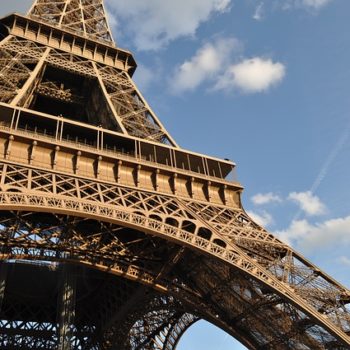 Below you will find two example road trips that you can make in France. Together with "A Complete Road Trip Guide For France" you will be ready and prepared for your next adventure.
Distance: 608 Km. – 377 Miles
Start: Bordeaux 
Distance: 683 Km. – 423 Miles
Start: Paris
For any questions, feedback or remarks on "A Complete Road Trip Guide for France" please contact me.
© 2017 - The Road Trip Guy
Articles for your next road trip