I finally arrived in Norway and after spending a few days in Oslo it was time to explore Norway what it is best known for; Fjords, nature & wildlife! The route between Oslo and Bergen has the reputation for being one of the most beautiful routee (either by car or train) on this planet. There is such a rich diversity of flora & fauna that my 12-hour drive of 525 km was one of the best routes I have ever driven. After passing the next tunnel towards another fjord, I clearly remember me saying to myself; Wow, what you have just witnessed was truly mother's nature finest work. I don't think I will ever see anything like… BAM!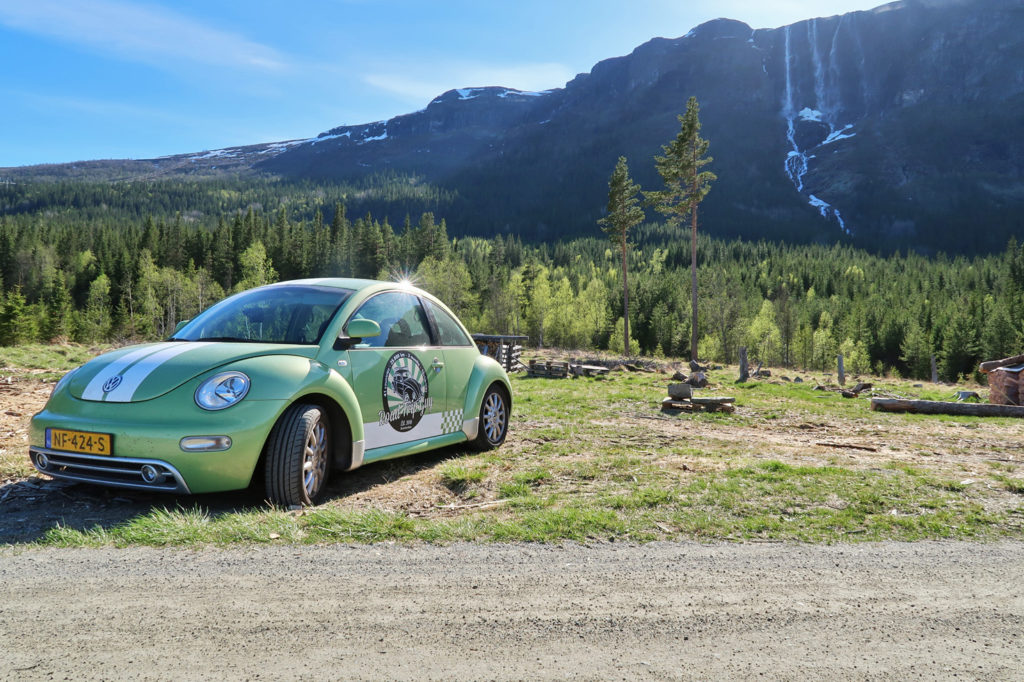 The end of the tunnel was in sight and it was like driving in yet another mystical fjord with even more beauty then its previous cousin. It just kept coming and coming and at one point I had to stop taking picture every 10 minutes, just to make sure I would even make it to Bergen. From huge waterfalls, to wooden churches, to the longest tunnel, to making my first Norwegian friend at a gas station and hiking the famous Trolltunga mountain. You can read all about it in: 25.000 Km Europe Road Trip Part 4: Oslo, Bergen, and hiking Trolltunga
Part 1: Amsterdam to Berlin
Part 2: Berlin, Hamburg, Odense & Copenhagen
Part 3: Copenhagen, Gothenburg and Oslo
Taking the E16 from Oslo to Bergen
There are actually two routes going from Oslo to Bergen. Once you start driving you will have t make a decisions at the city of Hol;
Route RV50/E16: Oslo – Hol – Aurland – Flåm – Voss – Bergen, 532 km, 7,5 hours
Route RV7: Oslo – Hol – Hardangervidda – Hardanger – Bergen, 513 km, 1 ferry, 9 hours
I decided to take the first route as it would take me past the famous Borgund Stave Church and one of the longest tunnels in Europe that is a stunning 25 kilometres long!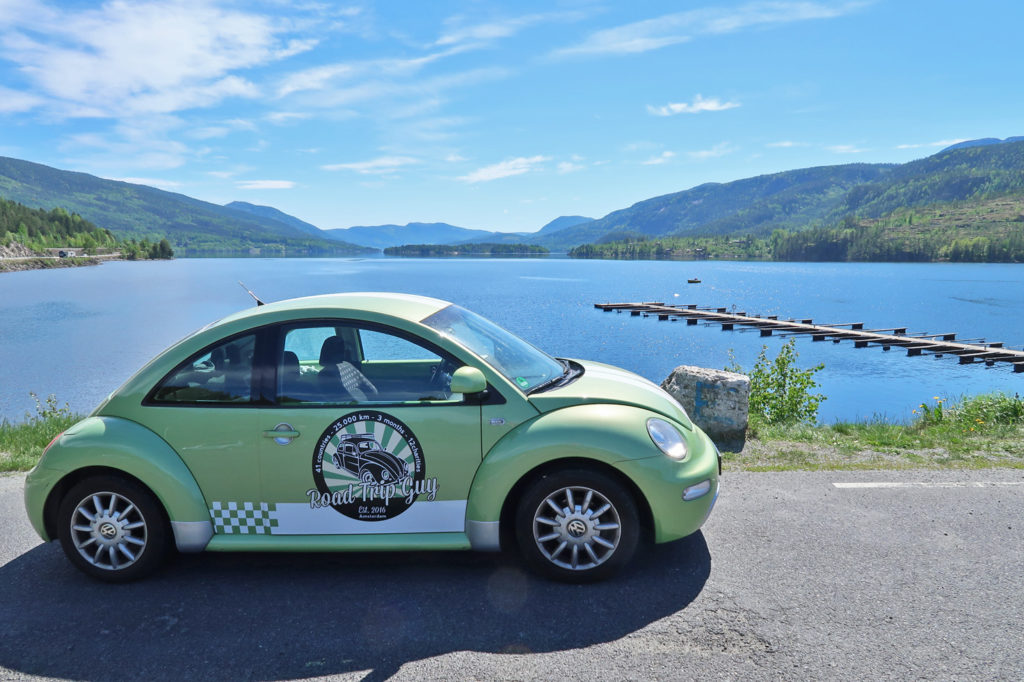 Meeting new people
Once I departed from Oslo and about 30 minutes into the journey I was in need of gasoline for the car. I stopped over at the Esso gas station and after filling up Lazy Louie and paying the bill at the cashier, I heard a voice behind me saying in a deep Norwegian accent;
Are you this road trip guy?
I turned around and there was a big friendly smiling Norwegian gentleman standing next to his pick up truck. The promotional stickers on my car had once again done the job and I started explaining about the project and the story behind it. Nils was a local and had a big farm right next to the fjord. It was just 5 km. down the road and after just 2 minutes of chitchat he invited me over to come and see it! Well, why not? This is what a road trip are all about! So, we took off and drove towards the farm.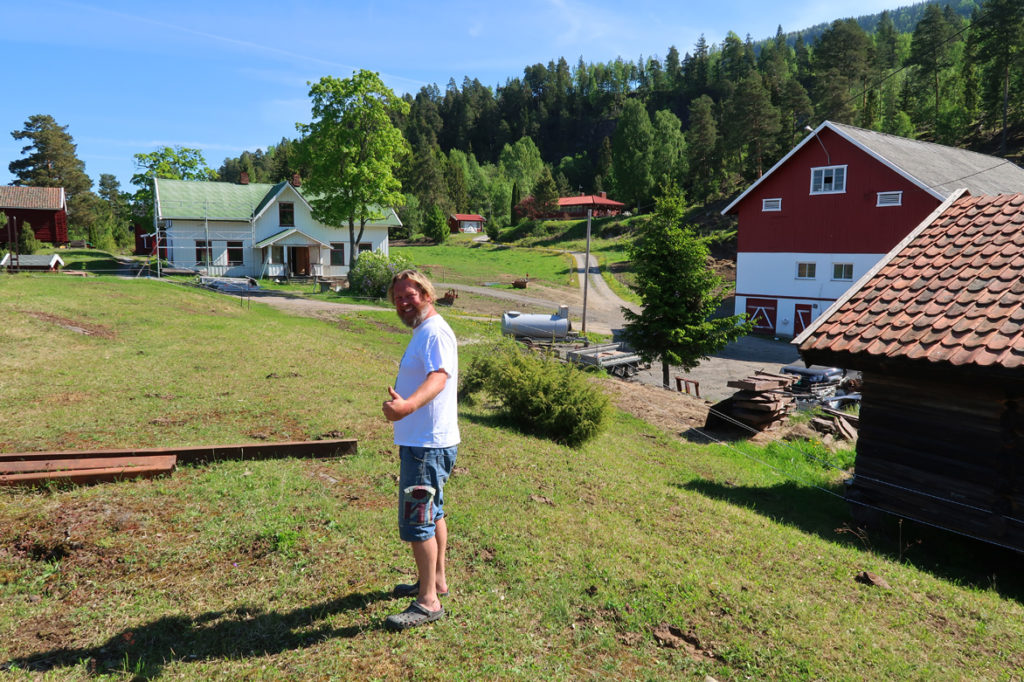 Visiting a real red Norwegian farmhouse
The farm is located at the Tyrifjorden and consist of 500.000 m2 of land filled with barns, houses, apartments and animals. Nils had the idea of converting some of the property to an Airbnb and had been active for many years in the construction business. After a long tour around the premises and showing me all the future plans of the farm he invited me to come down to his house for a beer and meet his family.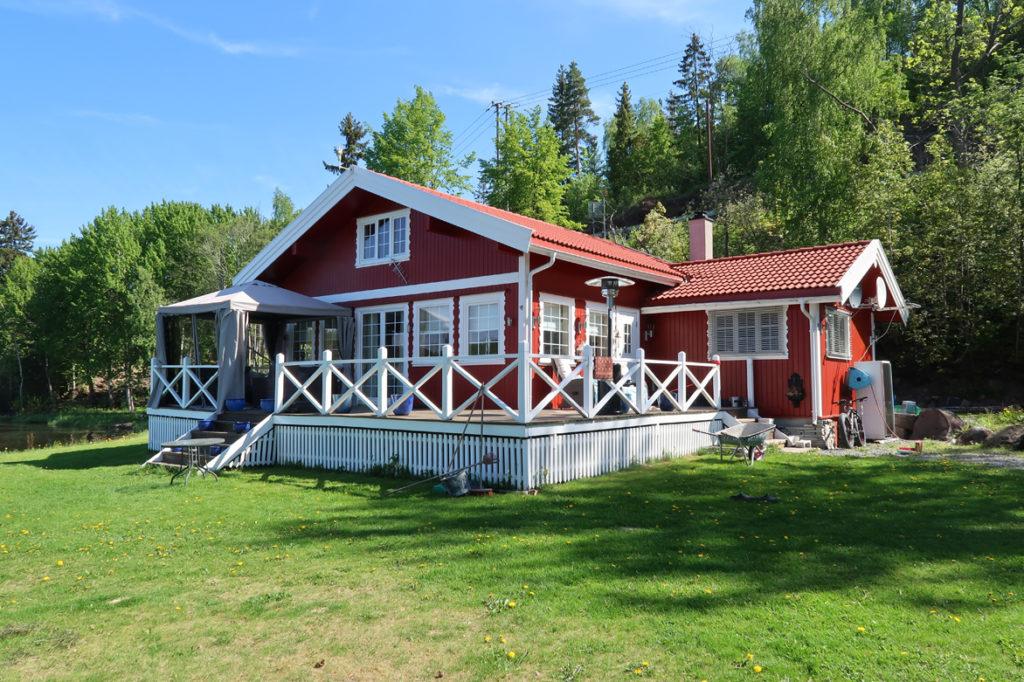 The house was absolutely gorgeous. Straight out of a brochure of Norway was this little red cabin at the shorelines of the fjord. A dog, boat on the dock, Harley Davidson motorcycle, A big bbq and cold beer. Yes, my friends.. It seemed that Nils found the key to happiness as I am sure waking up next to a beautiful fjord everyday does wonders for your mood.
Although, the sight was beautiful there was some well-know tragedy to the location. In 2011, Anders Breivik was responsible for two terrorist attacks that took place in Oslo and on Otøya island. That island happens to be located exactly in front of the farm and I was shocked to find out I was so close to a location that the whole world had seen on television over and over again and that experienced such a big tragedy.
Learning more..
I could clearly see that the events still had a big impact on the locals. It was a sensitive subject and I decided I wanted to learn more about Nils, where he came from and what life is like in Norway. Nils started burst out in laughing when I asked the questions; Well, it's bloody expensive! Alcohol, gasoline and even the fish are heavily taxed and the governments are really bureaucratic when it comes to new business projects. Nils was aiming at his idea on converting some houses and apartments on his land to AirBNB. Once it is done, you should definitely come and visit again, he said. Winter, summer it does not matter! Norway is your new home but just get ready for -20 degrees Celsius! Oh boy, just the way I like my weather.. NOT! haha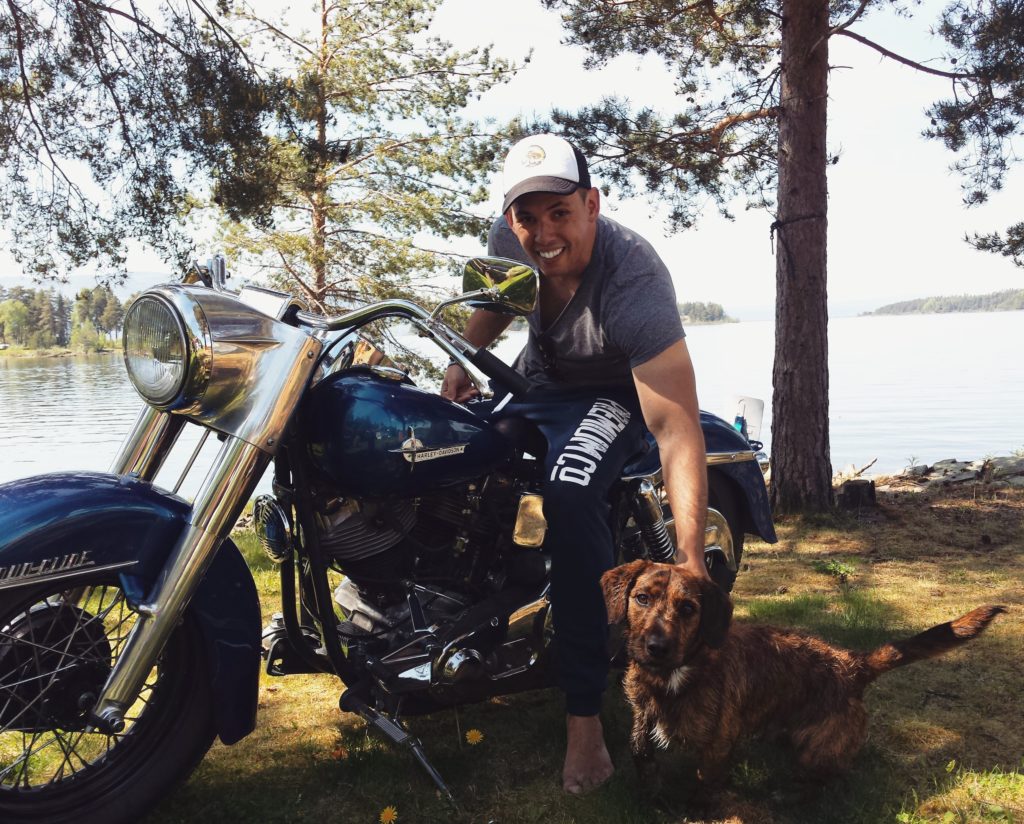 We relaxed a bit on the porch and I got the chance to sit on the Harley Davidson and hang out on the docks with the dog. It seemed to me that Nils was in a good place and had his stuff figured out. He is a very energetic guy and with all that positive energy I could easily hang out for weeks just listening to all the stories. Unfortunate, time flies when you are having fun and 3 hours had past in the blink of an eye. We said our goodbyes, but I got a feeling that our paths will cross again soon. My journey into the Norwegian outback was off to a great start.
Borgund Stave church & The Lærdalstunnel
On my route towards Bergen I wanted to see two things; The Borgund Stave Church and the Lærdalstunnel. Both were directly on route and only 20 minute driving distance from each other. That is perfect! The Borgund Stave Church is a stave church located in the village of Borgund in the municipality of Lærdal. It is exceptionally well preserved and one of the most well known stave churches in Norway. Check out the roof carvings of the dragons' heads! Spooky is it not? I was there after closing hours, but you can easily walk around the church.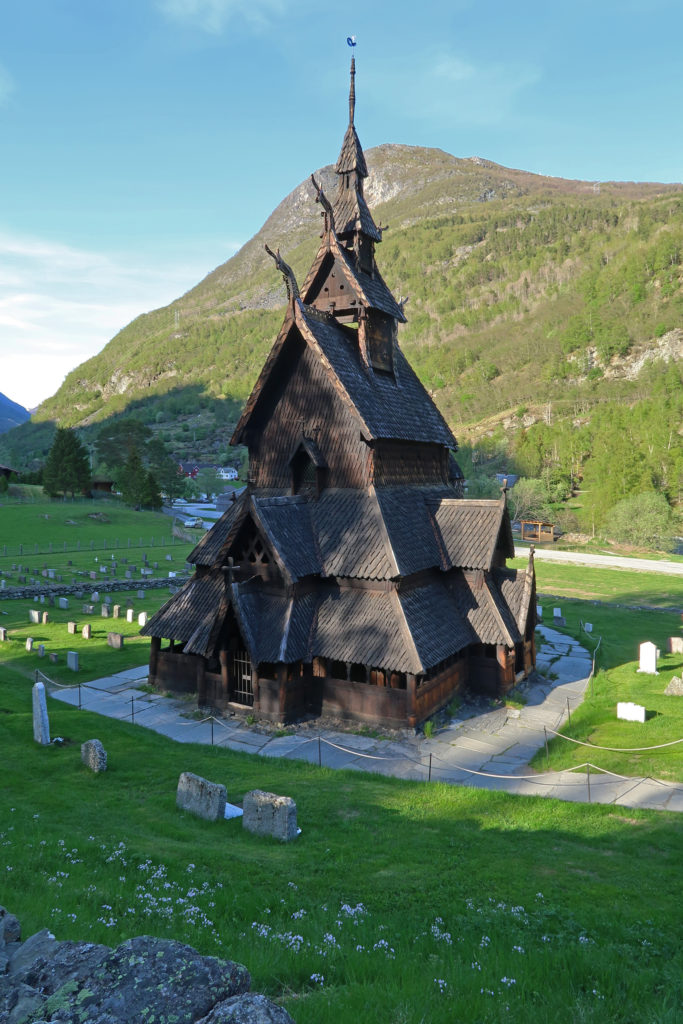 The Lærdal Tunnel is a 24.51-kilometre long road tunnel connecting Lærdal and Aurland. Construction started in 1995 and the tunnel opened in 2000. Construction cost was 1.082 billion NOK and the tunnel has beautiful blue lighting with yellow lights at the fringes to give an impression of sunrise so you won't fall a sleep during the 20-minute drive. A lot of people (including myself) experience tunnel vision in which you feel you won't be moving at all. It is a bit scary at the beginning, but will quickly fade away thanks to the change of scenery and the lights.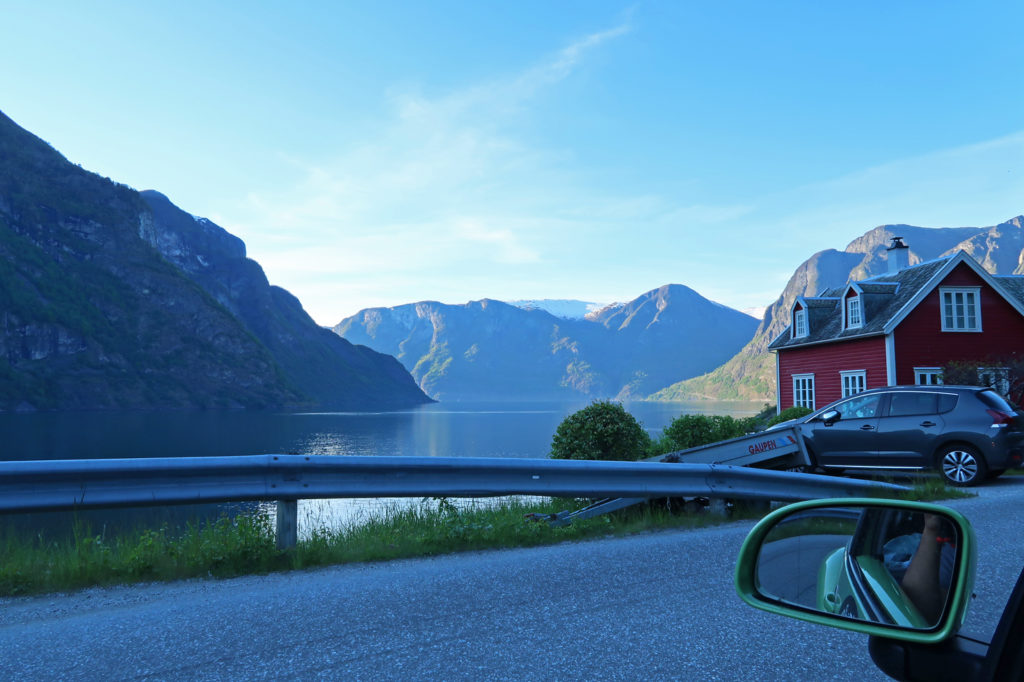 My one-day stay in Bergen
Arriving in Bergen, I only had a Sunday afternoon to do some sightseeing. Why just one afternoon? Well, high on my bucket list was hiking the famous Trolltunga Mountain near the town of Odda. I was constantly checking the weather on Google Weather to see what the forecast was going to be like that week. It seemed to be raining and windy for the whole week.. That sucks! I heard from other people that the hike of 22 kilometres was not going to be easy and with bad weather it might not been worth it as you will not be able to get any good photos from the beautiful fjords and landscapes. I decided to let the idea slide and made my way into Bergen to visit the famous "Bryggen" (the docks) and the fish market.
Once arrived at the fish market it was an utter shock of how ridiculous the prices (even a scam to Norwegian standards, the Norwegians told me) were for a plastic plate with 3 pieces of French bread a few lettuce leaves and no more then 6 shrimps.
Are you ready? € 38,- / $ 42!
I got down to a restaurant eventually and the cheapest meal I could find was around € 26,- , but you would expect a great experience in return. Meaning that when you order a drink with your meal it is not just a 0,5 litre plastic coke bottle and you have to take it yourself to the table. No glass, ice, lemon or anything. The waitresses were very nice and the place looked good as well so definitely no complaints there. It really is the value of the food and the experience that does not match the price. The fish tasted mediocre and in my honest opinion was not fresh. Maybe after living for sometime in the Caribbean and Middle East (where they catch, fillet, cook and serve the fish in matter of minutes) had spoiled me a bit.
Bryggen
The "Bryggen" (the docks) buildings are interesting to see from a distance. It has a very unique vibe to it, but once you get closer you kind of feel being fooled as some of the buildings are covered/renovated with big pieces of plastic and most of the shops are all selling the touristic stuff like the ice-cream, pizza and burgers. And a lot of troll-merchandise! If you are ready to do some souvenir shopping or relaxing with some ice cream in the sun, this is the place! For more authentic Norwegian merchandise and art-galleries it is better to look near the centre of Bergen.

The race to Trolltunga and the YR weather application
After arriving back from an afternoon in Bergen I relaxed a bit in the hostel. I spoke to my Norwegian neighbour in The Netherlands about the trip and my disappointment regarding not being able to hike the Trolltunga due to the bad weather forecast.
He said; Did you check YR? What is YR, I asked?
YR is an application that is used by many Norwegians, as it is one of the most accurate and locally based weather apps on the market today. It shows you hourly weather updates from even the smallest towns in the world and they are really accurate. I downloaded the application right away and there it was; A few clouds and sunny on Tuesday! After that all hell was going to break lose so I had to move fast!!
I double-checked with my neighbour if the app was really that accurate and he told me to go and have fun. I got a few hours of sleep and the next day in the early morning I left Bergen in less then 24 hours since I arrived to cross off one of the biggest items on my bucket list; Hiking the Trolltunga!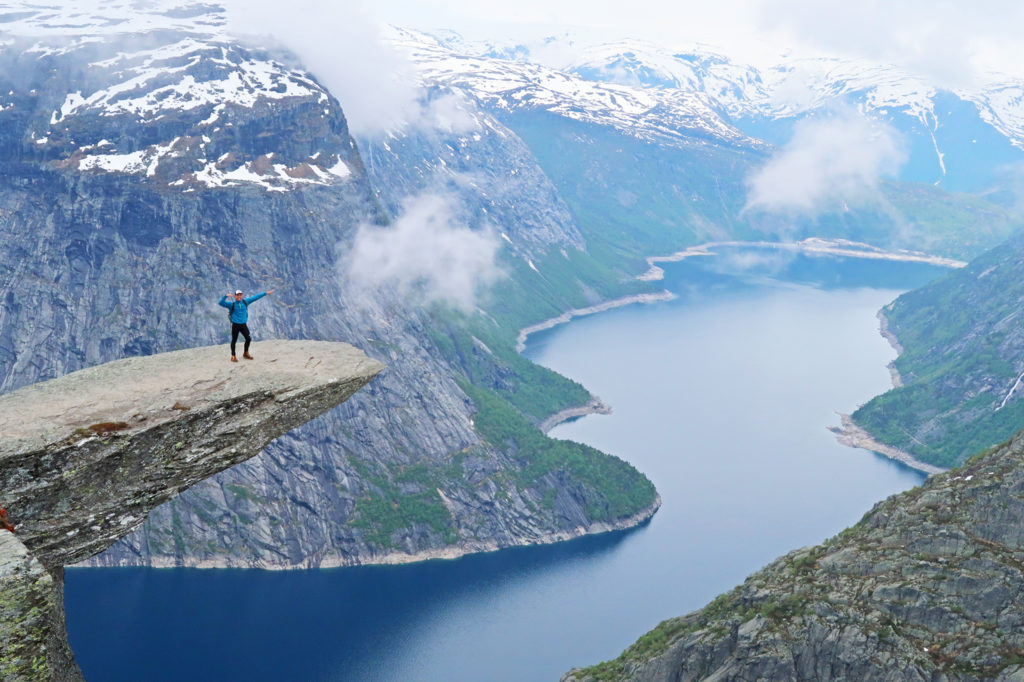 The route from Bergen to Odda is about 140 km. and has 1 ferry and can be done in 3.5 hours. Perfect! I would have all afternoon to get my gear ready and buy supplies for the hike the next day. The hike to Trolltunga was such an epic adventure I dedicated a separate blog post.
Go check it out! It was a crazy and fun day! : My Guide to Solo Hiking the Trolltunga